Fitness Gift Ideas for the Holidays and an Active 2021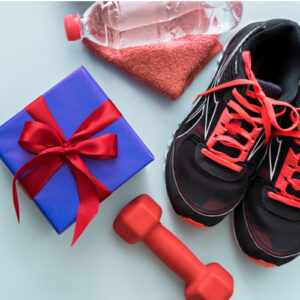 Buying Christmas presents for my favorite people is one of the highlights of my year. 2020 has made it hard to stay in shape, so I've decided to focus on fitness gifts this holiday season. Explore my list of favorite gifts, and let's start 2021 off with a bang!
Fit Book
New year, new me? This little journal is designed to create healthy habits and visualize your current eating, sleeping, and workout habits. It can help you make the appropriate changes to continue improving. Get a Fit Book for yourself or a friend so you can record your victories right.
Can't Hurt Me by David Goggins
This guy goes hard. Self-discipline, mental tenacity, and hard work. If you or a loved one needs inspiration and stories of determination, then this book is perfect.
Mini Bands Set
Adding mini resistance bands to a gym workout takes things up a level. They're also great for home workouts when you don't have a full gym available. They can be used for upper and lower body exercises and even for cardio. And since these bands take up relatively little space, they can make a perfect fitness gift for friends or family who are traveling to participate in the festivities.
Here is a kick-butt, full-body miniband workout example:
Air Fryer
Fitness starts in the kitchen. Use the Cosori smart wifi air fryer to decrease the amount of fat used during cooking. It will add a crispy crunch to your food and speed up the cooking process. You can make veggies, meats, and side dishes in a snap. Because it is wifi enabled, you can control it while you are doing something else, saving you time and helping you multitask. This is the best air fryer I've found and can really simplify making delicious, nutritious meals.
Jumping Rope
A jump rope is a super simple piece of cardio equipment that will help you burn a lot of calories. You can jump rope anywhere: at the gym, in your parking lot, at the park, or even in the corner of your office. And jumping rope benefits more than just your heart. A good cardio workout burns calories and tones muscles, elevating your mood and your energy levels.
Hot Yoga Towel Mat
Hot Yoga is one of the best cardiovascular and endurance workouts I know. This microfiber towel is non-slip and comes at a great price.
Sometimes we are discouraged by the high price of renting a towel for a yoga session, and those costs can add up fast! Using your own Hot Yoga Towel for a mat will get you halfway there and save you money in the process.
Workout Gear by Nike
Fitness Gift For Her: Nike Workout Bra
The Nike sports bra has great support, a cute design, and is available in seven colors.
Fitness Gift For Him: Nike Pro Shorts
Use them for a comfortable workout or game day. They'll protect you against chafing and keep you comfortable and safe. You can't go wrong with Nike Pro Shorts.
Gym Bag—Lululemon: On My Level Barrel Bag
This bag has a pocket for everything. The Lululemon gym bag is stylish enough for the gym or whatever else you have planned. When you look good, it is easier to feel good and will help you stay motivated.
Why Fitness Gifts are the Best Presents You Can Give This Season
The best ideas for holiday gifts change from year to year as fashions and fads come and go. But there's one kind of gift that is always in fashion: the gift of health.
It has been a long and stressful year. Most people have taken on more responsibility because of the health crisis. Every day, I hear more inspiring stories of how people have risen to the challenge. When things get tough, many of our luxuries and simple pleasures take a back seat. It can be tempting to sacrifice your workout time for other tasks that seem more important, but that's a mistake. Regular exercise strengthens your immune system, gives you more energy, and elevates your mood. Fitness gifts are a great way to remind your loved ones of the benefits of exercise and how much fun it can be.
When you take the extra time to eat right and get enough exercise, you benefit in more ways than just your physical health. Your productivity goes up, you get more done, and you end up with a net gain in time. It sounds crazy, but it's true. I've seen it happen with others, and I've experienced it myself. Keep reading to find out how giving fitness gifts helps people get the one thing we all need: more time.
Eating Right is a Way of Life
I really like food, and I love sharing my favorite foods with my favorite people. In my experience, the foods that taste best are also the healthiest. Foods that are high in fat and sugar are very popular, but those ingredients also mask flavor. Eating foods that are low in fat and sugar helps you expand your flavor palate and find new ways to enjoy your food. I use healthy air fryer recipes as an easy way to explore new ingredients. It really brings out the delicate flavors that make eating so much fun. Responsible eating is a lot more fun than junk food, and after a delicious meal, healthy desserts will leave you satisfied and full.
Meditative eating is a new and popular way to learn how to stop binge eating. When you remove distractions like phones, computers, and televisions during your meals, and focus on your food, you can enjoy it more. Take the time to focus on your food and experience every bite. It will taste better, and the break will also reduce stress.
Food is so plentiful these days that we no longer eat to survive. In the modern world, we eat to make ourselves feel good. If you take just a little more time to plan so you can practice mindful eating, you'll be surprised how easy it can be to improve your diet.
Proper Exercise Makes Everything Better
No matter who you are, the right exercise will make your life better. Most people will benefit just from increasing their activity level. If you have a medical condition or complaint, talk to your doctor or health care provider to decide what exercises are best for you. But no matter what your future goals are, consider giving yourself a boost by spending more time on yourself. The latest wellness trends have a lot of fun and exciting ways to spice up your exercise routine and give yourself a fresh start.
Physical exercise increases your oxygen flow and gives your metabolism a boost. It also increases your endorphins which puts you in a better mood and increases your motivation. So why don't more people exercise? Well, that's not hard to understand either. We are all busy. In 2020, we got a lot busier. Most people will make personal sacrifices to help others, and that's one of the reasons I am optimistic about our future. But when you're going the extra mile and helping your friends, family, and neighbors, remember you can do more when you're at your best.
If you haven't exercised in a while, consider coming up with a special holiday workout routine you can do to make it more meaningful. It's a great way to get a jump on your goals for the new year and fight those wintertime blues.
You have the ability to make 2021 the best year of your life. I recommend fitness gifts for all of your holiday giving. Carefully consider each person on your list, and give them a gift that will help them find health and happiness in the new year.