"When I do good, I feel good. When I do bad, I feel bad. That's my religion." Social media memes frequently misattribute this quote to Abraham Lincoln, though he's not the one who said it. Regardless of its origin, there's a reason it's so popular: Most people think doing good things for others feels great. Have you discovered for yourself the mental and physical health benefits of doing volunteer work or donating your resources? Here, we'll explore the great power of giving back and how doing good for others can be good for you, too.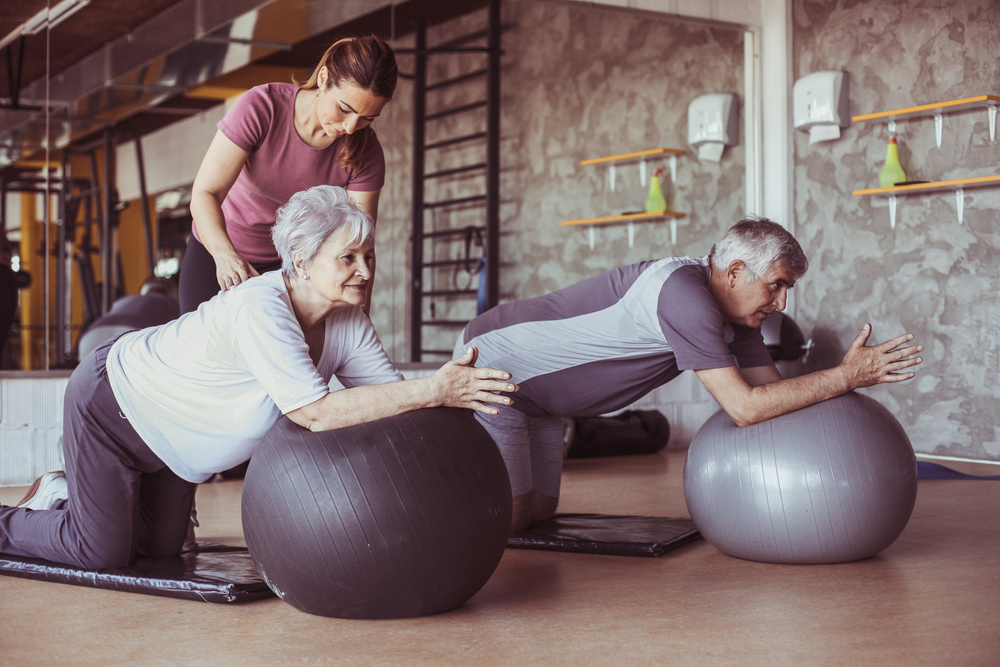 The Health Benefits of Giving Back
When we give back, the primary goal is, of course, to make a difference in someone else's life. But the benefits of giving extend to the giver, too—and they are pretty significant. You've probably noticed that when you've done a good deed, you (hopefully!) feel happier and more optimistic. But the health benefits of giving back are far more extensive than a simple elevated mood, which is temporary. There's evidence that doing positive things for others can lower your blood pressure and even improve your mental health.
So, if you've been researching how to get healthier and upgrade your lifestyle, you've found one key piece of the puzzle. In fact, giving back is so powerful that it may even help you to enjoy a longer life. The idea goes hand-in-hand with how simply feeling gratitude can have far-reaching benefits … for you and those around you.
P.S. In case you're wondering, it is totally okay to feel good when you do something for others. It's not selfish to be happy that you were able to share your time, talent, or resources. So please, give yourself permission to truly enjoy donating and volunteering! Now, let's figure out how you're going to do it.
5 Ideas for Sharing Your Blessings
You might be wondering what you can do to make a difference in your community, especially if you're short on time or funds. Here is a list of wonderful ways to do something positive, even on a limited budget or packed schedule.
Donate your gently used clothing and household goods, rather than throwing them away. There's always someone who can get more use out of the things you no longer need. Most towns and cities have donation bins or a collection center—try the nearest town hall, shopping center, house of worship, or shelter. A big bonus: By donating your old stuff rather than tossing it, you're keeping it out of a landfill and reducing your carbon footprint.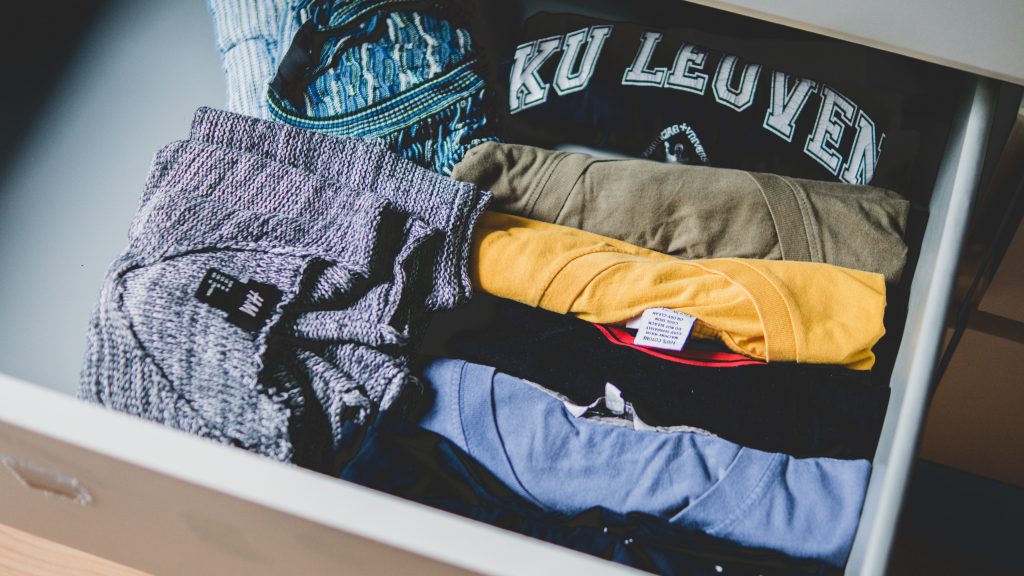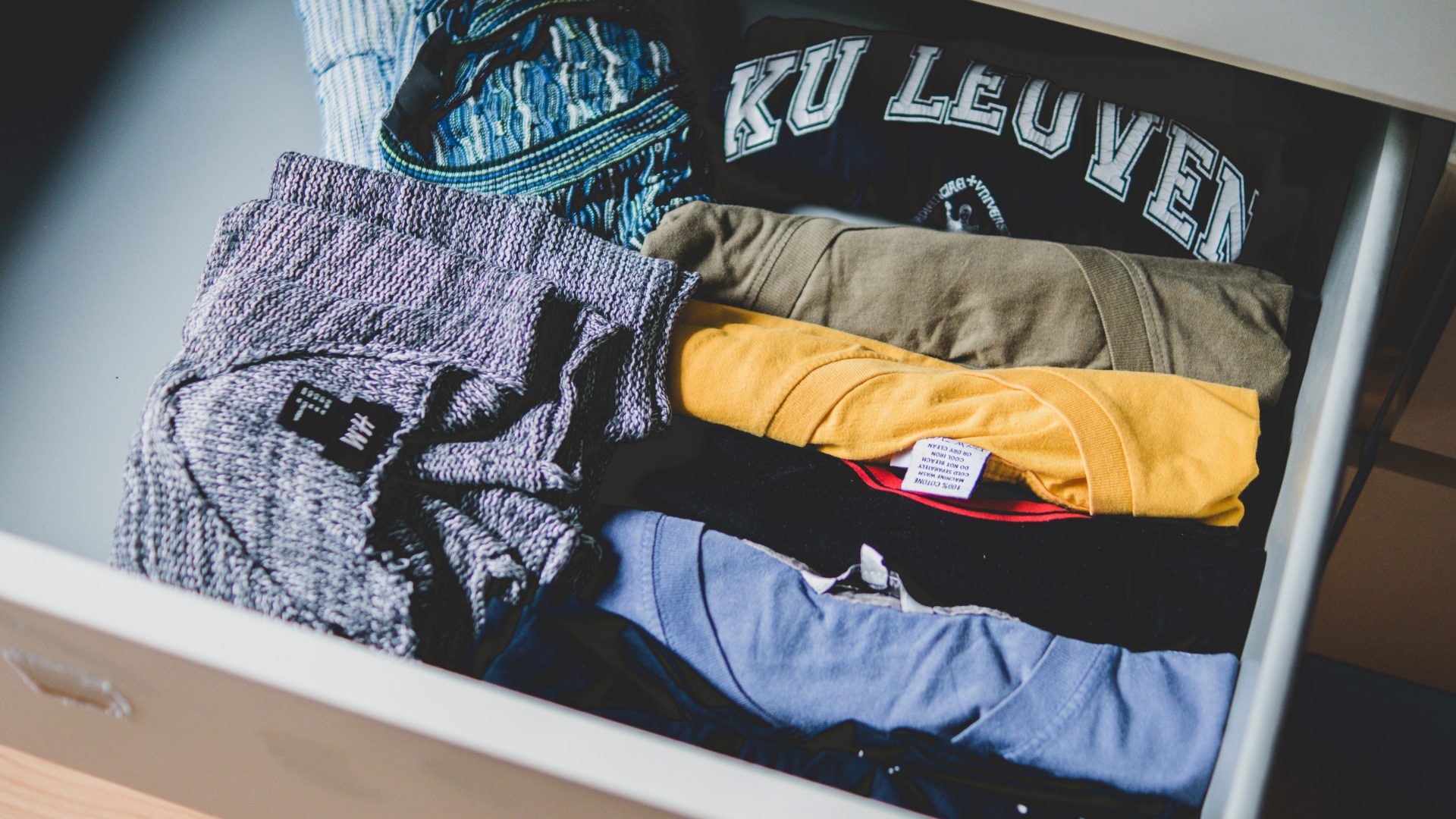 Volunteer your talent and skills. If helping to build a new home from the ground up isn't your thing, find a way to contribute that is. If you're a strong writer, for example, you might volunteer to write grant proposals for a nonprofit or tutor underprivileged students. If you're musically inclined, you might bring some cheer and excitement to an eldercare facility or senior center with a performance. If sports are where you excel, look into coaching a town youth team (or offer to assist part-time). You'll probably find yourself having a great time!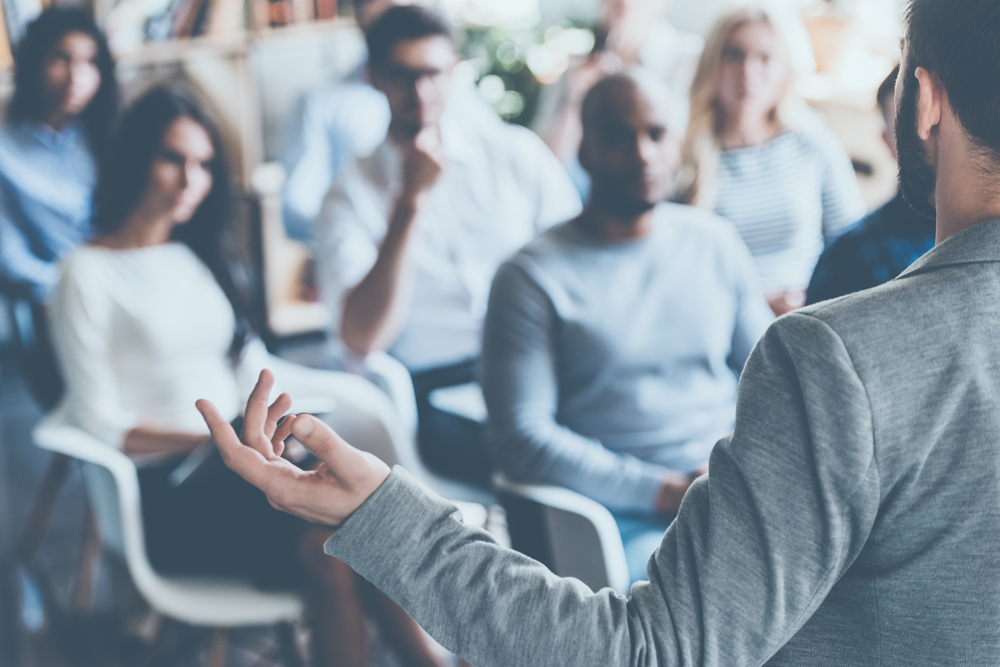 Volunteer to be a mentor. If you're a business owner, for example, you might look into an organization like SCORE, which pairs experts with budding entrepreneurs. Many colleges and universities also offer mentorship programs that match alumni with current students based on their professional interests. A program that relies on email correspondence can be an especially great choice if you have a packed daily schedule. It will allow you to share your expertise and wisdom when you're free from other obligations and feeling relaxed.
Do something nice for a neighbor or colleague. Giving back doesn't always have to be a long-term commitment. Offer to shovel snow for an elderly resident or do a grocery run for a family with a new baby. You don't have to make a grand gesture to improve someone's day and make them feel like they matter.
Set up a monthly donation. If you don't have time for volunteer work, making a financial contribution is an easy way to make a difference. You might arrange for an automated donation to a worthy foundation, your chosen place of worship, or your alma mater. Choose one or more causes that are close to your heart, as they will be the most meaningful for you. Remember, every donation helps. (And save all those receipts for the IRS!)
Tips for Finding Volunteer Opportunities Nearby
Now that you have an idea of what to do, you may be wondering what local volunteer opportunities are available. With research, you're likely to find that the possibilities are almost limitless, but here are a few starting points:
The recreation department at your town or city hall will have information about local youth athletic leagues and openings for coaches.
Ask the director of the local senior center, elder daycare program, or assisted living facility about volunteering to work with seniors.
Most major hospitals and larger medical care centers have a dedicated volunteer coordinator who can provide direction.
Try plugging "volunteer opportunities near me" into your favorite search engine for even more great ideas. You'll see listings for nearby organizations, as well as sites that match you with the perfect roles in your area.
Discover the Power of Giving Back in Your Own Life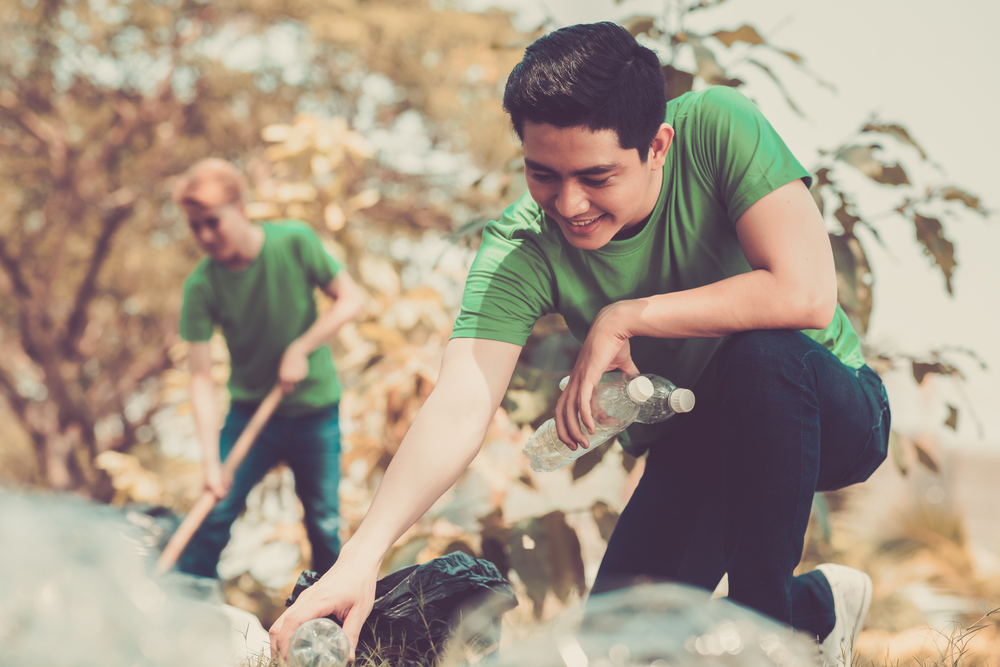 There's no time like the present to harness the power of giving back as part of a healthy, happy lifestyle. In addition to helping you to lower your blood pressure and stress levels, doing good can touch every dimension of the wellness wheel. You'll enjoy more opportunities to socialize and meet new people, and you'll make use of your time, talent, and expertise. Depending on the volunteer activities you choose, you may even get in some good exercise and necessary vitamin D. You'll be doing something good for yourself while doing good for those around you—now that's what I'd call a win-win.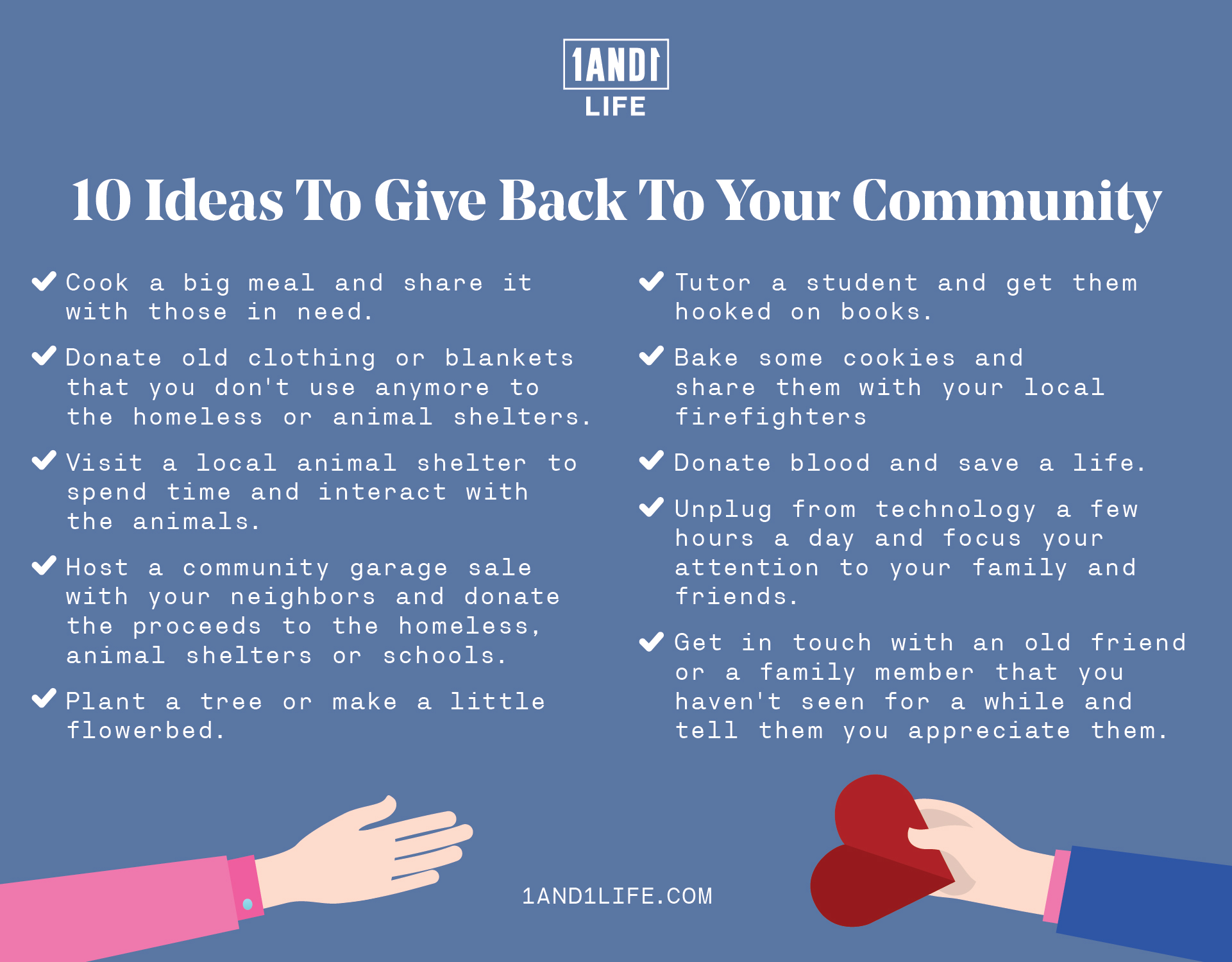 10 Ideas To Give Back To Your Community
| | |
| --- | --- |
| Cook a big meal and share it with those in need. | Tutor a student and get them hooked on books |
| Donate old clothing or blankets that you don't use anymore to the homeless or animal shelters. | Bake some cookies and share them with your local firefighters |
| Visit a local animal shelter to spend time and interact with the animals | Donate blood and save a life. |
| Host a community garage sale with your neighbors and donate the proceeds to the homeless animal shelters or schools. | Unplug from technology a few hours a day and focus your attention to your family and friends |
| Plant a tree or make a little flowerbed | Get in touch with an old friend or family member that you haven't seen for a while and tell them you appreciate them. |
Facebook Comments