Three Healthy Ground Beef Recipes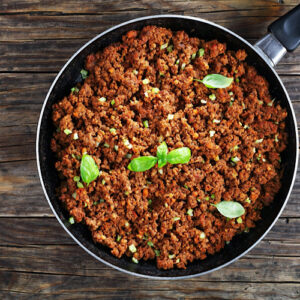 Ground beef is a staple in many households, but can you transform that often greasy, fat-laden pile of meat into a healthy dish? It is a cornerstone in international cuisine, featured in tacos, rice bowls, and even meatballs. Ground beef can have as little as 70% lean meat and a whopping 30% fat, making it a significant caloric investment. On top of that, a common nutritional question is whether red meat is bad for you. So how do you use it to make a healthy meal? I took on this challenge and discovered three healthy ground beef recipes that you are sure to enjoy.
Types of Ground Beef
There are many types of ground beef. These include ground chuck, ground sirloin, ground round, and finally, what we commonly refer to as ground beef. The differences between each type reside in their fat breakdown and their derivation from the cow:
15-20% fat ground chuck is obtained from the shoulder of the cow
7-10% fat ground sirloin comes from the midsection of the cow
10-20% fat ground round is derived from the rear and upper rump of a cow
Ground beef contains up to 30% fat and does not come from a specific region of the cow. Customarily, a mixture of different cuts can be labeled ground beef
From the fat breakdown, it is apparent that all ground beef is not the same. Furthermore, according to the Mayo Clinic, opting for ground beef that comes from animals that have been grass-fed is another thing to keep in mind when purchasing ingredients for your recipes. The benefits of grass-fed beef include a less overall total fat component, a larger quantity of omega-3 fatty acids, more conjugated linoleic acid, and more antioxidants. I took this a step further and opted for 90% lean, and 96/4 extra-lean ground beef in the recipes I adapted for this article.
Considering the variety, nutritional benefits, and mouthwatering flavor linked to ground beef, it is no surprise that this meat is a must-have for consumers worldwide. To help you maximize the benefits correlated with ground beef, here are three healthy recipes that you should try:
A Healthy, Easy Ground Beef Recipe: Grilled Cheeseburgers
You know how important it is to cut calories for weight loss. So finding a delicious low-calorie burger recipe is a real win! Containing just under 400 calories, this flavorful burger recipe adapted from Food Network is sure to satisfy your cravings. 
Upon first glance, this dish looks like a cheat meal, but it is not. Instead, it is a healthy homemade burger recipe packed with veggies and ground beef that contains vitamins such as B12, iron, phosphorus, zinc, and more. Plus, its easy preparation makes it a go-to meal for those days when you don't feel like spending too much time in the kitchen.
Ingredients:
1 thinly sliced medium red onion
Kosher salt and freshly ground black pepper
2 tbs. ketchup
2 tbs. yellow mustard
4 whole-wheat English muffins
1 medium ripe tomato, cut into 4 thick slices
1 lb. 90% lean ground beef
2 oz. 50% reduced-fat sharp grated cheddar cheese (about ½ cup)
Pickles (optional)
Directions:
Turn a grill to medium-high heat and lightly oil it.
Use a 16-inch long piece of nonstick aluminum foil as a cutting board, and place your onions with ¼ tsp. of salt and pepper and 1tbs of water on it. Close the two sides of the foil by bringing them together, fold over twice, and flip it once on the grill. You know your onions are ready when they come out tender. After assessing the tenderness of their texture, keep them on for an additional three minutes and finally remove them from heat.
After this step, take your ketchup and mustard mix them in a small bowl. Season the mixture with pepper if you see that it lacks a little flavor. Once you are done mixing, lightly brush your ketchup and mustard mixture on the bottom half of your muffin buns and place your slices of tomato on top.
Split up your beef into four patties and sprinkle ½ salt and ¼ pepper on each. Shift your burgers to the grill and cook for 3 – 5 minutes until you see browning on each edge, and flip. Put the remaining ketchup and mustard mixture on the burger and top it off with cheese. Then, place a cover on the burger and cook until the cheese melts.
Finally, take your burgers off the grill, put them on your buns, and garnish with your desired vegetables.
A Healthy Crock-Pot Recipe With Ground Beef: Taco Casserole
Did someone say Taco Tuesday? This delicious taco casserole recipe adapted from Slow Cook Gourmet is inexpensive and is meant to serve large quantities. In addition to being full of ground beef, it also incorporates a vast assortment of vegetables that have their own nutritional benefits.
Ingredients:
1 lb. 96/4 extra Lean Ground Beef
1 diced yellow onion
2 bell peppers, either red, yellow or orange
5 cups shredded collard greens
1 cup beef broth
1 pint sugar plum grape tomatoes
15 oz. can black beans
18 oz. tomato sauce with roasted garlic
3 tbs. taco seasoning
10 corn tortillas
6 oz. sharp cheddar cheese
Directions:
Place your ground beef into a skillet at medium-high heat and cook until it is golden brown. Add onions and peppers and continue sauteeing your dish for 2 – 3 minutes. Place your collard greens into the skillet and cook until the greens are a bit wilted. Then, add your broth and let the mixture simmer for 5 minutes.
Next, take off the cover and let the broth simmer until it reduces. Take your dish off the heat and add your tomatoes, beans, sauce, and taco seasoning.
Cut your tortillas into bite-sized pieces.
Finally, spray your slow cooker with non-stick spray and place your casserole mixture with cheese into it. Cook on low for approximately 6 – 8 minutes.
A Healthy Dinner Recipe With Ground Beef: Mediterranean Pita Pizza
The Mediterranean Pita Pizza is one of the easiest recipes ever. It is also a fun new dish that will spice up your weekly meals, and a great meal to cook and share with family and friends. Try this recipe adapted from Woman's Day.
Ingredients:
8 oz. lean ground beef
1 small red onion (about 4 oz)
1 clove garlic, finely chopped
Add 1 tsp. hot sauce
1 tsp. ground cumin
1/2 tsp. ground coriander
1/2 tsp. grated lemon zest, plus 2 tbsp lemon juice
Kosher salt
Pepper
4 pieces of pita bread
1 tsp. olive oil
4 c. baby arugula
1/4 c. plain yogurt
2 tbsp. sliced almonds, toasted and roughly chopped
Directions:
Heat your oven to 400 degrees Fahrenheit. Then, place your beef, chopped onion, garlic, hot sauce, cumin, coriander, lemon zest, and ½ teaspoon of salt and pepper into a bowl and mix well.
Using a baking sheet, place your pita in the oven and bake for about 3 minutes on each side.
Briefly take your pita bread out of the oven and evenly spread out your beef mixture between each pita and bake until each pita is golden brown with crisp edges. This step should take around 10 – 12 minutes.
Lastly, mix your onion, lemon juice, salt and pepper, and arugula with oil and place a generous amount on each pita bread dish. Lightly dash a sprinkle of almonds to garnish.
Give these recipes a try, and you'll see that ground beef can be healthy and delicious. If you liked these ideas, then try our three-ingredient recipes too, including a scrumptious three-ingredient chili made with ground beef. And don't be afraid to explore other preparation options for ground beef. An Instant Pot may just be your best friend for making a variety of healthy ground beef dishes.
And if these dishes look good to you, but you are still not sold on ground beef (looking at you, my vegan and vegetarian friends), you can adapt these recipes. Try Beyond Meat in any recipe that calls for ground beef.