What's your daily skincare routine like? Are you completely up-to-date with the latest products, ingredients, trends, and practices? Or do you tend to splash some water on your face before bed and call it a night? If that's the case, I hate to be the bearer of bad news, but that's not thorough enough! Regardless of your age and skin type, it's important to devote time each morning and evening to taking care of your delicate facial skin. Here, I'll tell you a little bit more about why you should develop a personalized skincare ritual and help you to get started. Practicing good facial hygiene can help you to love the skin you're in.
The Benefits of Everyday Skincare: Prevent Wrinkles and More
You've probably figured out that we don't have total control of how our skin looks and behaves. You can't prevent every acne breakout or patch of dark spots, and there's no safe way to tan very fair skin (other than by spray-tanning, of course!). What you can do is make sure your skin is clean, hydrated, moisturized, and protected against the elements each morning before you leave the house. At the end of the day, you should wash your face again to remove dirt, makeup, and any impurities, and apply moisturizer again before your head hits the pillow. A full twice-daily skincare routine takes just a few minutes and yields gorgeous results.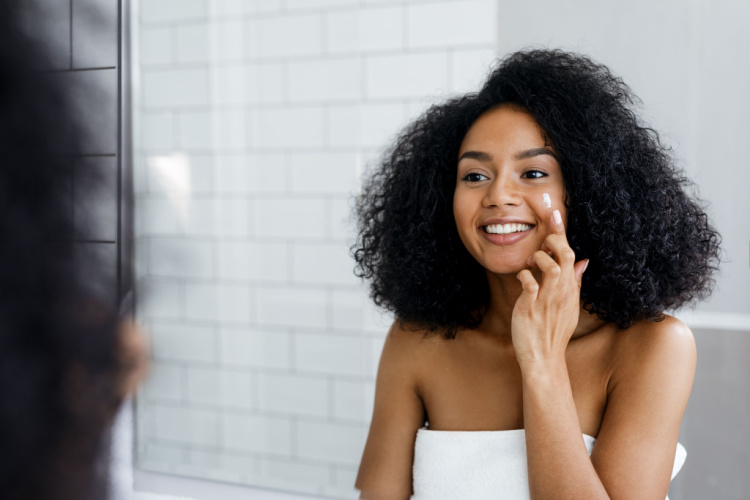 Taking good care of your skin can help it look clearer, brighter, and more youthful. If you're acne-prone, you can minimize breakouts and treat pimples so that they heal more quickly—without leaving long-lasting marks. Using a moisturizing lotion or cream can keep your skin from looking and feeling dry, and wearing SPF on your face can help prevent fine lines and wrinkles. (It also helps to prevent skin cancer, so be sure you're using a good sunscreen every day!) Regular exfoliation can help you to slough off dead skin cells for beautiful, glowing skin.
Your skin is as unique as you are, so your skincare routine will be one-of-a-kind. Few beauty tips and product recommendations are completely universal, so what works for your sibling or best friend may not be helpful to you. Next, we'll figure out a regimen that makes sense for your skin type and budget. Don't worry, many of the best skincare products are available at your local drugstore. Looking good doesn't have to break the bank!
Which Skincare Routine is Right for You?
Whether you're shopping in a drugstore, a luxury retailer like Sephora, or a department store, you'll note that products are labeled for specific skin types. You'll see terms like normal, oily, dry, fair, and sensitive, as well as combination, which means both oily and dry. If you're unsure what your skin type is, check out this handy quiz, keeping in mind that your skin may not fall neatly into one category. If you're still not sure which products you should be using, your dermatologist or aesthetician will have some smart recommendations.
It's best to begin your skincare routine with gentle cleansing. Look for a mild product that won't strip your skin of its natural oils. Great drugstore brands include CeraVe, La Roche-Posay, and Neutrogena. If you prefer using micellar water to more traditional facial soap, Garnier is a great choice. Feeling fancy? Tried-and-true luxury skincare brands include Clinique, Fresh, Drunk Elephant, The Ordinary (shockingly affordable!), and Sunday Riley.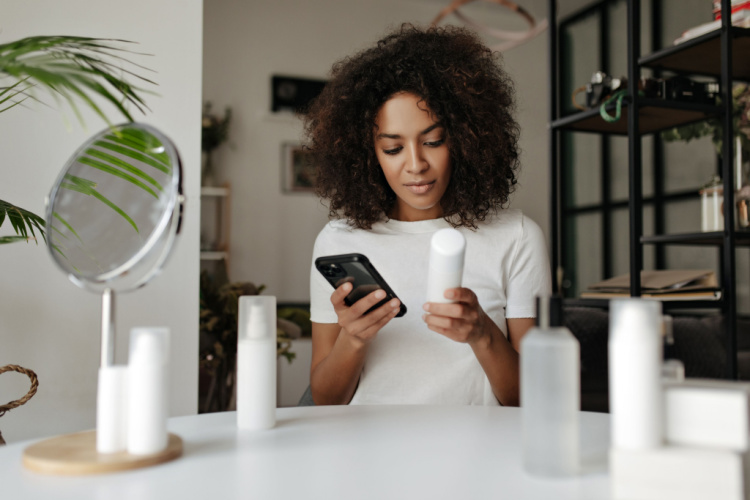 If you're acne-prone, you may want to add an acne wash to your cleansing routine, but keep it away from your eyes, nostrils, and mouth. Acne prevention ingredients like benzoyl peroxide can be drying, so you may want to use them only once or twice a week. (Are you struggling with breakouts? Check out more smart tips for clear skin.)
After you've washed your face and gently patted it dry, you can apply a serum or oil before your moisturizer. During the day, you could use rosehip or argan oil or hyaluronic acid to retain more hydration in your skin. Before bed, you might use a glycolic acid product to help exfoliate your dead skin cells. You can also try niacinamide to help fade any melasma (dark spots from the sun or hormonal changes like pregnancy).
Once you've applied your serum and allowed it to dry for five to ten minutes, it's time to moisturize. In the daytime, perhaps the single best skincare product you can use is a combination moisturizer and sunscreen—it's hydration and protection in one bottle. And if you're really wondering how to get glowing skin from just one product, check out CC cream, which is a tinted moisturizer with SPF in it (Genius!). You have hundreds of options, but some great brands to check out are Purlisse, Pacifica, and Thrive Causemetics.
In the evening, skip the product(s) with sunscreen in favor of a heavier night cream, like Athia Retinol Night Cream. Retinol is derived from vitamin A and can help reduce fine lines and wrinkles. Your daytime skincare routine focuses on how to prevent wrinkles, while your evening regimen addresses any you may already have.
Why Skin Self-Care is So Important
Perhaps the number one reason to take good care of your skin is to minimize your risk of developing skin cancer, which can be fatal. Remember that all skin types can incur sun damage, so even if you have darker skin, it's important to slather on the SPF. This is true whether you're about to spend a day at the beach or simply drive or walk to work. If you're leaving the house, be sure you're protected!
Having a skincare routine is important for other reasons too. Having a bedtime ritual can help tell your brain and body that it's almost time to go to sleep, which can prevent insomnia. If you have trouble winding down at the end of the day, washing and moisturizing your face can help you relax and feel more ready for bed.
Additionally, feeling good about your appearance can help you be more confident. While it's true that real beauty comes from within, there's nothing wrong with wanting to look your best. Spending just a few minutes at the beginning and end of each day to care for your skin can help you to put your best face forward.