Stuffed Zucchini Recipe
Your dinner for today is here! Save time by not browsing a hundred different sites, and try our stuffed zucchini recipe immediately. You will not regret it. It has everything you need—nutrition, taste, ease of making, and cheese to get your little tots excited for dinner. You can also make a batch for later and reheat without compromising the flavor because it is reheat-friendly.
How to Make Stuffed Zucchini: Recipe
No fancy, hard-to-find ingredients here. Everything is accessible from your local grocery store, or you might even have them in your kitchen already. But wait, what is zucchini? It's a fruit-termed-vegetable. Yep, true to our promise, we turned another vegetable into a mouth-watering, hard-to-put-down meal which you and your family will enjoy. So if you're looking for ways (or excuses) to add more vegetables to your diet, here's a yummy one. Vegetable recipes often seem bland to others, but this one proves otherwise.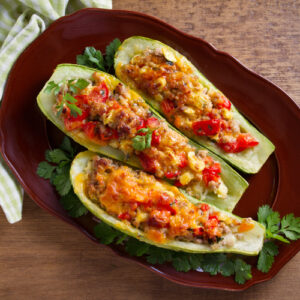 Stuffed Zucchini
Zucchini does not have a sharp distinct flavor, and is quite simple to use in healthy meals. This stuffed zucchini recipe makes the most out of this and adds a dash of Italian seasoning to the otherwise plain food. There's room for customization; you can add whatever spices you love, and it will only make it better!
Ingredients
2

medium

Zucchini

1/2

lb

Lean Fround Turkey

1/2

cup

Marinara Sauce

1/4

cup

Parmesan

1

tbsp

Olive Oil

1/4

cup

Chopped Onion

Salt

Pepper

Favorite Spices
Instructions
Prep Instructions
Heat 1 tbsp olive oil in a non-stick pan.

Place the chopped onions onto the pan once the oil has heated.

Add the marinara sauce over the onions and stir.

Next, add the ground turkey, mix it well with the onions, and make sure it gets covered in the sauce.

Add rice and ½ cup Parmesan.

Top it with your favorite spices, pepper, and salt.

Set this mixture aside. This is your stuffing.
Cooking Instructions
Cut the zucchinis in half.

Hollow out the zucchinis to prepare the boats which you will stuff later. You can do this perfectly with a melon baller.

Once the zucchini halves are ready to be stuffed, add a small amount of salt and pepper on the inside and then spoon in the mixture.

Sprinkle the remaining ½ cup Parmesan over the boats.

Preheat your oven to 350°, and bake the stuffed zucchinis for 25 minutes or until the cheese has melted.
A Deliciously Healthy Meal
Health is wealth, you and I both know it well. So from one cautious eater to another, let me share a secret: zucchini is absolutely packed with healthy nutrients. You might know it as "squash." They're the same thing. Here are some reasons to add it to your healthy meals:
Other Healthy Zucchini Recipes
Zucchini is super versatile. It has a very decent and mild flavor, which means there's plenty of room for you to add your own without fear of the zucchini making it bitter. This is why this summer vegetable (botanically a fruit), loved by people all over the globe, can be added to pizza, pasta, salad, soup, sandwiches, and casseroles among other things. But the most popular and frequently requested vegetable recipe is stuffed zucchini. So the stuffed zucchini recipe is the best place to begin if you're new to it.
Before trying zucchini-related healthy meal ideas, you should keep a few things in mind while buying a zucchini. Avoid ones that have cuts or blemishes; they're not fresh. Your zucchini should be bright and smooth. It cannot stand cold temperature, so don't refrigerate it for more than three to five days. Keep them in loose plastic bags in the fridge. The bigger the zucchini, the more bitter it will be. Don't pick large ones or you won't be able to enjoy our stuffed zucchini recipe.
Did you know zucchini is one of the main ingredients in ratatouille? To add zucchini to your salad, simply slice it and toss it in. The same goes for sandwiches. If you're craving something crispy as a healthy meal, you can add breadcrumbs to the zucchini and fry it for the crunch. Another way to enjoy a healthy zucchini recipe is by baking it. Cut it into cubes, add your spices, and bake. Simple as that. This is how you eat more vegetables, by coming up with creative and healthy ways to satisfy your cravings, not by ignoring them completely.
Conclusion
Zucchini doesn't really taste like anything, but with the right ingredients, you can make it taste like something delicious. Our stuffed zucchini recipe is a great example. All you need is a few key ingredients and an oven. It's a mouth-watering delight that has amazing benefits for your body. You get both taste and health in one.