Beats by Dr. Dre Powerbeats Pro Wireless Earphones Review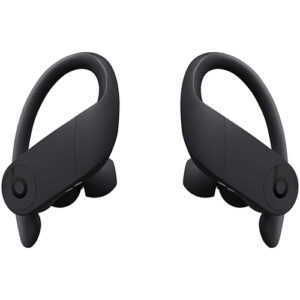 Beats by Dr. Dre Powerbeats Pro Wireless Earphones
Pros
Wireless Bluetooth fitness headphones from Beats by Dre are great for the gym-goer or runner. This is truly a reliable source for endless fitness tunes. The best part may be the battery life: a five-minute charge nets an hour and a half of playback time.
Cons
These headphones are not overly comfortable as they provide more than usual pressure through the headband. The bass is also a little unbalanced.
Bottom Line
Beats by Dr. Dre are an awesome-looking workout accessory that will stay securely in place while providing great music to keep your dad pumped as he's working out.
We may earn compensation from the products and offers mentioned in this article. However, any expressed opinions are our own and aren't influenced by compensation. To read our full disclosure, click here.
As much as it can be challenging to choose the perfect earphones, it will not surprise anyone if you decide to go with an Apple product. As the largest tech manufacturer, they are a trusted name in electronics. Beats by Dr. Dre Powerbeats Pro Wireless Earphones will make your head spin around when you hear what I've got to say about them in this review.
Music helps your brain function, improving your cognitive performance. It can be a massively important motivator for workouts, too.
Learn about the sound quality, practicality, and design of these headphones to decide whether they are the perfect fit for you.
Beats by Dr. Dre Powerbeats Pro Wireless Earphones Audio Quality
Let's start with the most crucial feature: the sound quality.
When it comes to the sound—there's no better way to say this—Beats by Dr. Dre Pro Wireless Earphones are outstanding. Clear, dynamic, and incredibly detailed audio quality is what Apple prides itself on when it comes to these earphones.
With a high noise reduction level, these Beats are unbeatable (See what I did there?!)
Powerbeats Pro has over 50% less harmonic distortion compared to its predecessor, the Powerbeats 3—or so Apple says. I could certainly hear the difference; therefore, they're probably right.
Although the bass is much louder than you might be accustomed to, and if you don't mind your music a bit bassy, overall, the audio quality is unbelievable.
Design
The best thing about the Powerbeats Pro wireless earphones design is that they've put the controls on both earbuds, so you can trigger play or pause on either ear. You don't have to worry about forgetting which side controls what. You can use any side for anything you want to do. And a great feature to add to this is that you can use each earbud separately.
They have two microphones on each bud, which is meant to target your voice and filter out some external noise such as street noise or wind. The earbud fits over the ear, and the tips are interchangeable. Bear in mind, the better fit of the tip, the better the sound isolation.
Powerbeats Pro design has become the standard design style for athletic earphones and all for a good reason. They are lightweight and comfortable; they snug around your ear to stay put while you're exercising, and. most importantly. they're waterproof. Adding to that is a stylish design, which, for me, is almost essential.
Their wireless charging box is enormous, though! It's much bigger than any of Apple's earphone boxes. If you want a comparison for scale, you can say the Powerbeats Pro box is at least four times bigger than that of the Airpods.
Another downside to the case, next to it being large, is not having a wireless charging option, like Airpods' optional case. You have to have a lightning cable for it to charge.
Battery Life
If you are running a marathon or need a couple of motivational beats, these workout earphones will be your best friend because the battery can last up to 9 hours. This means that you can forget that massive case at home, although there are downsides to that, too. Letting the rest for a couple of minutes results in shutting down to preserve battery life. That's why, if you're planning to work out a bit longer, bring your case just in case.
Another great thing is that, when your battery is dead, you can plug it in for five minutes, and you'll get about an hour and a half of charge. I love this feature because I sometimes forget to charge my earphones—guilty! It's good to know that while I'm tying your shoelaces my Powerbeats Pro is fast-charging and will soon be ready to go.
Connection
If you are an Apple user, the Powerbeats Pro earphones work beautifully with an iPhone. Connecting them to your iPhone is a dream. Just open the box and you'll get prompted on your iPhone to pair. Click connect, and that's it!
If you're not an iOS user, fear not. They pair with Android, as well. It's not as simple as the process on an iPhone, but it's something you've probably done many times. First, you open the box, hold the Bluetooth button on your phone, and pop up the main Bluetooth menu. Then find the Powerbeats Pro and click "pair."
Apple H1 Chip—What is That?
Airpods have it, so it was only natural for the Powerbeats Pro to have it. This feature will be meaningful for iOS users only.
The H1 chip is what enables you to have a proficient Bluetooth connection with your iPhone, allowing you to walk a bit further from your phone than seems natural. Thanks to the H1 chip, you will have a surprisingly good Bluetooth connection with ease of switching between your Mac and iPhone. You will also have longer talk time and increased range.
Price
These are not your regular earphones, so the price is higher, which is logical.
Do you get your value for the money? You certainly do!
Do you get high-quality earphones? You absolutely do!
Although not as affordable as you'd like, they are one of the most popular prime earphones.
Bottom line: they are excellent earphones for everyday use. They are lightweight and comfortable. They have the snug fit around your ear, which feels almost as if someone is hugging your ear, and the sound is impressive. They're flexible and don't feel like any loose ends are going to fall out. Bass lovers will feel like they're in heaven with these, and the overall sound quality is extraordinary, too.
Amazing features, extraordinary performance, durable battery life—all of this makes the Beats by Dre. Powerbeats Pro a perfect upgrade to your Airpods or any other wireless earphones. Other than the price, I wouldn't think of any reason why you wouldn't give these earphones a shot. They make a great gift idea, as well.