Breyers Delights Vanilla Bean Review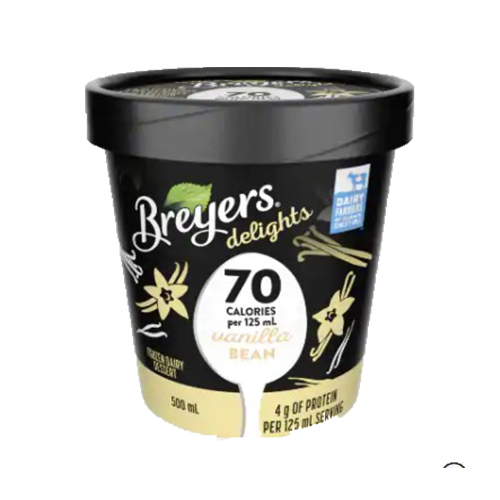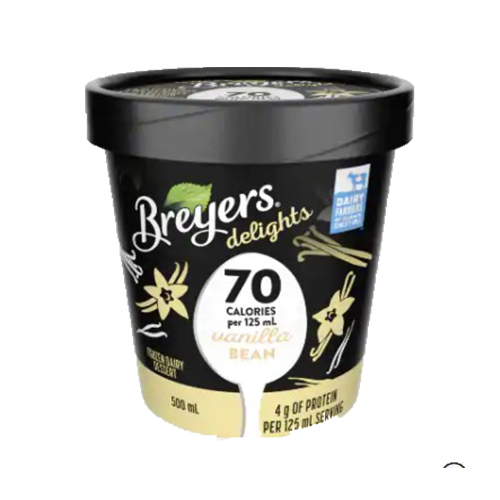 Breyers Delights Vanilla Bean
Pros
If you're calorie-conscious, as many of us are, Breyers Delights offers a better-for-you ice cream option in delicious Vanilla Bean. You can enjoy a sweet, flavorful frozen dessert for just ninety calories per serving (⅔ cup). If you eat the entire pint (and we've all done it!), it's still only 260 calories. It's also lower in fat (2.5 grams per serving) and sugar (seven grams per serving) than many regular ice creams.
Breyers Delights Vanilla Bean ice cream packs seven grams of protein and two hundred milligrams of calcium per serving. It's made with real milk and cream and no artificial growth hormones. Its rich, creamy taste makes it a good choice for a frozen dairy dessert that's lower in calories and fat. Many reviewers have praised it for tasting just like regular vanilla ice cream.
Cons
Some taste-testers mentioned how hard the ice cream was, making it difficult to scoop. Others disliked that they could detect the artificial flavoring. Breyers Delights ice cream is pricey in some locations, isn't available in others, and doesn't come in larger sizes than the pint. And, of course, if you're lactose intolerant, vegan, or dairy-free, this product won't work for your diet.
Bottom Line
Breyers Delights Vanilla Bean is a good low calorie/low fat ice cream option. If you aren't bothered by the taste of sugar substitutes and are looking to cut calories for weight loss, it's a great dessert choice. It's worth giving it a try to see if you enjoy the flavor as much as your usual freezer staples. Even if you don't love it as much as regular ice cream, it could make for a healthier substitute for everyday desserts.
We may earn compensation from the products and offers mentioned in this article. However, any expressed opinions are our own and aren't influenced by compensation. To read our full disclosure, click here.
Why Low-Calorie Ice Cream?
Eating a better diet and reducing our junk food intake is a goal most of us have. But have you ever tried to quit dessert? It's not easy—and it can even backfire in the form of overeating or binging on sweets. Experts agree that it's better to enjoy the foods you love in moderation rather than trying to eliminate them. Sometimes moderation simply means eating smaller portions of what you crave. Oftentimes, however, you can find healthier substitutes for your favorite indulgences so that you can still enjoy full-size servings—without sacrificing taste. (After all, who among us hasn't devoured an entire pint of ice cream in one sitting?)
If you're trying to lose weight (or avoid gaining it), low-calorie ice cream can keep you from feeling deprived of sweet treats. That's where the new Breyers Delights products come in. A pint of Breyers Delights in Vanilla Bean flavor is 260 calories, compared to a whopping 990 in a pint of Ben & Jerry's Vanilla. It's made with the sugar substitutes erythritol and stevia leaf extract, as well as a modest seven grams of sugar per serving. If you're trying to minimize your sugar intake, which is always a smart move, it's an excellent dessert choice. Reducing the amount of sugar in your diet can help you drop unwanted pounds and stave off issues like diabetes. It may even help to protect you from Alzheimer's and other age-related cognitive decline issues.
Breyers Delights Vanilla Bean contains seven grams of protein per serving, which can help you to feel fuller sooner. It also packs two hundred milligrams of calcium in ⅔ cup, which is an essential part of any diet. If you eat ice cream for a snack or dessert most days, it's a lighter and more healthful choice.
More Flavors from Breyers Delights
If you're counting calories for weight loss and enjoy Breyers Delights Vanilla Bean, check out the brand's other ice cream flavors. This delicious high protein ice cream is also available in Creamy Chocolate, Mint Chip, and Cookies & Cream. Note that the other flavors are somewhat higher in calories and fat than Vanilla Bean, with Cookies & Cream packing the most at 330 per pint. That's still a far cry from the calorie content of many regular ice creams, though. Remember that anything you do to lower your sugar intake, even in small increments, is a step in the right direction.
Dress Up Your Low-Calorie and Low-Fat Ice Cream
What's the best thing about ice cream? For many of us, it's the tasty toppings. But be careful; full-fat whipped cream, chocolate syrup, and sugary maraschino cherries can add up to hundreds more calories. To keep your everyday dessert on the lighter side, save the mountain of whipped cream and sprinkles for a special occasion. But don't worry, your ice cream doesn't have to be boring.
Try these delicious and healthy toppings on your Breyers Delights instead. Many of them, like protein-rich nuts, add to the nutritional value of your dessert.
Fresh berries, like strawberries, raspberries, blueberries, or blackberries
Sliced bananas, pears, peaches, lychee fruit, or kiwi fruit
Unsweetened coconut flakes
A sprig of mint
Chopped dried fruit
Chopped nuts, like peanuts, walnuts, or almonds
A small dollop of natural (no sugar added) peanut butter
A small handful of your favorite breakfast cereal or granola
A small handful of trail mix
A sprinkle of cinnamon, carob powder, or pumpkin pie spice blend
A splash of iced coffee or iced matcha green tea
The sky's the limit when it comes to creatively dressing up your low-impact sundae. Stick to mostly fruit- and nut-based toppings, and your dessert is a waistline-friendly winner.
Counting Calories: Small Changes Yield Big Results
It isn't always easy to slash your daily calorie and fat intake without feeling like you're punishing yourself. Remember, life is short, and there's nothing wrong with enjoying your favorite treats on occasion, even if they're not the healthiest options. And when you're not making a conscious decision to splurge, choosing lower-calorie meals, snacks, and desserts can add up to significant weight loss. Sometimes it's as simple as choosing a lighter and less sugary option, like Breyers Delights ice cream. Indulge in delicious Vanilla Bean taste without the unwanted calories, and you'll see results without feeling deprived.