Instant Vortex Plus 7-in-1 Air Fryer Oven Review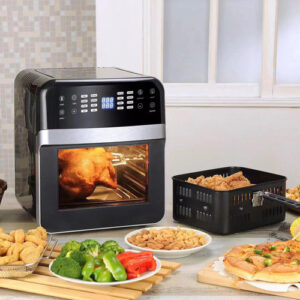 Instant Pot Vortex Plus 10 Quart 7-in-1 Multi-Use Air Fryer
Pros
The Instant Vortex Plus Air Fryer includes seven features in one appliance. It allows for so many healthy recipe variations. It has two trays, which means it fits a lot of food. All the functions are super simple to use and understand. The air fryer cooks quietly and cools quickly. Food tastes fantastic, and the clean up is surprisingly easy.
Cons
Like a lot of kitchen appliances, the Instant Vortex Plus does take up quite a bit of counter space. It also doesn't come with any recipes, so to get the most out of it you'll need to Google some recipes or buy a cookbook. It can sometimes take some trial and error to nail your cooking time and temperature, too.
Bottom Line
The Instant Vortex Plus is more than an air fryer. The appliance can roast, broil, dehydrate, bake, and reheat. It can save you time and space in the kitchen, as you'll only need one tool for multiple uses. The design is slick and will look good on your counter.
We may earn compensation from the products and offers mentioned in this article. However, any expressed opinions are our own and aren't influenced by compensation. To read our full disclosure, click here.
How Does the Instant Vortex Air Fryer Work?
Instant Pot is a well-known brand in the pressure cooker and kitchen appliance space. The original Instant Pot consolidates all your cooking into one pot.
The Instant Vortex Air Fryer keeps with the brand's multipurpose appliances with its 7-in-1 multi-use air fryer. The smart functions include:
Bake
Roast
Rotisserie
Broil
Dehydrate
With a large 10-quart capacity, you can fit both cooking trays in at one time. You can make multiple meals in one go, which is useful for a bigger family or meal prepping in advance. The air fryer comes with two air fry trays, an air fry basket, and rotisserie spit and forks. All the accessories are dishwasher safe, which makes tidying up much easier.
The Instant Vortex Plus is designed to crisp food to perfection with little to no oil. You can use the preset smart functions for cooking a variety of foods. The idea is that you can enjoy the flavor of fried foods without the oil. During cooking, the air fryer replaces hot oil with circulating hot air. This produces the crunchy taste and texture of fried foods without the oil. It traps moisture inside but remains crunchy on the outside. If you love fried foods, this is a quicker, healthier, and cleaner way of creating your favorite comfort foods.
When shopping for air fryers, no doubt you will come across a ton of options. The best air fryer for you really depends on how much food you want to cook at one time, your budget, and the space you have. For a much more compact air fryer, this NewAir Air Fryer has a smaller capacity. This is great for a single person or couple but not ideal for a larger family.
Why Do You Need an Air Fryer?
An air fryer is like a mini convection oven. Its purpose is to produce that crunchy fried food goodness without all the fat and extra calories. The majority of air fryer brands don't require any cooking oil. Some brands say to add a teaspoon or spray of oil to make the texture that little bit crispier, but it's not needed. Compared to the amount of oil you would use cooking fried foods the traditional way using an air fryer results in fewer calories and saturated fats than your standard fried foods.
Regular fried foods are high in fat, calories, and usually salt. Several studies link fried foods to health conditions like obesity, type 2 diabetes, and heart disease. Research shows that fried foods are linked to an earlier death. By swapping traditional frying methods with air frying, you can reduce your overall consumption of fried foods.
But, when trying to figure out how to eat healthy, it's not just about avoiding one food. By focusing on your overall diet and eating a combination of whole grains, vegetables, lean protein, and healthy fats, you can feel good from the inside out.
Best Air Fryer Recipes
You can cook just about anything with an air fryer. Although the Instant Vortex Plus doesn't come with a recipe book, you can access over 1,000 air fryer recipes through Instant Pot's free app. You can also ask Alexa for Instant Pot recipes. Vegetarian Instant Pot recipes like breakfast rice bowls and minestrone soup are quick and ideal for weight loss.
The best air fryer recipes really depend on your taste, but you can cook a massive variety of foods. With the 7-in-1 smart preset features, you can cook foods in different ways depending on the meal. With the Instant Vortex Plus, you can bake cinnamon rolls, roast chicken, broil a salmon fillet, and quickly reheat last night's leftovers. Some of the best foods to air fry include sweet potato fries, crispy bacon, juicy chicken breasts, and seafood.
Instant Vortex Review: A Healthy Alternative to Fried Foods
What's great about air fryers is that you can create some of your favorite fried food dishes using less oil and fewer calories. It's a fantastic way to crisp up veggies, and you can bake certain foods much faster than in the oven. Often, the clean-up is quicker with an air fryer as there's no greasy mess after.
It's important to know that although an air fryer is a healthier and cleaner alternative to fried foods, it doesn't mean that you should eat fried foods every day. It's still essential that you eat a varied diet of healthy fats, fiber, protein, whole grains, and veggies.
The Instant Vortex Plus can cook a wide range of foods and goes beyond your typical air fryer in function. Air fryers are becoming an increasingly popular countertop appliance. If you want the taste and texture of fried foods without the oil, it's an essential part of your cooking toolkit. With the Instant Vortex Plus Air Fryer, you can make the most out of one appliance, from cooking pizza to dehydrating apple crisps. It's versatile, easy to use, and simple to clean up after.