Best Low-Calorie Ice Cream for Cool Summer Cravings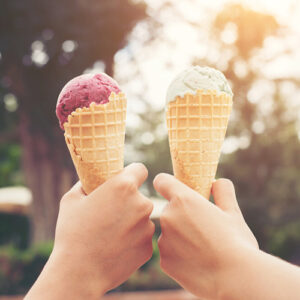 Best Overall
Best Value
Honorable Mention
ENLIGHTENED Mint Chocolate Chunk Ice Cream (Pint)
Pros
This low-calorie ice cream by Enlightened offers plenty of creamy innovative flavors to choose from, including French Toast, Cold Brew Coffee, and Glazed Donut, to name a few. Each half-cup serving packs a mere 60–100 calories, helping you achieve and maintain your weight goals. It's sweetened with 0-calorie erythritol and infused with non-GMO corn fiber, making it healthier than many desserts on the market.
Cons
It is a milk-based product, so it's not suitable for vegans and those with lactose intolerance.
Bottom Line
The use of skimmed milk and milk protein isolate in this dessert gives it a deliciously creamy texture without packing a lot of calories. Enlightened has developed a successful dessert formula that is low fat, high fiber, high protein, low carb, and kosher, yet still very tasty.
Arctic Zero, Non-Dairy Desserts, Cake Batter (Pint)
Pros
In addition to a wide variety of delicious flavors, this collection of non-dairy desserts by Arctic Zero is perfect for vegans. It's made with plant-based ingredients such as faba bean that gives it a very creamy texture. Also, you only consume 160–180 calories in a single pint, as the dessert does not contain any sugar alcohols and is gluten free. It's all natural, non-GMO, and kosher certified.
Cons
One of the ingredients in this low-calorie ice cream is organic cane sugar, which could be problematic for people with diabetes.
Bottom Line
Arctic Zero's non-dairy desserts have been verified as non-GMO, gluten-free, and kosher products, so these are perfect for just about everyone. The vast variety of exciting flavors means there is something for everyone.
Halo Top Creamery, Sea Salt Caramel, 16 oz (Frozen)
Pros
There are around 20 grams of protein and a total of 280–320 calories in a single pint of kosher-certified Halo Top ice cream. Each serving contains approximately four to six grams of sugar. The company offers more than 30 unique flavors to choose from under its dairy and non-dairy product categories.
Cons
The container needs to be left out of the freezer for around 20 minutes before it can be consumed, as instructed on the label.
Bottom Line
Halo Top is a low-calorie ice cream that uses a variety of natural, organic ingredients to pack a flavorful punch. The wide variety of Halo Top ice cream flavors means everyone in the family can find their preferred flavor of ice cream.
Breyers Delights Raspberry Fudge (Pint)
Pros
Each pint of this delicious Breyers Delights ice cream has 260–330 calories, with 20 grams of healthy protein and stevia sweetener. This ice cream is made with natural flavors, so it does not leave you with a strange aftertaste common with ice creams that use artificial flavoring.
Cons
There are only a few simple flavors to choose from, including all-time favorites like Natural Vanilla, Strawberry, and Chocolate, to name a few.
Bottom Line
If you are looking for something simple and sweet without ingesting a lot of calories, then Breyers Delights ice cream is a great purchase.
Realgood Super Premium Mocha Java Chip Ice Cream (4g)
Pros
Real Good Foods makes their super-premium low-calorie ice cream by combining fresh milk, cream, and butterfat. Although a one-pint container packs a generous 530 calories, there are only 180 calories per serving, 0% of which come from any added sugars.
Cons
This product contains only four grams of protein per serving, with a total of 12 grams of protein in the entire container.
Bottom Line
There is no need to feel guilty about your diet plan when you choose ice cream by Real Good Foods. It's very delicious and uses only natural sweeteners and fresh ingredients.
We may earn compensation from the products and offers mentioned in this article. However, any expressed opinions are our own and aren't influenced by compensation. To read our full disclosure, click here.
Benefits of Choosing Low-Calorie Ice Cream
Having sugar cravings is a natural part of life, but these can be satisfied with lower-calorie food options like low-calorie ice cream. The market is full of low-calorie ice cream desserts nowadays, substituting ingredients that pack fewer fats, sugars, and carbs into the final product.
By choosing a low-calorie option, you get to enjoy a favorite summertime sweet treat without overloading your body with excess calories. Instead of avoiding ice cream altogether, try one of these yummy low-calorie desserts.