We may earn compensation from the products and offers mentioned in this article. However, any expressed opinions are our own and aren't influenced by compensation. To read our full disclosure, click here
Anti Snoring Device
In this article about the Vitalsleep Review, we'll be sharing how getting a good night's sleep every night is a key determinant of health. So, we should all want to know how to get better sleep. Lack of quality sleep leads to a laundry list of problems, with lethargy and fatigue being at the top of the list. If you are living with a snorer, then you know how hard it is to get that good night's sleep. Yet snoring doesn't just affect those who are trying to sleep in the vicinity of the snorer. It also affects the quality of sleep of the snorer.
What's more, snoring can be a source of tension within a relationship, with the partner building resentment while the snorer feels guilty and helpless to remedy the problem. Snoring and associated lack of sleep can also negatively affect good posture and result in balance and coordination problems.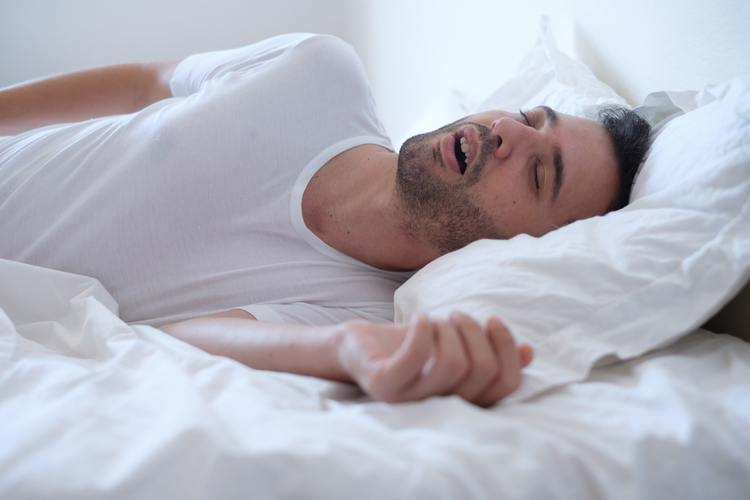 VitalSleep has been designed to provide that much sought after remedy. It is an anti snoring device produced by the Snore Reliever Company, LLC. The company produces a line of products that are all designed to bring relief for snorer and those who live with them. The VitalSleep 5-piece snoring bundles combine 5 products into a cost effective package designed to provide a complete snoring solution.
The center-piece of the VitalSleep 5-piece snoring bundle is the mouthpiece. This is a mandibular advancement device (MAD) that protrudes the lower jaw forward as you are sleeping. This prevents airway blockage which, in turn, reduces snoring. The mouthpiece comes in a universal size. When you get it, though, you are able to make use of a bite and boil customized fitting process to fit it precisely for your mouth.
The mouthpiece also features an Accu-Adjust System that enables you to get an even more precise micro-adjustable setting based on your level of snoring.
The VitalSleep mouthpiece is manufactured in the USA and uses materials that are all FDA approved and medical grade. It is made from polypropylene and ethylene-vinyl acetate. Adjustment screws are made from nylon. That means that there is no BPA, latex, or metal going into your mouth.
The customized boil and bite technology with this mouthpiece makes it more user specific than some competitors which are universal and non adjustable. You are also able to select just how far forward you want the lower jaw to protrude as you are sleeping. In addition, you are able to widen the lower tray base to accommodate for the intensity of your snoring.
The VitalSleep bundle comes with a generous 60 day, no questions asked, money back guarantee. The mouthpiece is designed to last for between one and two years. However, if it fails within the first 12 months, VitalSleep will provide a free replacement.
How to Use the VitalSleep Mouthpiece
When you receive your mouthpiece and are ready to customize it to your mouth, place it in hot water for 60 seconds. Then immediately put it in cold water for 3 seconds. While facing a mirror, put the mouthpiece in your mouth and bite down on it for 30 seconds. Then take it out of your mouth and place it back in the cold water for 30 seconds to allow it to set. If needed, you can reheat and reset the mouthpiece at a later date.
The VitalSleep mouthpiece can be cleaned with a regular toothbrush. If you wear dentures, you can also use your denture tablets to clean the mouthpiece. VitalSleep also produces a cleaner which is included in the 5 product bundle purchase. According to Snore Reliever, this spray cleaner will eliminate 99 percent of germs and bacteria.
As you are researching the right sleep devices for you, make sure to check out our tips for sleeping better. You may be surprised to find that some simple changes may significantly improve your sleep habits.
VitalSleep Bundle Price
The 5 piece snoring bundle has a regular retail price of $129.95. However, it is, at the time of this writing (August 2021), discounted to $79.95. This represents a $50 savings of 38 percent.
That makes the VitalSleep bundle very cost competitive. Even at the normal retail price of $100 for the mouthpiece, the cost is significantly cheaper than much of the competition, so the special bundle discount is pretty remarkable.
You do not need a prescription to use the VitalSleep mouthpiece. The VitalSleep 5 Piece Snoring bundle is only available through the official VitalSleep website. Shipping is free within the United States and to most countries around the world.
Your purchase is protected by a 60-day money-back guarantee and a 2-year warranty.
VitalSleep Reviews
The official VitalSleep website features a number of video reviews from real users of the VitalSleep mouthpiece. Here are some sample comments:
"I slept like a baby the very first night."
"The first night wore it, absolutely zezo snoring."
"I didn't snore all the night."
Wrap Up
The VitalSleep system provides you with a very cost effective snoring solution that allows you to customize it to your mouth and make micro adjustments to bring an immediate end to your snoring problem. The special bundle deal represents exceptional value for money. Combine that with the generous guarantee, warranty conditions, and the positive user feedback and you've got a snoring solution that looks like a winner.