Best Run Tracking Apps for 2022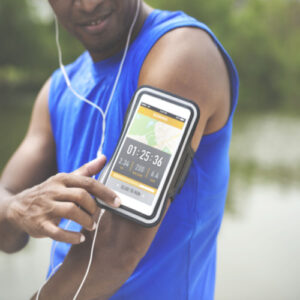 Running has always been a popular trend. New runners are out there hitting the streets and trails every day. June 2nd is Global Running Day, and you can celebrate by downloading one of the best run tracking apps and using it to improve your game.
If you're new to running, it's important to focus on having fun. It takes time for your body to acclimate to change, but the physical and mental health benefits start accruing on the first day. Integrating running into your lifestyle can be easy and fun. It's important to stay motivated and avoid injury. Keep reading to discover the best run tracking apps to help you reach new heights this year!
Running Apps Double as Health Trackers
You can notice running's benefits on day one, so why don't more people do it? Forming new habits can be hard, especially in a busy world with lots of distractions. It gets easier if you have a good list and an assistant to keep you on track. That's why I suggest running tracking apps for those who are serious about getting their run on.
If you are a beginner, the excitement and rush can tempt you to do more than you should. This can lead to a loss of motivation, confusion, or even injury. The secret to unlocking all the benefits of running is to start small. If you try to run a marathon on your first day, you're probably going to end up discouraged. When you start small and build slowly, your mind and body will have the time to build strong habits.
I suggest you start by going shopping for the right running gear for men and women. Having the right shoes and clothes is essential for running if you want to be comfortable and safe. I wear Lululemon Speed Up Tight Leggings because they don't chafe, bunch up, or sag, and they make me look great. That makes it easier for me to stay motivated and work for my best performance.
Once you have the right clothes and shoes, it's a good idea to familiarize yourself with where you're going to be running. Your first run should have two goals: familiarize yourself with the area, and explore what kind of running you like best.
Running for Weight Loss
Many people use running for weight loss, and cardio is one of the most effective ways to lose weight. Taking it slow may sound counterintuitive because you want to see results on the scale right away. It's important to remember that solid habits that will help you reach your goals take time to form.
No matter what your goal is, you will get many additional benefits from running. Not only will you burn more calories, you'll also tone your legs and strengthen your core. Running protects the heart and elevates your mood. The latest scientific research also says that running makes you smarter.
Virtual runs are a great way to help you stay motivated. They work just like regular races, only you can do them any time, anywhere—even on a treadmill. All you need to do is enter a race and provide evidence that you completed the course. I include data from my health tracker with each virtual race I run. It helps me see how much I've accomplished and gets me excited for my next run. I especially like to see how my vital signs improve over time. I plan on running for the rest of my life. I know that the more I run, the happier and healthier I will be.
Here Are My Picks for the Best Run Tracking Apps
Runkeeper
There is a free basic version and a $39.99/yr option for a more personalized approach.
You can track running, cycling, walking, hiking, and swimming. It connects to smartwatches and Spotify, so you can listen to podcasts or music while you run.
Nike Run Club
Nike offers a great introductory app for those who are just starting out. You can track your run and vital statistics, connect with a coach or friends and receive motivational advice.
Under Armour MapMyRun
With MapMyRun, you can log your workout using your phone or other devices like Garmin or Apple Watch. Making social connections with your friends and other people who like to run is easy. You can create competitive challenges to foster a sense of camaraderie and competition.
Use adaptive training plans and data tools to help you reach your goals and create productive systems.
Strava
The complete suite of Strava running apps is breathtaking. There is a specialized app for almost any type of athlete, allowing you to track, analyze, and export your data using a variety of tools. You can make social connections and more. Great for beginners, and ideal for those who want a unique, specialized experience.
The Best Beginner Running Apps Can Help You on Your Way
Running can be easy, even for beginners. You can start seeing results on the first day. I feel smarter and more energized after a short run. And running makes you happier. It has a powerful positive impact on your mental health. Learning how to meditate while running can help you enjoy it more and increase the benefits you get from exercising.
Start by finding the best jogging paths and trails near you. Try out some that are level with no elevation changes and then a few that get you going uphill and down a lot. Everybody is different, so there are no wrong answers. Just find what feels comfortable and fun for you.
Tracking running distance is easier when you have the right tools and techniques. Practicing these running exercises is a great way to protect against injury and boost your results. Getting the right clothes is also important. When I look good running, I want to do it more often, and the right outfit makes me feel like a winner.
When winter comes, you don't have to stop training. Cold weather running can bring you more benefits as long as you keep your extremities warm. The cold temperatures help you avoid overheating and can improve your skin tone. There will also be fewer people out running, so you'll have more space.
The way an app affects my bottom line is how I decide which one to use. I recommend you try out several tracking apps to help you with your training programs. Find out which is right for you, and use it for thirty days. See how much better you can perform.