Summer is here in all its glory, and for many of us, that means spending as much time at the beach as possible. And while it's a great place to just kick back and relax, the beach can be a sweet workout spot, too. If you've missed exercising with others due to the pandemic, games like Ultimate Frisbee and beach volleyball are ideal right now. Experts feel that, while you should take precautions in the era of COVID-19, it's generally safe to work out outdoors. It's important to follow social distancing guidelines, as always, but there are ways to exercise in the fresh air and sunshine. (It's especially safe if you keep your game to your immediate family, i.e. those you've been quarantining with.)
Playing on the beach is amazing for you in so many ways. You'll take in some extra vitamin D, which can help your mood and immune system immensely. And when you're feeling overheated, you can just jump in the ocean! The gym may be closed right now, but there's no need to neglect your physical fitness this season. And when you play a game you love, working out doesn't feel like an obligation—just an awesome time with friends.
Beach Volleyball: An Incredible Summer Workout
When it comes to working up a sweat and getting your heart rate going, few beach activities can compete with volleyball. Whether you're playing like a hopeful Olympian or enjoying a casual game with friends (you know, like in Top Gun), it's great exercise. A thirty-minute game can burn between 240 and 355 calories, depending on your size. Serving and spiking challenge you to work your arm muscles. And because it's more difficult to run in beach sand than on a gym floor, your legs get a great workout. Just take a look at any competition player, and you'll see for yourself. They're lean and amazingly toned, with incredibly strong arms and legs and rock-hard, washboard abs. It's hard to think of a more effective all-over fitness activity.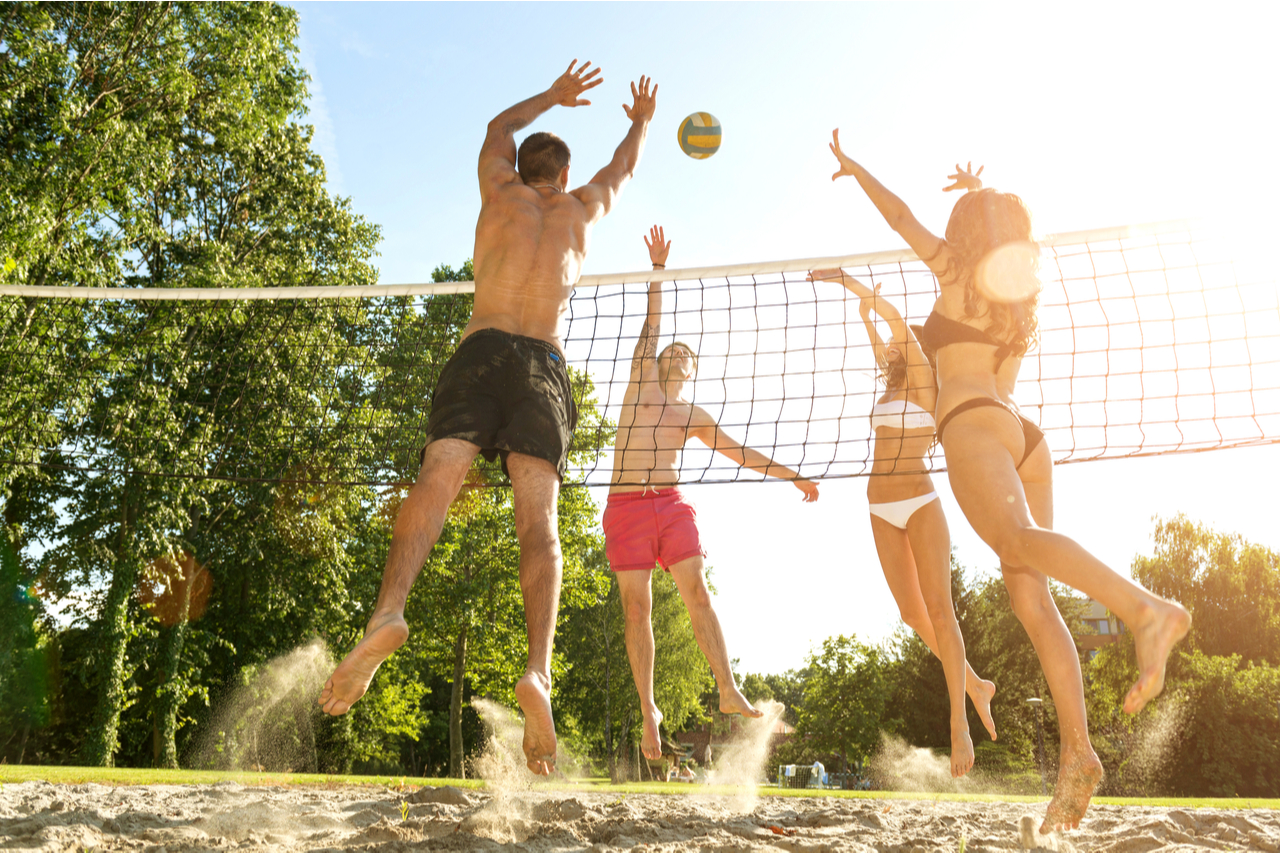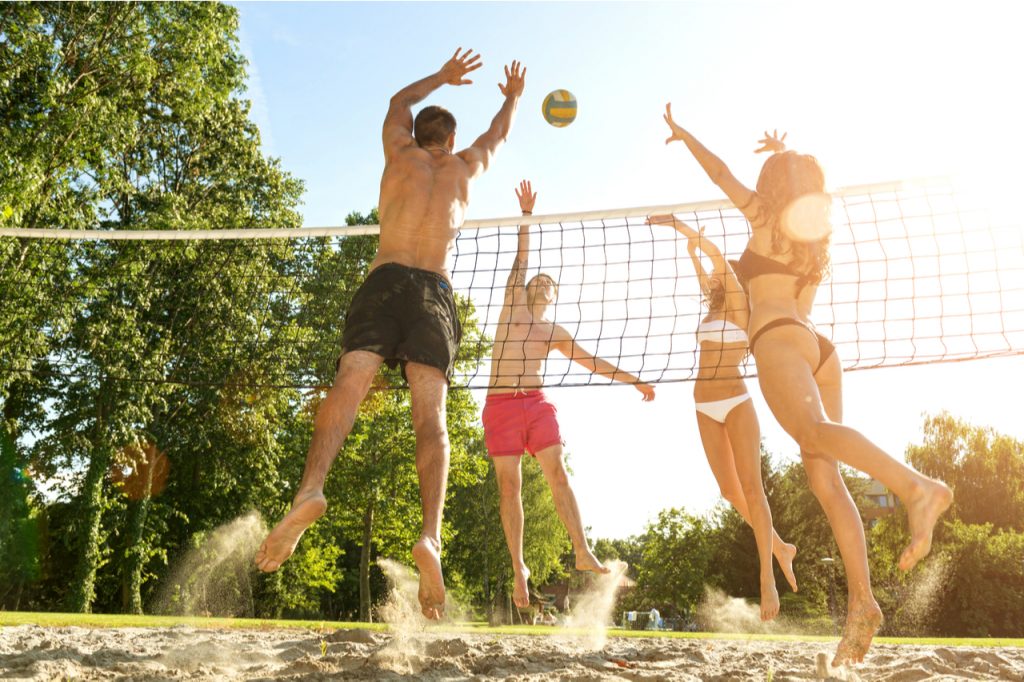 Of course, there's more to a great volleyball game than just well-developed muscles and a to-die-for beach body. Using a top-notch volleyball can make an enormous difference in the quality of your gameplay. Sure, you can play with a cheaper imitation, but it's worth it to invest in a ball that will enhance the entire experience.
Here, I'll review three popular balls available on Amazon: the Mikasa VLS300 Beach Champ, the Wilson OPTX AVP Official Beach Volleyball, and the Molten Elite Beach Volleyball. They're all approved by professional players. I'll take you through the pros and cons of each so you can choose one that's perfect for you.
More Tips for Beach Volleyball and Other Outdoor Sports
Once you have your perfect game ball, you're just about ready to hit the sand and start serving. For a great (and long) day on the beach, here are a few tips. To stay safe and feel great, you may want to slip some healthy and fun summer products into your beach bag. Your must-haves include plenty of broad-spectrum sunblock, cold drinks, and yummy snacks.
Always Wear Sunblock with Broad-Spectrum SPF
As tempted as you may be to skip the sunscreen and get a gorgeous summer glow, play it safe. Unprotected sun exposure greatly increases your risk of skin cancer. If you're very fair-skinned and burn easily, you may want to wear shorts and a T-shirt over your bathing suit. To protect your scalp and ears, wear a hat. And check the instructions on the sunscreen bottle to see how often you need to reapply. Even if you're not in the water, you could be sweating it off. It's better to be safe than sorry (and very sore!) later.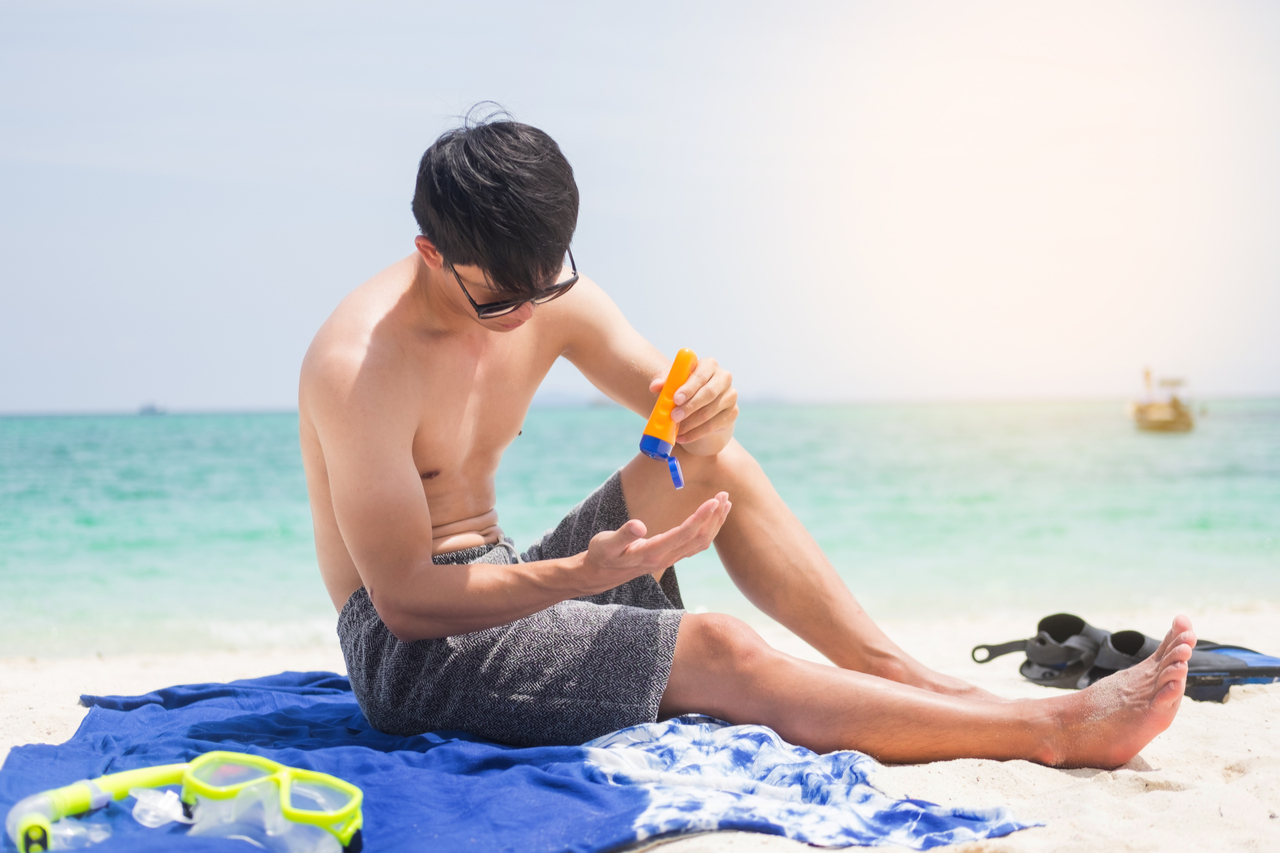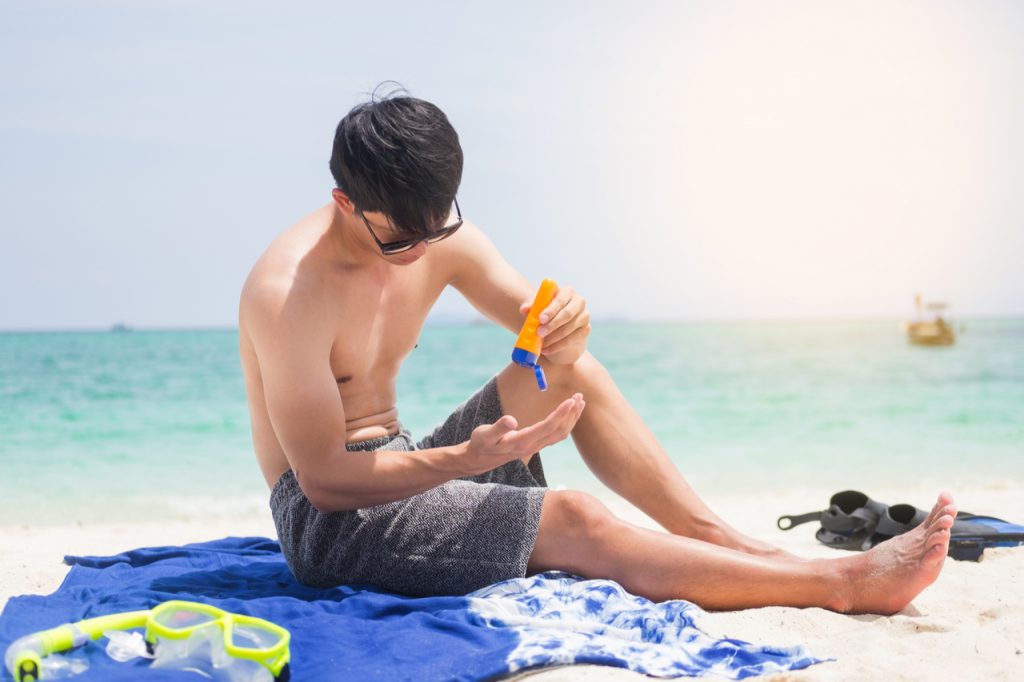 Tread Carefully in the Sand
There's a reason exercising on the beach is so good for you. Whether you're playing volleyball, going for a long walk or run, or playing Frisbee or catch, the sand changes everything. Because it moves under your weight, you engage your muscles more than you would on solid ground. Just take care not to overdo it, and don't be ashamed to wear sneakers to protect your ankles. If you love walking barefoot, choose a path in wet sand, which is a bit sturdier.
Drink Water Frequently to Stay Hydrated
The sunshine and warm sand feel great, but vigorous exercise can overheat your body. Be sure you pack plenty of water and other rehydrating beverages when you're loading up your cooler. If you want to keep your drinks cold, freeze bottles of water overnight and pack them right before you leave. They'll defrost in the hot sun, but they'll still be cool enough to refresh you after a big game. They can help keep your food cool too.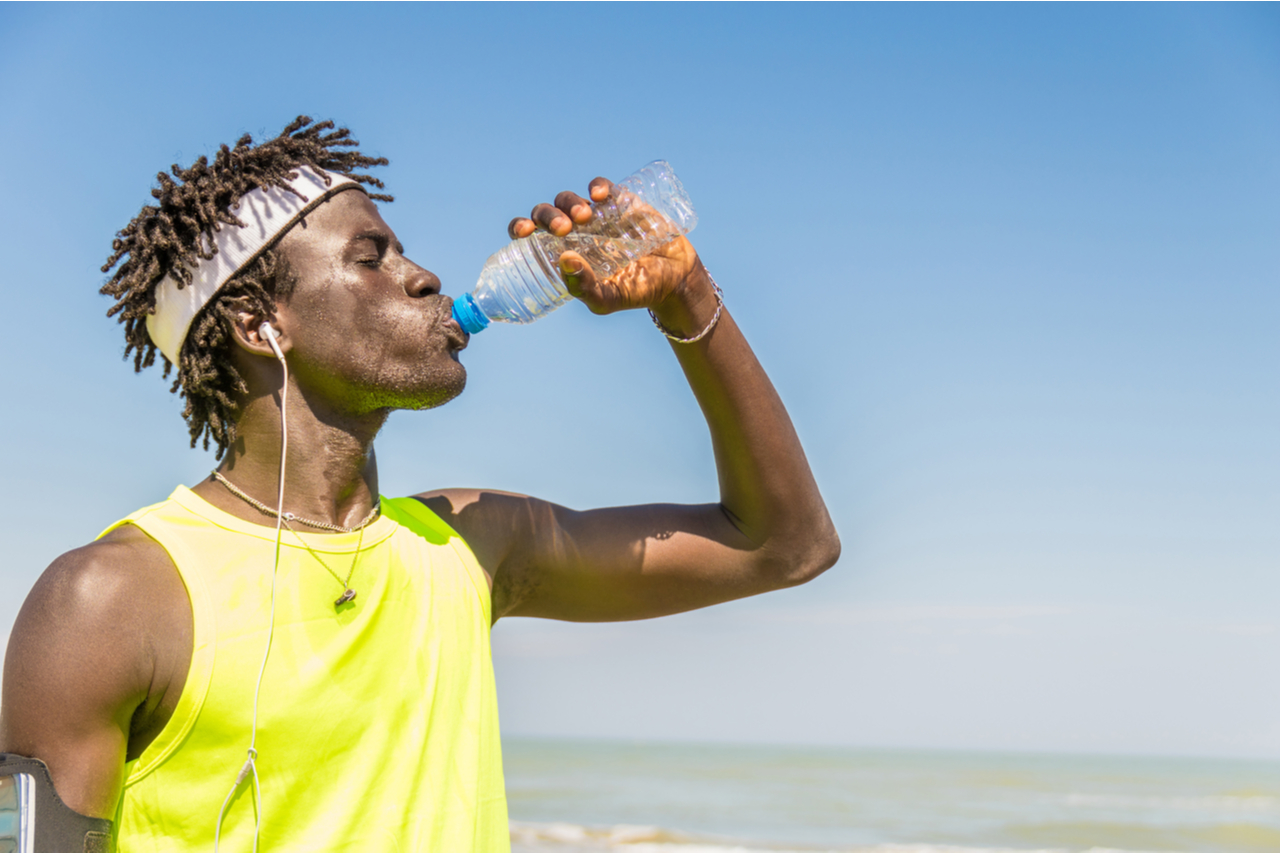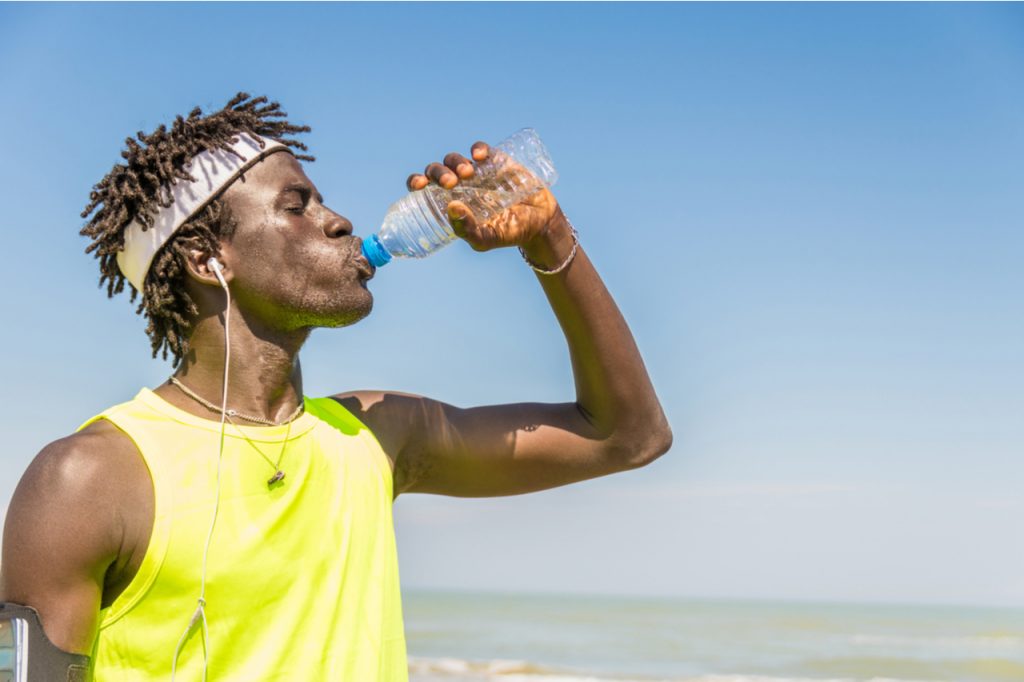 Pack Healthy, Beach-Friendly Snacks
After all that strenuous physical activity, you'll probably be ravenous! Load your cooler with some delicious and satisfying snacks that won't spoil quickly in the heat. Trail mix, nuts, popcorn, cut-up fruit and veggies, and homemade protein bars are all good options. You can even freeze melon cubes, berries, or grapes for an extra-cold treat. Note that it's wise to avoid foods like cheese, eggs, cold cuts, and salads with mayonnaise on the hottest days. Even with a frozen water bottle or ice pack in your cooler, they could go bad in just a few hours. And be sure to go easy on greasy, salty snacks like chips, which can make you feel bloated and sluggish.
Cool Off in the Waves
In addition to regular water breaks, nothing will cool you off more effectively than a quick dip in the surf. Open-water swimming is great exercise, but even splashing around is good for you. Resisting the pull of strong waves causes you to activate multiple muscle groups, and treading water is an excellent workout. It's a great idea to take quick breaks between games to jump into the ocean. You'll come back to your next game feeling refreshed and ready to win.
Have a Great Summer!
Now that you know where to find the best pro-approved beach volleyballs, you're ready for some serious sun and fun. You'll soak in some much-needed vitamin D, burn a ton of calories, and tone nearly every muscle in your body. After staying home for months, getting outside for vigorous exercise and friendly competition will do you a world of good. Just remember to take good care of yourself while you're playing hard, pausing for regular water breaks, and sunscreen reapplication. Have a great time on the beach, and enjoy your incredible volleyball workouts!
Facebook Comments