Review: 3 of the Best Yoga Apps for 2022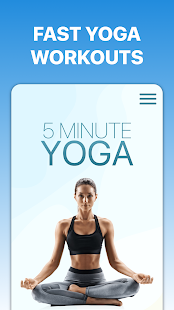 Pros
Excellent for beginners. You only pay an one1-time fee for the app ($2.99). You can increase intensity levels.
Cons
Limited variety, and poses are not demonstrated by a coach.
Bottom Line
This is the best Yoga app on this list for beginners.
Pros
Practitioners can develop flow in lots of instructor-led classes at all skill levels
Cons
Not all features are free. Some services are subscription-based.
Bottom Line
Best daily yoga app on this list.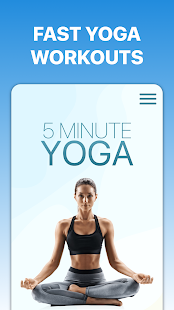 Pros
Can be used by people at all levels. Offers 5- minutes sessions that you can do at work.
Cons
Requires payment for access to content. Limited content variety.
Bottom Line
Best yoga app on this list for busy people.
We may earn compensation from the products and offers mentioned in this article. However, any expressed opinions are our own and aren't influenced by compensation. To read our full disclosure, click here
Yoga App Benefits
A good yoga app will allow you to improve your yoga practice anywhere, anytime. It will provide you with access to a broad range of live and on-demand classes as well as educational articles, videos, and other content.
The best yoga apps will also provide you with daily motivation on healthy living and the benefits of yoga, deliver mantras and other pearls of wisdom to feed your mind and offer safe instruction that you can practice with.
Apps are available for all levels of fitness and experience.
Yoga App Costs
You will find many yoga apps that are completely free of charge; however, many of these are very basic. They do not contain video content and are often cluttered with annoying advertisements.
Many apps will require a one-off fee to download the app, which is normally in the $3–5 range. Others will be subscription-based. Subscription-based apps usually allow you to choose between monthly and annual payments. Expect to pay anywhere from $1–10 monthly or $10–50 annually.
Best Yoga-for-Beginners App: Pocket Yoga
Pocket Yoga is a great app for people who are complete yoga newbies. If you don't want to look like a fish out of water at an actual yoga studio, then Pocket Yoga will allow you to come to grips with the basics in the safety and comfort of your own home.
To download Pocket Yoga, you pay a fee of $2.99. After that, you pay nothing—ever! The content library has nearly 300 poses broken down with simple how-to instructions and illustrations. However, there are no videos of an instructor actually demonstrating the poses.
The library of poses on this yoga-for-beginners app can be searched by difficulty level, alphabetically, or by the type of pose. In addition, there are five animated yoga classes that you can utilize. These are all well presented with complete, full instructions that even a complete novice can follow. The yoga classes get progressively more difficult, so you'll be able to increase the intensity of your workouts as you become fitter, stronger, and more proficient at yoga.
Children, as well as adults, will benefit from Pocket Yoga.
Best Daily Yoga App: Yoga Studio by Gaiam
Yoga Studio by Gaiam is one of the most popular yoga apps on the market right now, thanks to its wide range of classes, instructional content, stress-reduction techniques, and good value for money. You will find in excess of 75 custom yoga classes on the app for every level of experience.
A cool feature of Yoga Studio is that you can create your own custom flow using a smart-link feature, which allows you to add blocks of poses to classes from a huge library consisting of more than 280 poses. You can also customize your music by inputting your own playlist.
You get about 15 guided meditations and relaxation practices on Yoga Studio, too. However, this is not a free app. You can choose to pay a weekly, monthly, or annual subscription. A basic membership costs $19.95 per month. That provides you with access to the library of more than a hundred classes, streaming videos, and lots of bonus material.
Best Yoga-for-Busy-People App: 5 Minute Yoga
5 Minute Yoga is a great app for people on the run. This app features short, effective yoga poses that can be picked up quickly. Every pose is illustrated and accompanied by clear instructions, though there is no video instruction. As the name of the app suggests, all yoga classes are 5 minutes or less, making them great for a fast lunchtime session.
5 Minute Yoga offers classes at all levels. You can get limited access to the content for free but will have to pay a subscription to get full access.
5 Minute Yoga provides you with daily workouts. On Day One, you are given five simple poses to perform. There is a 40-second countdown timer for you to hold each pose. The screen will then move to the next pose. On Day Two, there is a fresh set of five poses to hold for 40 seconds each.
To access the Day Two poses, you need to answer a short survey. But from then onward you can only progress by paying a subscription. You have the choice to pay a one-off fee of $8.49, a $1.99 monthly subscription, or an annual subscription of $5.99. You will then have access to 365 days' worth of poses, with enough variety that you won't get bored.
The five-a-day, 40-second pose format makes 5 Minute Yoga an extremely user-friendly app that will allow you to get in your short, sharp yoga sessions every day of the year.
Summary
A yoga app is the perfect accessory for your yoga practice, whether you are a beginner or an experienced yoga practitioner. In this article, we've shined a spotlight on the best apps across a range of experience levels and situations. If you're a beginner, we recommend downloading Pocket Yoga. For more experienced practitioners looking for a bit more variety and intensity, go for Yoga Studio by Gaiam. Finally, if you're after an app that will deliver easy-to-follow 5-minute workouts, you can't beat 5 Minute Yoga.