The 5 Best Compression Boots of 2023 for Recovery
Best Overall
Best Value
Honorable Mention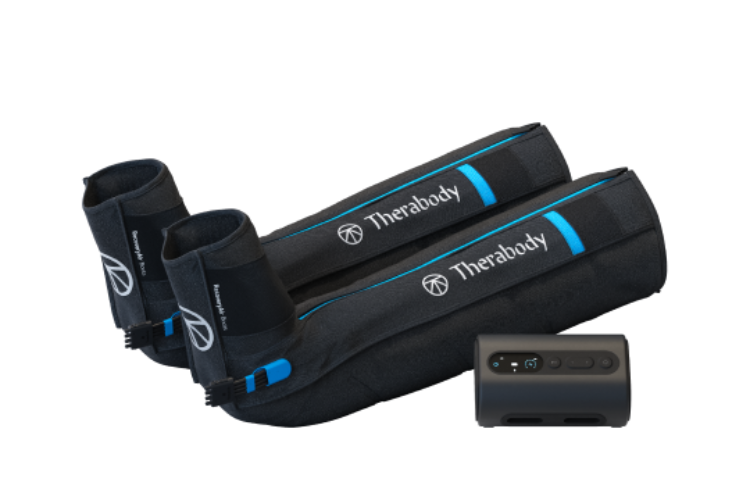 Pros
Therabody Recovery Jetboots deliver the best mix of portability, functionality and comfort. That makes these boots ideal for people who travel regularly or want a compression boot they can use away from home. Go here to compare the 3 models to find which one best fits your situation.
Bottom Line
The ReAthlete AirC Pro is an entry-level compression boot that is ideal for newcomers to compression massage. If you are a general fitness exerciser who doesn't push it too hard in the gym, this model will be a good fit for you.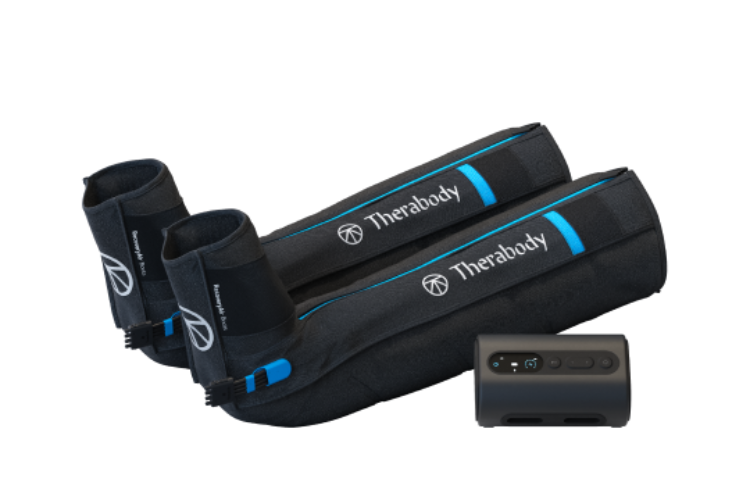 Therabody RecoveryAir Prime
Bottom Line
The RecoveryAir Prime is best suited for people who are new to compression therapy and train with moderate but not extreme intensity. It's an entry-level model that is designed for the general population as opposed to serious athletes.
Bottom Line
If you want to get total customization of your compression session, then the Hyperice Normatec 3 Legs are the boots for you. This product allows you to achieve micro-control of the compression level while also skipping to your preferred compression zones.
Rapid Reboot REGEN System
Bottom Line
If you train intensely and need some serious muscle relief after your workout, the Rapid Reboot REGEN Recovery System delivers the oomf you need. The dual recovery modes are ideal for both amateur and pro athletes.
The 5 Best Compression Boots of 2023 for Recovery
There'a massive industry emerging built around post-workout recovery. The latest innovation is compression boots. Basically a blood pressure cuff that fits over both legs, compression boots have been shown to enhance circulation, improve waste removal, and reduce post-workout soreness.
Compression boots represent a significant investment. So, before you buy a pair, you'd better do your due diligence. In this round-up review, I've sorted out the best from the rest to bring you the five best compression boots on the market.
We may earn compensation from the products and offers mentioned in this article. However, any expressed opinions are our own and aren't influenced by compensation. To read our full disclosure, click here.
What is the Best Compression Boot?
The best compression boots on the current market are Therabody RecoveryAir JetBoots. These are the first compression boots to be totally portable and hoseless. You get four levels of compression, fast inflation, and three size options to suit every leg height in an easy-to-clean, nonabrasive design.
Best Overall
RecoveryAir JetBoots
Overview
The RecoveryAir JetBoots are the latest innovation from Therabody, building upon the success of their previous models. This new version has significantly improved portability with integrated pumps built into the sole, allowing users to enjoy a hoseless experience. This is a battery-operated boot with a charge lasting up to four hours. There are four levels of compression to suit all levels of users. The design team at Therabody has also focused on enhancing user comfort by using non-abrasive, moisture-wicking synthetic inner material. This results in a more pleasant experience during compression therapy sessions.
Top Features
Fully portable – no wires or hoses
Non-abrasive inner material
Fast inflation/deflation
Four levels of compression: 25,50,75, and 100 mmHG
Weight: 4.5 lbs (2kg)
Dimensions: Available in three sizes – Small(26-32 in), Medium(32-38 in), and Large(38-44in)
Inflation speed: 30 seconds to full inflation
Pricing
There are three versions of the Therabody RecoveryAir JetBoot available on the Therabody website.
The RecoveryAir Prime is listed at $699.
The RecoveryAir JetBoots are listed at $899.
The RecoveryAir PRO is listed at $1299.
A Great Contender
Hyperice Normatec 3 Legs
Overview
The Hyperice Normatec compression boot is on its third version, offering users greater customization and control. The updated design includes a compact and lightweight control unit and improved battery life, making it an excellent choice for athletes who want precise control over their recovery sessions. It has seven compression levels and patented Pulse technology to deliver customized treatment to the five overlapping zones that make up each boot.
The Normatec control units integrate with the Hyperice app, allowing you to choose your own settings to customize the treatment. These boots are designed for comfort and ease of movement.
Top Features
Seven compression levels for ultimate customization
Compact, lightweight control unit
Three-hour battery charge
You can skip compression zones to focus on key areas
Weight: 4.4 lbs(2kg)
Dimensions: Available in three sizes – Small(5'3″ and under), Standard(5'4″ to 6,3″), and Tall(6'4″ and over)
Inflation speed: 40 seconds to full inflation
Pricing
The Hyperice Normatec 3 Legs retails for $799.
Best for Athletes
Rapid Reboot REGEN System
Overview
The Rapid Reboot REGEN system is an advanced system that provides two modes. Mode A massages in peristaltic mode to deliver constant involuntary contractions. Mode B is known as recovery mode, providing successive compression through each of the four zones. Pressure can be adjusted from 20 mmHg to 200 mmHg, providing the most powerful compression of any of my reviewed boots.
The Rapid Reboot REGEN System has been designed with the needs of athletes in mind, offering two compression modes to provide optimal recovery. The company has made significant improvements in both power and versatility compared to its previous models, ensuring that users can enjoy a customized and effective recovery experience.
Top Features
Two compression modes for graduated recovery
Max compression 200 mmHG to meet the needs of athletes
Multiple sizes to suit all heights
Weight: 7.7 lbs (3.5kg)
Dimensions: Available in three sizes – Small(5'5″ and under), Medium(5'6″ to 6'0″), and Large(6'1″ and over)
Inflation speed: 50 seconds to full inflation
Pricing
The Rapid Reboot System REGEN Boots Pack system retails for $1295.
The system includes the REGEN Control Unit, boots, travel case, and power adapter. The company provides a two-year warranty.
Honorable Mention
Therabody RecoveryAir Prime
Overview
The Therabody RecoveryAir Prime is the entry-level model in Therabody's range of compression boots. It provides just two preset routines (warm up and recovery), compared with the four routines on the RecoveryAir PRO. The battery life is also an hour shorter and it doesn't have inflation cycles or individual chamber zones control. However, the RecoveryAir Prime still provides quality compression massage—and it's $600 cheaper than the RecoveryAir PRO.
Top Features
Budget price
Two preset routines
Fully inflates in 60 seconds, allowing for more cycles per session
Seamless, easy-to-clean internal chamber
Weight: 6 lbs (2.7 kg)
Dimensions: One size fits most (up to 40 in)
Inflation speed: 60 seconds to full inflation
Pricing
The RecoveryAir Prime retails for $699.
Best Value
ReAthlete Air C Pro
Overview
The ReAthlete Air C Pro is designed for affordability without compromising on quality. The company has simplified the design to focus on essential features, making it an ideal entry-level option for newcomers to compression therapy. The lightweight and portable design ensures that users can easily transport and use the Air C Pro wherever they go.
Top Features
4 airbags to compress all areas of the lower body
60 minute battery charge
Budget price
Carry bag included
Portable
Weight: 5 lbs (2.3kg)
Dimensions: Available in two sizes – Small/Medium(up to 34 in) and Large/XL(34-42 in)
Inflation speed: 45 seconds to full inflation
Pricing
The ReAthlete Air C Pro retails for $299.00
Check out the best price on the ReAthlete Air C Pro
What are Compression Boots?
Compression boots are inflatable leggings that fill with air to provide compression to the lower body. The boots inflate and relax to simulate the natural pumping of blood and lymphatic fluid in the legs. They feel as if you have blood pressure cuffs on your legs.
Studies suggest that wearing compression boots after exercise may improve blood circulation, speed up lymphatic drainage, enhance the removal of lactic acid and waste products, and reduce delayed onset muscle soreness (DOMS).
Wrap Up
Compression boots allow you to transform your post-exercise recovery. The best boots on the market are Therabody RecoveryAir JetBoots, which are fully portable, offer four levels of compression and fast inflation. This is also the most comfortable compression boot I've come across, with a seamless, moisture-wicking, non-abrasive inner lining.