Sonic X Massage Gun Review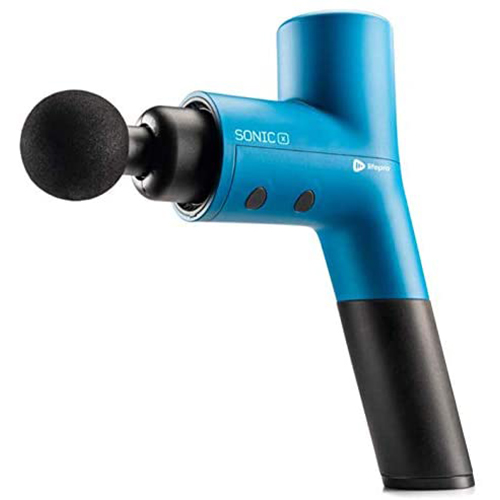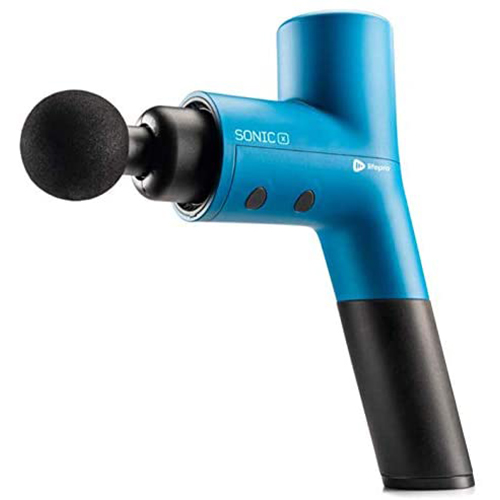 Sonic X Personal Percussion Massage Gun
Pros
This high spec massage gun has been designed for use by chiropractors, massage therapists, and pro athletes. This makes it ideal for the home user who is serious about getting quick and effective deep tissue stimulation. It is powered by a 2000 mAH motor and twelve amps. The percussion speed ranges from 1800 to 3400 rpm. Your purchase comes with five attachments and a handy carry case.
Cons
This massage gun is quite noisy. The oscillation is also a little inconsistent.
Bottom Line
The Sonic X is a powerful, multi-use power massager that is easily portable. The impressive battery life of six hours, percussion speed, and range of attachments make for an excellent gym massager.
We may earn compensation from the products and offers mentioned in this article. However, any expressed opinions are our own and aren't influenced by compensation. To read our full disclosure, click here.
While you may think of self-care as a calming post-workout sauna or Epsom salt bath, percussion massagers like the Sonic X massage gun take a slightly different approach to muscle recovery and pain relief. With a shape similar to a drill, these devices offer an alternative to foam rolling and deep tissue massage. If you're looking for a new way to speed up muscle recovery and soothe aching limbs, keep reading this Sonic X massage gun review to find out everything you need to know.
The Sonic X massage gun is one of Lifepro Fitness's most popular models. The brand founders are a pair of friends who both suffered from ACL injuries around a similar time. In a bid to get back to full health, the duo bought at-home rehab equipment to improve their recovery. They couldn't find anything that helped, and felt pretty deflated by the lack of results and options on the market. The pair struggled to get fit, lose weight, and be healthy while recovering from an injury. Lifepro Fitness came into fruition to help people through their journey to full health and movement, as no one should go through it alone.
Sonic X Massage Gun Review: Long Battery Life and Lightweight
The Sonic X massage gun is super portable and light enough to store in your sports bag. The device comes with four different heads with five different speeds to choose from. The lightweight and ergonomic design make it easy to use and target sore points around the body. Due to the lightness of the device, it's a good choice for older adults too.
You can get a deep massage that should help you to loosen up quickly. It's effective at getting rid of stubborn knots and general achiness in the body. Use the device with a partner or by yourself for self-massage. With a 2,500 mAh battery, you'll feel enough power to take on tight muscles.
The device uses quiet motor technology and advertises a "super quiet" experience. The majority of users find the motor is quiet enough on the low setting but can get louder as you increase the power. It delivers a smart combination of power and quietness, meaning you can use it wherever you need to without drawing attention.
At around $200, the massage gun is in the mid-range price bracket; however, it is still by no means cheap. But you do get what you pay for in terms of durability and ease of use. A major benefit is that it lasts up to six hours on a single charge. This makes it ideal for on-the-go use when you travel or hit the gym.
With a lifetime guarantee, the Sonic X massage gun undergoes rigorous testing to ensure power efficacy. There's even ongoing support after purchasing the device if you need further help.
Deep Tissue Massage for Sore Muscles and Aching Joints
Sonic X is a percussion massage gun. Percussion massage therapy uses a handheld device to deliver a series of quick jolts to the body. The idea is that continuous pulsing encourages muscle fibers to loosen up. All this improves blood flow and pain relief from sore and stiff muscles. In turn, this helps to decrease post-workout muscle pain and speed up the recovery process after exercise.
Consider investing in a massage gun if you're looking for relief for muscle soreness or suffering from neck and back pain. One of the best ways to look at a percussion therapy device is as a tool to get deeper into your muscles than you ever could with a foam roller. You can use the device before and after a workout as part of your warm-up or cooldown.
Who Should Buy a Massage Gun?
Professionals and trainers use the Sonic X massage gun to help clients increase performance and reach their peak. While the device is great for athletes, anyone can benefit from it. Whether you're an athlete or hunched over a desk all day, a massage gun can decrease soreness and relieve muscle tension.
Getting a professional massage can be expensive and soon adds up. While there are many advantages to massages, most people know that a single session doesn't quite cut it. You need to attend multiple sessions to continue to see benefits. That's why a handheld massage gun can be such a fantastic investment. You can tackle muscle pain as soon as it arrives and target specific areas. Whether you're an avid gym-goer or experience regular muscle soreness, a massage gun can be a valuable part of your muscle recovery toolkit.
If you like this massager, then consider buying another one for someone else who can benefit from its use. The Sonic X Massage Gun makes a great Father's Day gift, as well as a gift for mom, or a spouse.
Boost Muscle Recovery with a Percussion Therapy Device
You've probably seen your social media flooded with videos of high-intensity massage guns, but what is actually happening? You can compare percussion therapy to a soft-tissue massage where you would use rapid movements to stimulate muscles. The device drives quick pulses deep into the muscle tissue, which helps ease tension and sore muscles.
Muscle recovery is key to an efficient workout routine. The quicker your muscles recover, the faster you can get back in the gym and perform safely. Always listen to your body, and take the time to recover between workout sessions. One of the best but most straightforward muscle recovery tips is to get a good night's sleep. Consistent and quality sleep will help your muscles recover more quickly and leave you feeling recharged for your next gym session.
If portability and battery life are important to you, then the Sonic X massage gun is perfect for you. With a lightweight and ergonomic design, you can tackle knots, pain, and muscle soreness as soon as it arises. The motor is quiet enough to use on the go, yet powerful enough to get rid of knots and soreness. As with most massage guns, there is a financial investment. The Sonic X massage gun is a mid-range device that delivers an intense massage wherever you are.