What's Mindful Eating, and How Do You Get Started?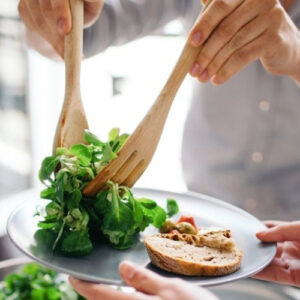 Have you ever eaten snacks without paying attention to what you were eating? Have you ever binged on food, because you were stressed? Mindful eating can help you change these unwanted eating patterns, but not by restricting your calories like other diets.
Instead, use mindful meditation practices to help you focus on the present moment and not worry about the past or future. By being aware of your present moment—aka the food you're eating, how it tastes, how the texture feels, etc., you become more aware of each bite and can't use food as a means to distract yourself from stress. You become more aware of your level of hunger, when you start to become full, and when you should stop eating.
Here are some steps to help you start practicing mindful eating:
1. First, sit down and ask yourself why you're eating.
Are you hungry? Or are you bored or stressed? Food will only make you feel better temporarily, but the problem causing your stress will still be there. Mindful eating helps you only eat when you are hungry.
2. Don't multitask.
Multitasking can be bad for your mental health. When you're eating, don't watch TV, don't work on your laptop, and don't text on your phone. Instead, think about what you're eating. Does it taste good? Do you want to eat it?
3. Slow down.
Don't shove your food down your throat super fast. Instead, eat slowly and savor every bite. Enjoy your food! Eating slower also has other benefits. It helps you be more aware of your satiety and makes it easier for you to digest your food.
4. Stop halfway.
When you're halfway through your meal, stop and check in with yourself again. Do you still feel hungry? This helps you to stop eating based on how your body is feeling versus whether or not you have eaten everything on your plate.
Mindful eating helps you with self-love. If you love yourself, you will treat your body well! Check out these two resources: Savor: Mindful Eating, Mindful Life and Mindful Eating: A Guide to Rediscovering a Healthy and Joyful Relationship with Food.
What's Mindful Eating and How Do You Get Started?
Check for hunger and satiety before you eat.
Serve in modest portions
Slow down
Chew your food thoroughly
Savor your food
Don't skip meals