The More Life x Rhone Fitness Coaches You Need to Know
MORE LIFE x Rhone events offer a fitness experience unlike any other! World-class coaches will lead you through a mash-up of bodyweight exercises, cardio drills, and strength training movements to challenge you to achieve your physical best. Believe me, these high-octane workouts will motivate and guide you, regardless of your fitness level or gender.
Speaking of gender, we're super pumped at the line-up of female coaches we've got for our 2023 events. So, what better way to kick off Women's Month 2023 than profiling our incredible team of women coaches?
For Women's Month, we will be highlighting the women who coach for More Life x Rhone, who they are, and what they do
The More Life x Rhone Fitness workout events are led by an incredible team of female fitness trainers who are passionate about empowering people to live healthier, happier, and more active lives. These trainers are experts in their respective fields and bring a wealth of knowledge and experience to every workout session. Their high-energy, positive attitude, and personalized approach make each workout an enjoyable and effective experience.
With the guidance of our incredible team of female trainers, participants are able to push themselves to new heights, achieve their fitness goals, and build a community of like-minded individuals who support and motivate one another. These female fitness trainers are truly inspiring, and their dedication to helping others lead healthier lives is remarkable.
More Life x Rhone Fitness Female Trainer Profiles
Okay, time to meet our four female coaches
Meghan Hayden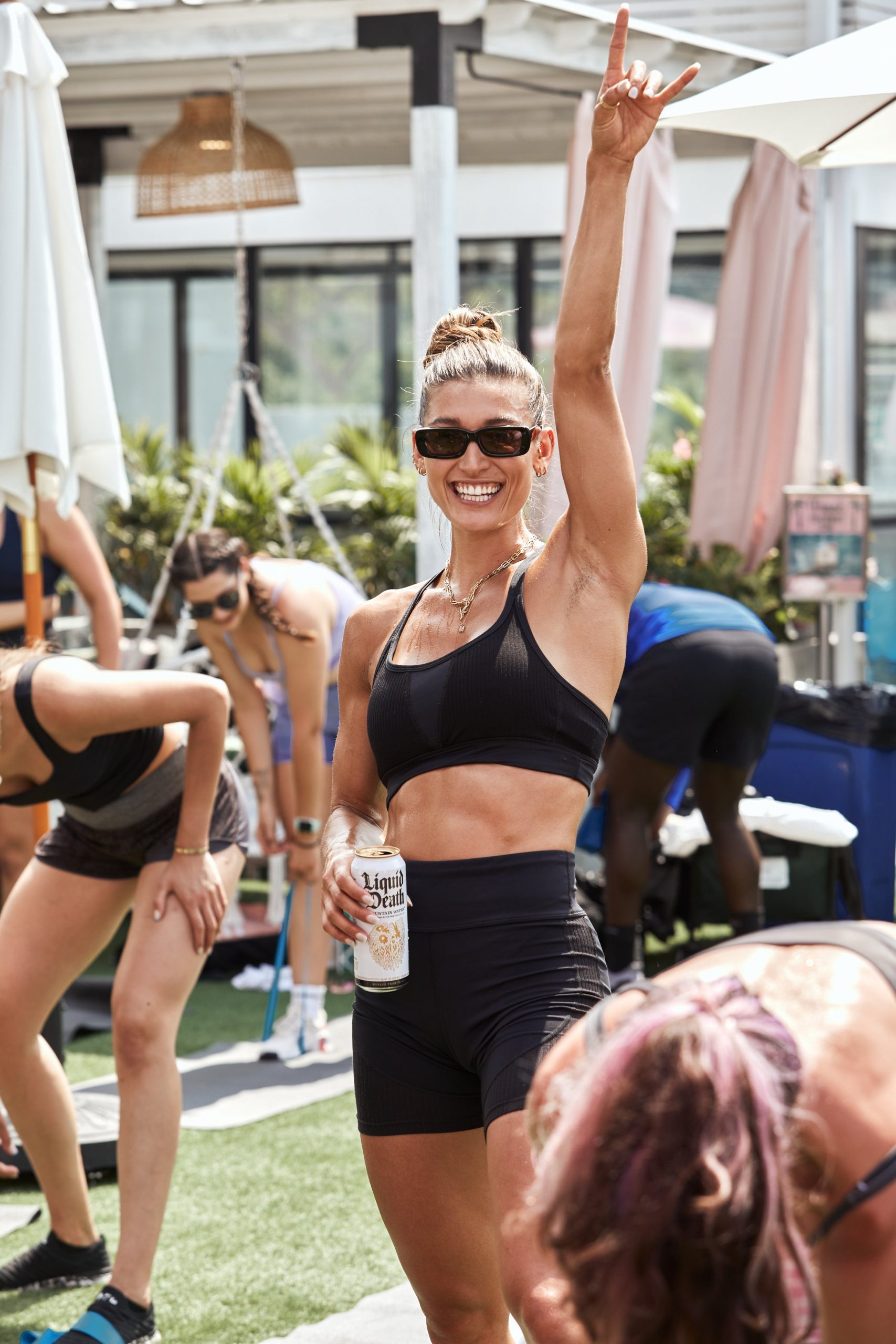 Coach Meghan has been a competitive athlete since before starting school. At age four, she was already playing three full-time sports year-round. Ever since, her training experience has been performance-based, as she strived to perform optimally on a personal level while also providing value for her team. Meghan has carried this principle into her client training.
After high school, Meghan played Division 1 soccer at the University of Richmond before a shoulder injury forced her to hang up her cleats. She next enrolled at the University of Miami to study Exercise Physiology. She became fascinated with the power of balance, mobility and movement, through which she found a new path that led back to sports: Coaching.
After graduation, Meghan moved to New York, where she began working as a personal trainer at Equinox Gym. She quickly became the club's top-performing trainer and earned Tier 3+ personal training status in under eighteen months. Looking to the next challenge, she joined the team at Performix House to work alongside some of the top coaches and instructors in New York.
Meghan has a deep passion to serve others by solving problems based on knowledge and application. She's naturally curious, yet loves it when her beliefs are challenged. She has extensive experience in rehab facilities, having worked with a range of practitioners. She has successfully rehabilitated injuries stemming from trauma, shattered joints, whiplash, gunshot wounds, surgery, sprained ankles, and more.
Meghan is a strength and conditioning coach with the following qualifications:
Erica Welty
Coach Erica started at age two as both a competitive gymnast and dancer. She focused solely on dance from age eight and moved from Orlando to New York City in 2015 to attend The Ailey School for dance, graduating from their certificate program in 2018.
Erica started using strength and conditioning exercises in her second year at Ailey to help her improve as a dancer. She has a committed engagement with weightlifting and purposeful exercise. And her background in dancing has made her a stickler for technique, leaving no room for excuses.
Erica follows a no-compromise life philosophy. Here's some inspiration in her own words: "Keep pushing through, no matter what obstacles you face. As I always say, the only way out is through. There are no shortcuts. The struggle you're in today is developing the strength you need for tomorrow."
Erica holds the following qualifications:
Afiya Ford
Coach Afiya has always had an interest in movement from a very young age. She grew up playing sports recreationally but was never able to unlock her true potential. It wasn't until early adulthood that she discovered her true passion for fitness and fell in love with training. From client to trainer, Coach Afiya uses her own fitness journey to help motivate and inspire others to unleash their inner savage regardless of where or when they've started. Although her primary focus is strength, she is also trained in functional and conditioning modalities. It's never too late to become an athlete, and once Coach Ford was able to transform herself, it's been her mission to help people realize that they can too.
Afiya holds the following qualifications:
holds the following qualifications:
NASM-CPT
CPR/AED
TRX
Pre/Post Natal
Concept2 Row Instructor
Kat Marion
Coach Kat fell in love with gymnastics and dance from a very young age. Her family is probably too obsessed with sports, so it's no surprise that she did gymnastics her entire childhood, then cheered, played volleyball, dove, and ran track in high school. This all led to becoming a Division I cheerleader at Ohio University, and in 2005, Coach Kat choreographed the Orange Bowl pregame & half-time shows.
Kat became intrigued by pilates in 2013. She loved how it made her feel and has been teaching it ever since. Aside from pilates, she also taught HIIT and tabata classes in college and loves combining pilates with cardio so her clients get the benefits of toning and cardio combined.
Kat holds the following qualifications:
Equinox Pilates Mat
Equinox Comprehensive Equipment
MBA-Business Leadership
Wrap Up
The female fitness trainers who lead the More Life x Rhone Fitness workout events are a dedicated and passionate group. They're committed to empowering people like you to live healthier, happier, and more active lives. Their expertise, energy, and personalized approach make each workout an enjoyable and effective experience, and their dedication to helping others is truly inspiring.