The Women of 1AND1: Who They Are and What They Do
In honor of Women's History Month, we are excited to shine a spotlight on the inspiring women behind 1AND1. From fitness and nutrition to mental health and self-care, these women are passionate about helping people of all ages and backgrounds achieve their health and wellness goals.
One of the strengths of 1AND1 is that it is made up of a vast array of people behind the scenes doing work that visitors to the site are not aware of. Many of them are women. So what better time to learn about the women of 1AND1 than during Women's History Month?
Women Empowerment
At 1AND1, we believe that mental health and wellness should be accessible, inclusive, and empowering for all. Every piece of content, technology, and inspiration we post is designed to help you become 1% better each day. From our very inception, women have been a driving force in that quest. So, without further ado, let's meet the wonderful women of 1AND1, what they do and how their superpowers add value to the team.
1AND1 Women in Leadership
Kris Crews – Editorial Content Strategist
Superpower: The ability to absorb and retain information like a human encyclopedia.
Kris Crews is an author/writer from Columbus, OH, now in Los Angeles, CA. With a BA in journalism and media communications as well as her experience as a project manager for agencies working with top clients in the entertainment industry, she now uses those skills to focus more on her writing and connecting with others.
Kris has written for publications like Huffington Post, MTV, Elite Daily, BlackExcellence, and more. In 2021, she released her first book, You Owe it To Yourself, a self-reflection journal full of quotes, prompts, and free pages for solo processing.
While she's not working on her writing, Kris is working for 1AND1 as the Editorial Content Strategist, where she writes content for our newly revamped newsletter and leads a team of writers and editors to create content about mental health, fitness, and emotional wellness. These are all things that Kris is passionate about.
Gabrielle Smith – Social Media Manager
Superpower: The power to make any brand shine on social media, with her mastery of digital marketing and engagement.
Gabrielle hails from Detroit, Michigan where she graduated with a bachelor's in communications arts and sciences majoring in advertising management in 2021. Her responsibilities at 1AND1 include posting website content as well as social media strategy for Body Plate Mind, including Instagram, TikTok, YouTube, and Twitter.
Gabrielle's passions include travel, feminism, fashion, and working out. This year she is looking forward to traveling to Mexico and Europe. Women's Month resonates strongly with Gabrielle. In 2022, she attended the Women's March in Detroit to fight for reproductive rights in the wake of the overturning of Roe v Wade. She believes strongly in the mission of Women's March, which is to harness the political power of diverse women and their communities to create transformative social change.
Vanessa Mañares – Editorial Content Assistant
Superpower: The power to overcome any obstacle with her unwavering determination and never-say-die attitude.
Vanessa is a digital nomad from the Philippines who works at 1AND1 as an Editorial Content Assistant. She previously worked at 9-to-5 jobs, but felt that she was stuck in a rut and not growing as a person. She decided to take control by stepping out of her comfort zone and seeking remote work instead!
The career change that came with joining the 1AND1 team has allowed Vanessa to fulfill her lifelong dream—traveling while working. She is a huge fan of discovering new places and meeting new people. Traveling inspires Vanessa by reviving her spirit, helping her grow as a person, and gaining access to new perspectives.
Need some motivation in your day? Check out these twenty-eight inspirational quotes for women.
Maria Deligiorgi – Head Of Content & Creative
Superpower: The ability to conquer any challenge with her superhuman work ethic and attention to detail.
Maria was born and raised in Greece, but has lived in the UK for the last seven years. She's a graphic designer with an additional BA in Economic Sciences and an MA in Visual Communication. In recent years, she has mostly worked on branding, strategy, and how a brand stays loyal to its identity, as well as how small businesses can expand and grow.
Maria has the main creative role at 1AND1. She makes sure that everything looks good and that everything operates well across the different platforms. She has recently been working on the rebranding of the sister companies of 1AND1, Motus Athletica, and BPM.
Maria loves working for 1AND1 because of the great people, the genuine connections, and, as she puts it, "the fact that this is a real team … also for the bigger vision and for the great impact 1AND1 is looking to have in the world."
Maria is really passionate about health and wellness. She's a self-confessed marketer's dream when it comes to wellness gadgets and healthy snacks. When it comes to fitness, she does weight training and practices yoga and breathwork regularly to keep her mind balanced.
Maria is entrepreneurial, with a few side hustles. She's genuinely passionate about ways to optimize her work and buy productivity, as well as improving her health. She's also a rocker who loves going to gigs and traveling.
Sharon Wanamaker – Project Manager
Superpower: The power to bring order to chaos with her strategic mind and problem-solving skills.
Originally from Philadelphia, Sharon is a project manager for 1AND1. She graduated from Boston University with a B.S. in Communication and has fifteen years of experience in marketing. She has a competitive history in hockey and track and field and is passionate about music and travel.
Find out how Women's Equality Day is unlocking women's potential.
Jody Mullen – Content Writer
Superpower: The ability to weave words into a tapestry of meaning and emotion, creating compelling content that captivates audiences.
Jody Mullen enjoys parallel careers as a musician/entertainer and nonfiction creative writer. At 1AND1, she has created a wealth of diverse content, focusing on issues like pregnancy and parenting, mental health, and living a happier life. She graduated with high honors from Barnard College, Columbia University and is raising her three children in Morris County, NJ.
Headshot is by Sandi Hill Photography.
Minaa B. – Chief Behavioral Officer
Superpower: The ability to inspire and motivate others to reach their full potential through her powerful words and transformative coaching.
Minaa is a writer, speaker, and the author of the book Owning Our Struggles: A Path to Healing and Finding Community in a Broken World. She is also the Chief Behavioral Officer for 1AND1, where she works closely with the product and content teams providing her mental health expertise. Minaa has been featured as an expert in a variety of media outlets, including Red Table Talk, Peace of Mind With Taraji, BBC, Essence, and more. You can learn more about Minaa by visiting her website: www.minaab.com
1AND1 Women Experts
Dilan Gomih – 1AND1 Expert
Superpower: The power to lead and inspire others with her boundless energy, fierce dedication, and unrelenting drive.
Dilan is a wellness leader who focuses on unlocking energy through the power of behavioral change. She's coached corporate and individual clients from some of the largest organizations in the world to maximize their performance and implement wellness solutions in the workplace. In addition to her expertise as a practitioner, Dilan brings her experience from driving strategic initiatives at world class fitness brands like Barry's, CrossFit, and Equinox as well as her in-depth fitness knowledge from teaching on-camera classes to thousands of loyal followers and training for American Ninja Warrior.
Dilan earned her MBA from Harvard Business School and holds a BA in Political Science and Interdisciplinary African Studies from Yale University. She is also a National Academy of Sports Certified Personal Trainer, Women's Fitness Specialist, Corrective Exercise Specialist, and a Behavior Change Specialist.
Dr. Celeste Holder – 1AND1 Expert
Superpower: The power to balance mind, body, and soul with her mastery of yoga and deep understanding of the human body.
Celeste started out as a track and field athlete and a doctor's daughter. The dedication of sport and the consistency required for health and fitness were staples of her upbringing.
After getting injured as a D1 scholarship athlete, she realized the multifaceted importance of wellness she had been taking for granted. After college, she pursued a professional path to help people fall in love with moving their bodies and making fitness fun. After thirteen years as a coach- and yoga-instructor-turned-doctor, it is her passion to be able to assist others to live well, move often, and reach their optimal state of being in mind, body, and spirit.
Meghan Hayden – 1AND1 Expert
Superpower: The power of superhuman strength and agility, with the ability to leap tall buildings in a single bound (with a kettlebell in hand, of course).
Meghan has been a competitive athlete since before starting school. At age four, she was already playing three full-time sports year-round. Ever since, her training experience has been performance-based, as she strived to perform optimally on a personal level while also providing value for her team. Meghan has carried this principle into her client training.
After high school, Meghan played Division 1 soccer at the University of Richmond before a shoulder injury forced her to hang up her cleats. She next enrolled at the University of Miami to study Exercise Physiology. She became fascinated with the power of balance, mobility and movement, through which she found a new path that led back to sports: Coaching.
Meghan does not only strive to help people reach their goals, but also strives to educate people at a high level. She makes it a priority to educate people and provide them with tools to optimize their movement, spacial awareness, and performance.
Erica Welty – 1AND1 Expert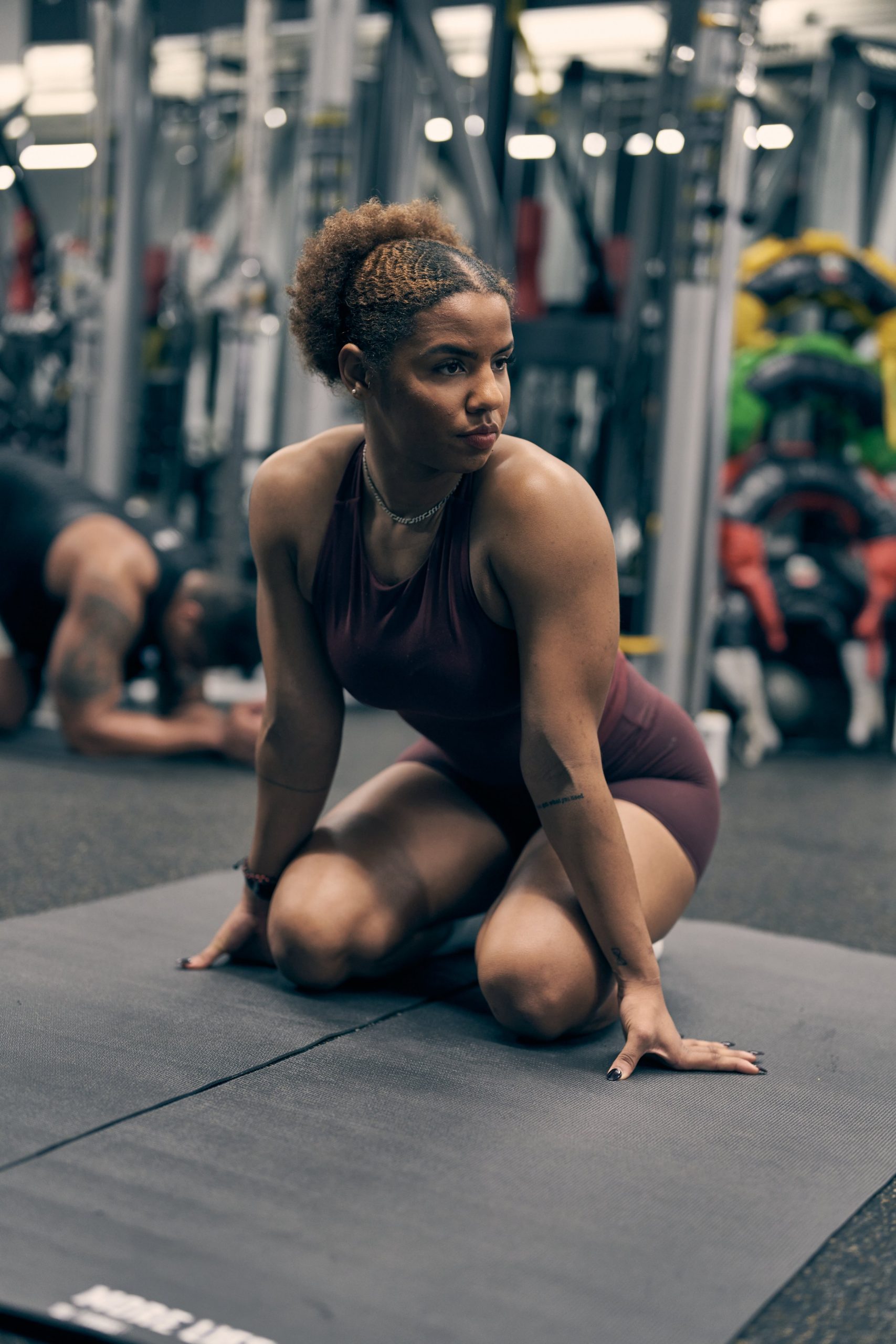 Superpower: The ability to push herself and others to their physical limits with her infectious energy and motivational spirit.
Erica started at age two as both a competitive gymnast and dancer. She focused solely on dance from age eight and moved from Orlando to NYC in 2015 to attend The Ailey School for dance, graduating from their certificate program in 2018. Cross-training has been a crucial part of her life to prevent injury and optimize performance since a young age. Even though her primary focus is strength, she is also trained in mobility and conditioning modalities. She began assistant teaching and demonstrating movement while being a child herself. It was then she fell in love with helping others through movement.
Erica is also a founding coach for a new training platform app, BLOCK, co-founded by Steve Nash (@trainwithblock).
Silvia Carli-Reese – 1AND1 Expert and Lead Dietician
Superpower: The ability to heal and nourish the body and soul through her culinary creations and expert nutritional guidance.
Silvia started her career as a clinical dietitian in the acute care setting. After almost two years of that, she was able to enter the sports nutrition world and it led her to move to New York. It was there that she created and managed the sports nutrition program at Wagner College in Staten Island. At Wagner, she was a resource for all twenty-two varsity sport teams. There, she provided them with individual nutrition education, pre- and post-workout snacks and shakes, and counseling. She's helped athletes with eating disorders, using a multidisciplinary approach to recovery. She's also worked with the food service company on campus to help optimally fuel their student-athletes, and served as a strength coach.
With her experience as a professional and collegiate volleyball player and diverse professional and academic background, she has truly tapped into practicing her belie in science-based nutrition education as a tool to empower clients who are looking to achieve their performance and health goals.
1AND1 Women: Wrap Up
Now that you've met the women who power 1AND1, you can better understand how we manage to maintain such high standards in terms of quantity and quality of online content. Our wonderful women (along with the help of a few decent men 😂) are committed to producing more cutting edge content to enlighten, educate, inspire, and motivate you now, and in the years to come.