Acne Treatment Review: Hims, Murad, & Paula's Choice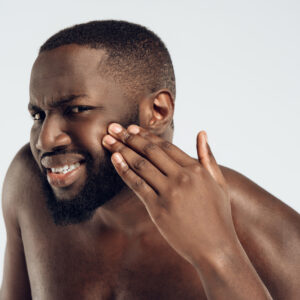 Hims Customized Acne Cream for Men
Pros
ForHims acne treatment is tailored for you and works to resolve the issue from the source rather than band-aiding it. It's also an easy-to-follow routine.
Cons
Slightly more expensive, but you're paying for a higher quality product.
Bottom Line
Acne differs from one person to another. Hims Customized Acne Cream can help tackle stubborn acne. The company offers access to an online skincare provider who will develop a suitable acne-fighting routine that will work for you. It can be a single treatment or a prescription treatment. If the healthcare provider feels like a prescription treatment is right for you, they will customize a unique blend. The blend can contain up to five active ingredients in different strengths and amounts to target your specific acne needs.
Murad Acne Control Outsmart Acne Clarifying Treatment
Pros
In comparison to most competitors, this has a fair price point. Also, it contains salicylic acid to help exfoliate the skin and get rid of black- or whiteheads.
Cons
This is mainly for those with mild acne. If you have more severe acne, this product may not be as helpful.
Bottom Line
Dr. Howard Murad is behind the brand. He's a board-certified dermatologist, author, and artist who takes a holistic approach to skin. The brand uses clinical-strength formulas and ingredients from natural or lab-created extracts. Their skincare products contain antioxidants like vitamin C, green tea, and pomegranates to protect the skin against free radicals.
Paula\'s Choice CLEAR Regular Strength Kit
Pros
Paula's Choice skincare uses research-backed formulations and ingredients to make a wide range of skincare products that include cleansers, treatments, and toners. The acne-fighting kit comes at a fair price point and is easy to follow.
Cons
It doesn't use any anti-inflammatory ingredients, so it's the least likely on this list to prevent acne.
Bottom Line
Paula's Choice is not a new player in the skincare industry. Overall, the acne kit is an excellent choice if you're looking for a skincare regime to target acne. It has a lightweight formula, reduces excess oil, and unclog pores to help control mild to moderate acne.
We may earn compensation from the products and offers mentioned in this article. However, any expressed opinions are our own and aren't influenced by compensation. To read our full disclosure, click here
What Causes Acne?
Dealing with acne is tough. Managing the condition means experimenting with different products that often deliver varying results. Some acne products underdeliver, while others trigger new outbreaks or worsen acne. It doesn't help that every acne treatment review you read claims that the product they review is the best. Acne can affect anybody at any stage in life.
Acne occurs when the tiny pores in the skin, called hair follicles, get clogged with dead skin cells and oil. It occurs mainly in teenagers, but adults can get it too. Severe acne causes pimples, blackheads, and whiteheads. If the acne is out of control, it can cause emotional distress and lead to scarring. Acne occurs on the face, forehead, shoulders, upper back, and chest.
The pimples usually heal slowly. Often, a new pimple may crop up when the other seems to be going away. If you are prone to acne breakouts, you should begin treatment as soon as possible. The good news is that there are lots of great acne treatment products to consider.
Acne Treatment Review: How to Choose the Best Skincare Brands
Acne is a common skin condition in the United States, affecting about fifty million Americans each year. For many people, acne breakouts can be ruthless, requiring prescription medications. Almost every acne treatment review you read online will mention certain skincare products. But all these products don't contain the same ingredients and formulas and therefore deliver different results. So, how do you choose a good skin care product when you are prone to acne breakouts?
Know Your Skin Type
When buying any skincare product, your skin type matters the most. You can have either normal, oily, dry, or sensitive skin. When you have oily skin, your skin produces too much sebum. Excess sebum production can leave you prone to acne breakouts. Opt for cosmetic products with hyaluronic acid and benzoyl peroxide if you have oily skin. If you have dry skin, go for skincare products that contain shea butter, jojoba oil, and lactic acid. Sensitive or acne-prone skin requires more care. Green tea, shea butter, aloe, and chamomile are some of the best ingredients to include in your skincare products.
Opt for a Gentle Cleanser Routine
When you have occasional or constant acne breakouts, one of the best ways of dealing with that is changing your skincare routine. Practice good skin hygiene with a daily cleansing routine. Using harsh products on skin already riddled with acne will only cause the skin to get more irritated rather than addressing the acne, so choose a light cleanser.
Avoid Products That Contain Alcohol
A majority of people assume that the more a product stings, the better it is at addressing acne. Rather than treating acne, such products will only leave your skin dry and may even cause irritation that can worsen acne.
Don't Follow the Hype
It's easy to get carried away with glowing reviews, influencer recommendations, beauty tips, or the marketing on packaging. When it comes to your skin, you don't need to go with what is trending. Instead, go for what works for you and your skin type.
How to Build a Healthy Skincare Routine
When you suffer from acne, you need to establish a healthy skincare routine.
Use a Gentle Cleanser at Least Twice a Day
One of the best tips for clean skin is to cleanse regularly. Cleansers are vital because they clear grime, oil, and debris that may worsen acne. If you have sensitive skin, go for a mild cleanser and avoid cleansers with fragrances, soap, and dye.
Use Toner Twice a Day
A toner is vital since it helps nourish the skin and eliminates the dryness and redness that comes with acne. If you have sensitive skin, consider buying a fragrance-free toner that contains hyaluronic acid.
Limit Sun Exposure
When you are prone to acne breakouts, sun protection is vital. You need to limit your sun exposure to about fifteen minutes a day.
Use Acne Treatments
There are so many acne treatments available for mild and severe acne. Find an acne treatment that works for you and stick to it.
No Popping or Picking
When you have acne, it's tempting to pick, squeeze, or pop the pimples to make the acne go away. However, squeezing the pimples, especially the inflamed ones, can damage your skin.
Living and Coping With Acne
Coping with acne is an ongoing battle, especially if your skin keeps breaking out. Over-the-counter medications and personalized acne treatment plans may offer an alternative solution. If you're struggling with acne without relief, it's important to speak to your primary healthcare provider. By aligning your skin type and concerns with the right skincare products, you can look to target acne more effectively. Hopefully, this acne treatment review will give you a better understanding of where to start so you can take back control of your skin.