Bowflex Xtreme 2 SE Home Gym Product Review
Bowflex Xtreme 2 SE Home Gym
Pros
The Bowflex Xtreme 2 SE home gym is an extremely comprehensive home gym, with an excess of seventy-five possible exercises. It is unique in that it does not require cable machine weight changes between sets. The Xtreme 2 SE makes use of the famous power rod system to provide a unique, safe, and easy-to-use resistance system. The heavy duty steel frame provides rigidity and durability. This machine also has a compact design, especially when you take into account its versatility.
Cons
There is a learning curve when it comes to using the Bowflex power rod system. You do not get the same level of negative resistance as you do when using free weights or cable resistance machines. In comparison to other home gyms, the 2 SE is also quite expensive. Online reviewers also report that this machine is difficult to assemble.
Bottom Line
The Bowflex 2 SE delivers a comprehensive home gym experience, with a ton of exercise options, quick transitions between exercises, and a smooth exercise movement. However, the unique feel of the power rod system may not be to everyone's liking. This is definitely a case where you should try before buying.
Home Gym Equipment
There are a number of different resistance options when it comes to setting up a home gym. You could go the free weight route with a power rack, Olympic barbell, weight plates, and dumbbells. When it comes to multigym machines, you have the option of using plate-loaded resistance, compressed rubber, or the Bowflex power rod system. Each has their advantages and disadvantages.
When it comes to the Bowflex power rod system, its popularity comes from its ease of use—no need to change resistance between exercises and lightweight. The power rods are long, flexible carbon units that bend like a bow when you perform an exercise. The resistance is variable, getting harder as you progress through the range of movement.
As an example of the variability of the power rods, if you are using a power rod resistance of fifty pounds, you will actually get around twenty pounds of resistance through the first third of the exercise, going up to thirty-five pounds for the second third and only reaching the full fifty pounds for the final third of the exercise.
Weight Training Exercises
If you are going to invest in weight training home fitness equipment, you should expect it to perform a number of foundational weight training exercises. These include:
Vertical Bench Press
Lat Pulldown
Squats
Pec Dec Flyes
Leg Extensions
These exercises could be considered home gym essentials. You get all of these exercises and more on the Xtreme SE2. However, there is no leg press function on this machine. The maximum power rod resistance in this machine is 210 pounds. If that is not enough weight for you, it is upgradeable to both 310 and 410 pounds. The gradations of resistance increase by five-pound jumps.
Check out our home gym flooring reviews.
Bowflex Xtreme SE2 Features
The Bowflex Xtreme SE2 is an updated version of the original Xtreme from Bowflex. Among the hundred or so exercises that you can do on this machine, are a large number that allow you to work your various muscle groups from a range of angles. This allows you to get a unique level of muscle fiber stimulation that you do not get with conventional multi gyms.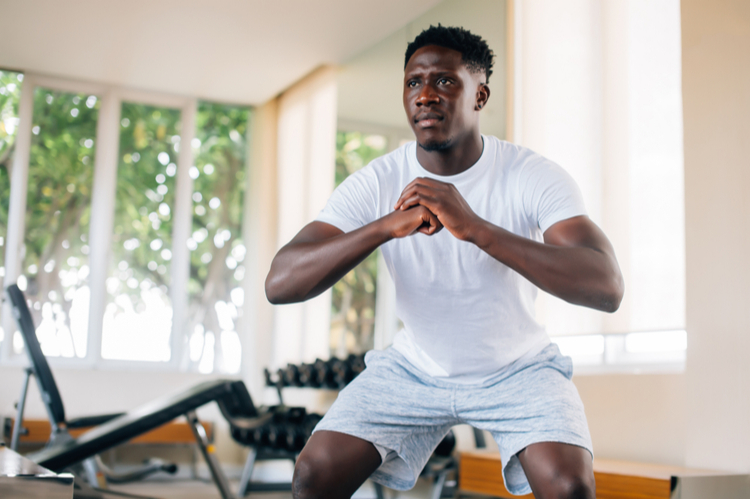 A benefit of the Extreme SE2 is that it provides a very quiet workout. There is no clanging of weights when you use this machine. That's good news if you are working out early in the morning while your loved ones are sleeping.
The Xtreme SE2 is a compact home gym with a footprint of 8 feet x 6.5 feet. It provides you with the stylish finish that is true of all Bowflex machinery, with generously thick padding finished in black and red. The machine comes with a fully adjustable seat with incline and decline functionality.
The SE2 comes with four different gripping options as follows:
Regular hand grips
Non-grip cuff
Shoulder cuff
Foot cuff
While there is no training DVD or online guide with this machine, it does come with a comprehensive workout manual created by a personal trainer. This manual provides you with the following workout programs:
Two-minute better body
Twenty-minute upper body
Twenty-minute lower body
Bodybuilding
Circuit training anaerobic
True aerobic
Strength training
The maximum user weight on the Xtreme SE2 is 300 pounds. Your purchase is covered by a seven-year warranty on the frame and cables, and a lifetime warranty on the power rods.
When you train with the Bowflex power rod system, you get very little in the way of negative resistance. In other words, when you return the resistance back to its start position, you do not get very much muscle stimulation. However, research shows that you get just as much benefit from the negative (lowering) part of an exercise as you do through the positive (raising) part. Not having the full benefit of the negative is a drawback of the power rod system.
Summary
The Bowflex Xtreme 2 SE is a compact, complete home gym that will allow you to train every muscle group in your body through a full range of motion. The unique power rod resistance system Bowflex uses provides a variable resistance which is not as true as when you train with free weights. The maximum weight on this system is 210 pounds, but that is only achieved through the final third of each exercise.
The Xtreme 2 SE will not suit everybody. If you are used to training with free weights, you should have a few trial workouts on the Bowflex power rod system before investing in one of their home gyms. Then, if you do decide to go with this system, the Xtreme 2 SE is the best in the range.