We may earn compensation from the products and offers mentioned in this article. However, any expressed opinions are our own and aren't influenced by compensation. To read our full disclosure, click here
Plant-Based Diets and Dairy
The world of dairy is a cruel one. For those who opt for plant-based diets as a result, it can be difficult to find the right vegan milk substitutes. What makes vegan milk better is not just the cruelty-free aspect, but also the lack of harmful chemicals. Others have no choice in the matter due to lactose intolerance. And those with nut allergies have it even worse since most vegan milk is made from nuts. But there's still hope. Our NotMilk by NotCo review shows one product that ticks all the boxes. Before we get into that, let's see how these milk substitutes are formed.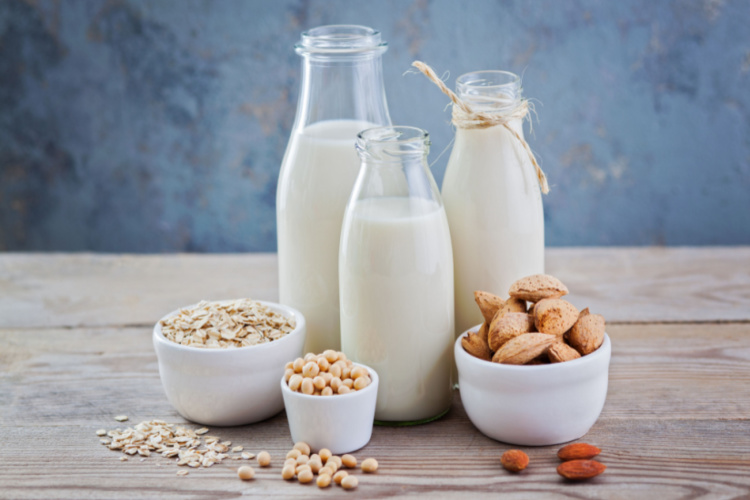 Soybean is the first substance to be used in manufacturing non-dairy milk. But it's a controversial product since it has a hormone that mimics estrogen in the body. Oat milk is better for those with nut allergies and tastes sweet. Rice, coconut, and almond milk are similar but do not have the same amount of protein. All of these are helpful not just for those who eat a plant-based diet but also for those who need to lower their cholesterol and watch their sugar intake.
Non-dairy milk, like other substitutes, has its cons too. A lot of them are avoidable if you pick the right brand and eat a balanced diet. Most vegan milk products have sweeteners and thickeners to match the taste of cow's milk. The calcium added to soybean milk may not be absorbed properly by your body. Our review of NotMilk by NotCo shows you a brand that doesn't have such artificial additions. If you're using milk that's low in protein, make sure you get it from other sources. Vegan protein can be found in beans, lentils, and peas.
NotMilk: A Vegan Milk Substitute
NotCo is a food company that produces vegan milk, ice cream, and meat, all of which taste like they're animal-derived. It uses an innovative AI system, Giuseppe, to come up with recipes that replace regular ingredients with plants. It understands and contrasts plants and other items at a molecular level to find the perfect match. Then it recreates the vegan version using its calculations. The result is that their products are almost identical to non-vegan foods in taste, texture, and smell. No wonder the pros in our review of NotMilk by NotCo outweigh the cons.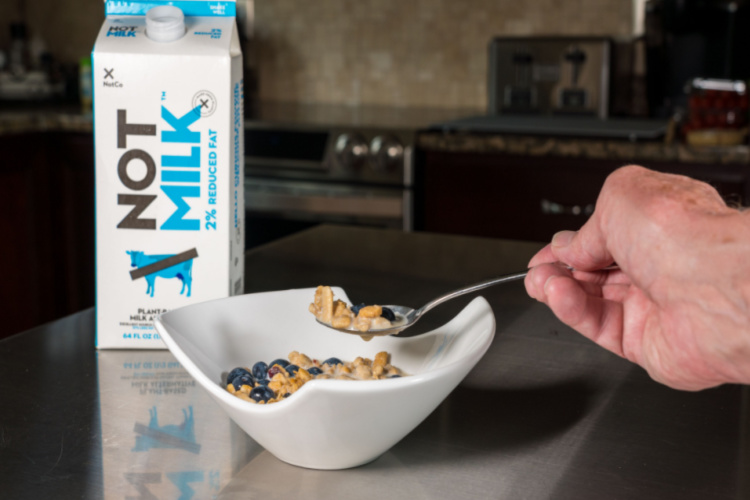 Notmilk is but one of the ingenious products that Giuseppe has come up with. It's made of an unheard-of combination—cabbage and pineapple juice. Who would've thought? The taste is so close to cow's milk, you'll be surprised. It cooks and froths just like it too. In our review of Notmilk by Notco we mentioned its cons. These are problems related to availability and price. But when you think about it, it's worth the extra dollars. You get the same amount of protein from a substitute! Not to mention the rich vitamin D, calcium, and vitamin B12 content. To top it off, NotMilk is halal and kosher certified. It's a rare tasty veggie protein source.
Benefits of Vegan Milk
Milk, whether dairy or non-dairy, is unarguably one of nature's healthiest drinks. Plant-based milk takes things up a notch. The benefits of milk are well known, and the benefits of vegan milk are more. Here are some of them:
Since most non-dairy kinds of milk are made by blending the main ingredient with water, they have greater water content. This makes them more hydrating than cow's milk. So in the summer, when you and your family tire of drinking water, a glass of milk will go a long way!
Cow's milk has a lot of saturated fats. Vegan milk substitutes on the other hand have more unsaturated fats which are heart-friendly. This means you'll have lower cholesterol levels. Cholesterol is a leading cause of heart problems worldwide. If you switch to a plant-based diet, that's one less thing for you to worry about.
You'll find milk with less sugar if you pick the right brand. Reducing your sugar intake is always a good choice. It lowers your risk of diabetes and slows aging. Your skin will also look fresher.
Lactose intolerance affects more than 65% of the world's population. Lactose is a natural sugar found in dairy items. But vegan milk is lactose-free, which is why it's so popular. It's gentle on the gut and tastes just as good, as you can see in our review of NotMilk by NotCo.
Conclusion
With 104k followers on Instagram (at the time of writing), NotCo is loved for its quality and commitment to being environment-friendly and cruelty-free. It's so good even kids love it. Although their best-selling product is NotMilk, the NotBurger is also quite famous, and NotIceCream is among the healthiest options in the market. In many cases, non-vegan ice creams taste like chemicals, but NotCo is among the few exceptional brands to craft delectable non-dairy products that taste real.