We may earn compensation from the products and offers mentioned in this article. However, any expressed opinions are our own and aren't influenced by compensation. To read our full disclosure, click here.
Best Lightweight Running Shoes
Every running shoe should be a lightweight, comfortable fit, have cushioning, and have proper stability and support. Naturally, your experience over the thousands of miles you will be taking them on might be the most important thing.
If you're in the process of looking for your next great pair of shoes for your morning run or while doing your plyometric exercises, we've tested Skechers GOrun Fast – Valor, and all we have to say is that they're amazing.
Skechers GOrun Fast – Valor Review
Although Adidas Ultraboost 20 or Nike Women's Air Vapormax might come to mind first when you think about running shoes, Skechers is continually showing up with great running designs month after a month. Even though they are considered a baby company compared to the big brands, Skechers's willingness to compete against them is justified.
Producing quality shoes, starting to dominate the running industry, and niching down is a great way to succeed, especially when they're producing one of the best training shoes.
Skechers launched their GOrun line in 2011, and we have seen such great models since then. We have no doubt we'll continue to see quality products in the years to come.
Skechers GOrun Fast – Valor is a great running shoe, mostly because of its comfortability and its lightweightedness, apart from other great features even professional runners can't deny.
Why Is Cushioning So Important?
Most of the time, if we're talking lightweight shoes, it is easy to conclude that their lightweightedness means less cushioning. Research shows that you expend more aerobic energy with heavier shoes, but it also shows that you're getting exhausted much faster. That's why studies support the use of light footwear to optimize running performance.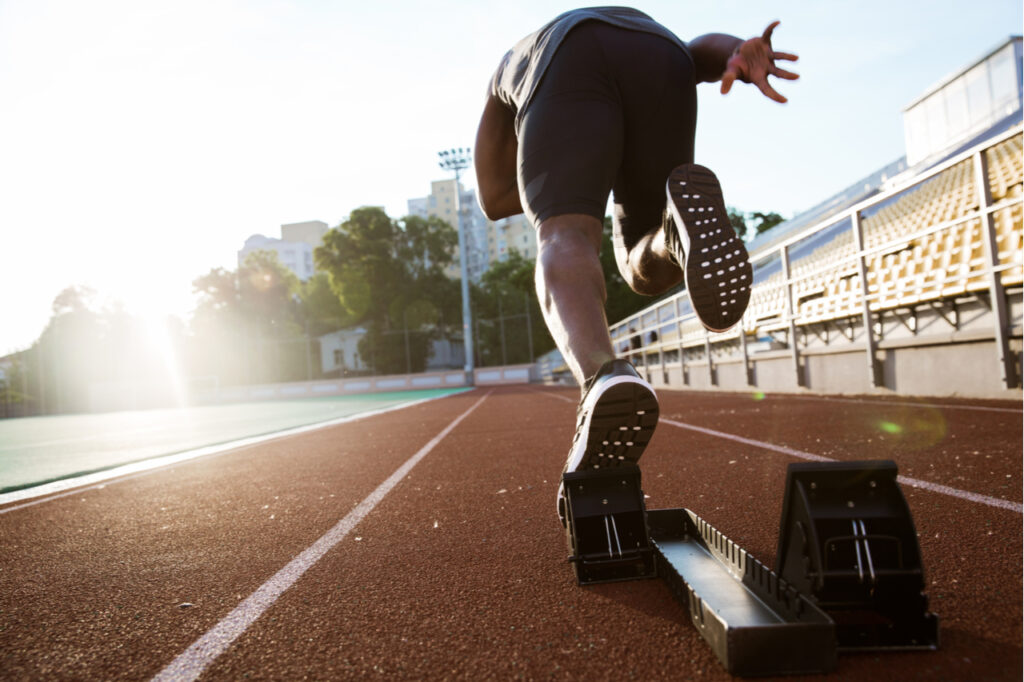 Skechers GOrun Fast – Valor is both lightweight and cushioning. With its 5GEN midsole, it makes you feel like running on clouds.
If you're running longer rounds, you want as much cushioning as possible. Otherwise, your feet might feel the impact of the ground, the stones, and an uneven surface. Having proper cushioning has a significant impact on a runner's performance, and while crucial, other factors can also impact the runner's efficiency…
Lightweight Running Shoes
…and that's lightweightedness.
If you're an experienced runner or even a beginner, you know how important it is to use light footwear if you want your best performance with every marathon or even quick run.
Usually, if you're a beginner or someone who runs a few miles a couple of times per week, what you're looking for is a good option for a basic running shoe.However, if you're a professional runner, you'll be looking at a lot of different factors, and lightweightedness is one of the most important ones. Although there's a slightly greater chance of injury with lighter footwear, you'll be running a marathon approximately 57 seconds faster in 3.5 oz footwear.
Also, keep in mind that, just like in every aspect of our lives, there's no perfect shoe. There is an ideal shoe for you, however.Every foot is different, and not everyone's needs and desires are the same.
Multiple factors can impact your shoe shopping day. When it comes to buying running shoes, many things come into play—your weight, the surface you're running on, the shape of your feet, as well as your biomechanics.
That being said, there's no one one-style-fits-all shoe.
Most reviews you find online are tied to what the shoe can't do for you. However, in reality, the best shoe is the one that lets you do your thing without pinching, stabbing, heaviness, excessive sweating, and other things that could cause trouble to your running. So why not try the Skechers's GOrun Fast – Valor shoe, and see if it works for you!