Sunny Health & Fitness Squat Assist Machine Review
Sunny Health & Fitness Squat Assist Machine
Pros
There is no better exercise to sculpt the bootie than the squat. This classic compound move is also a fantastic calorie burner. The Sunny Health & Fitness Squat Assist machine is designed to help you do this exercise with perfect form. In fact, it is almost impossible to use it with bad form! It provides you with three squat depths, down to a max of thirty degrees to get that glute-sculpting full squat position. Adjustable band resistance adds intensity to ensure that you aren't only getting leaner, but stronger too. Finally, this squat assist machine includes an upper body function to turn a good lower body exercise into a fantastic whole body exercise.
Cons
The maximum user weight on the Sunny Squat Assist is just 220 pounds (100 kg). That rules it out for plus size exercisers. The resistance bands are also liable to wear over time. This machine also lacks a heart rate function.
Bottom Line
The Sunny Health & Fitness Squat Assist machine makes a great addition to your home gym. This low-cost cardio/resistance machine will allow you to perfect what is undoubtedly the most productive and the most badly performed exercise of them all. At the same time, you'll be getting an awesome cardio workout at home.
We may earn compensation from the products and offers mentioned in this article. However, any expressed opinions are our own and aren't influenced by compensation. To read our full disclosure, click here.
Sunny Assisted Squat Machine Features
The Sunny Health & Fitness Squat Assist machine is an impressively durable home fitness machine. It's made from solid steel and finished in corrosion- and rust-resistant paint.
Though the primary function of this machine is as a squat assist, it also features row and ride functionality. This converts the squat exercise, which is a lower body-centric move, into a row-ride-squat to work the entire body. This targets the shoulders, biceps, triceps, and upper back, along with the glutes, thighs, and hamstrings. At the same time, you'll get a great cardio workout at home and burn through a ton of calories.
Maintaining stability while in the middle of your squat workout is essential for peace of mind and safety. The Sunny Assisted Squat machine ensures that you are securely grounded thanks to the built-in base stabilizers that are made from rounded steel.
How the Sunny Health & Fitness Squat Assist Machine Beautifies Your Butt
You don't have to be a gym veteran to see squat exercise disasters. Rounded back, knees caving in, minimal squat depth—these are just a few of the form breakdowns that lead to problems.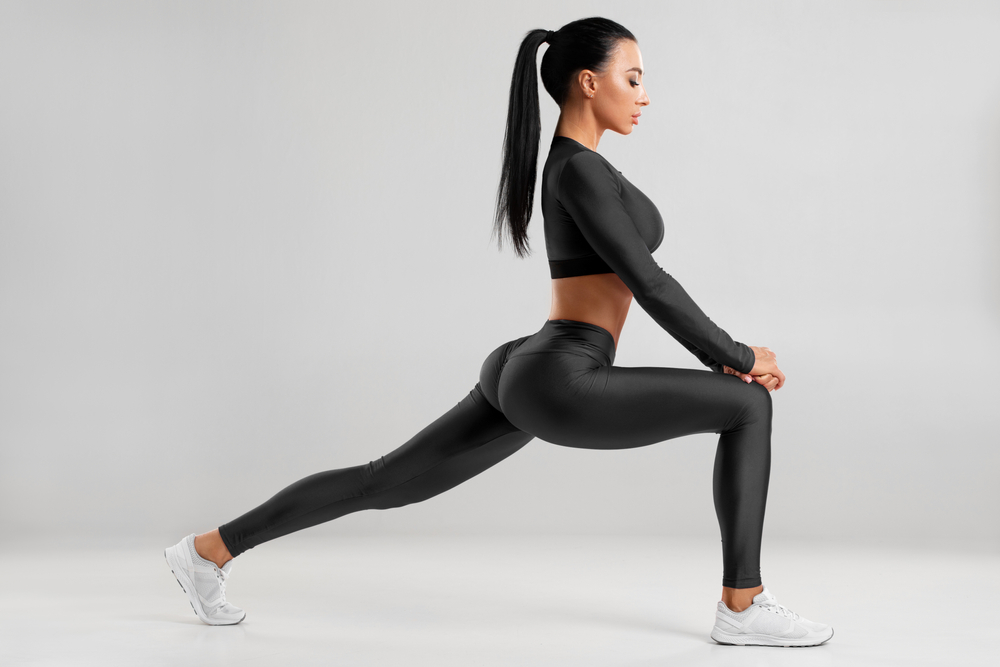 However, when you've got a Sunny Squat Assist Machine at home, you are able to avoid potential form issues. The Squat Assist trains your body to align the hips, lower back, shoulders, and heels. It also helps you to achieve the desired squat depth thanks to the adjustable seat. This feature allows you to gradually decrease your squat depth as you become more proficient in the movement.
Suitability for All Fitness Levels
Most low-cost home fitness exercise machines are designed for beginner exercisers. However, the Sunny Squat Assist can benefit exercisers at all levels of experience. It is ideal for beginners and the elderly, as they can train safely and without putting pressure on their lumbar spine as is possible with free weight squats.
This machine also features an easy on/off accessibility thanks to its step-through design. The ninety-degree seat setting allows beginners to start with partial squats and then lower to sixty and thirty degrees respectively as they become more confident.
The Sunny Squat Assist can also be of huge benefit to experienced exercisers. For those who are already doing squats in the gym, it can be helpful for achieving the ideal squat form. This will translate onto the gym floor so that their body will naturally follow proper technique. Many people who have been using the Sunny Squat Assist at home have also found that their squat poundage has increased markedly when they do their weighted squat workouts in the gym.
For experienced exercisers who train at home, the Sunny Health & Fitness Squat Assist machine allows you to get in an effective, safe squat workout without having to rely on a spotter or an expensive power rack. If you find that the three levels of resistance aren't intense enough for your workout needs, you can, with a little creativity, add extra resistance bands to increase the resistance level.
Space-Saving Design
If you have limited space in your home, then you will love the space-saving design of the Sunny Squat Assist. The unit folds up for easy storage. When fully assembled, the dimensions are 36.5 x 19 x 37 inches. You should also allow an extra foot all around for unrestricted exercise movement. When folded for storage, the dimensions are 9.5 x 19 x 56 inches, allowing it to be stored in a cupboard or under a bed.
What About the Comfort Level?
When it comes to comfort on the Sunny Squat Assist machine, we are really talking about the handles, pedals, and seat. The seat is oversized, measuring twelve inches in length and nine inches in width at the widest point. Unlike some competitor models (think the Efitment Squat Assist Machine), it is generously padded. It is also covered with a sweat-resistant vinyl material. The seat is adjustable both fore and aft, and up and down so that you can get complete customization.
The handlebars feature a multi-grip design to allow you to work with both an overhand and an underhand grip. They are also covered with a sweat-resistant rubber foam to ensure gripping comfort. The handlebars can be adjusted up and down.
The self-leveling footpads are not as large as they could be. However, they are made from a hardy slip-resistant material.
What About the Resistance?
The resistance that is built into the Sunny Squat Assist machine is provided in the form of three resistance bands that attach to the mainframe and under the seat. Each of the bands provides you with the equivalent of ten pounds of resistance. This delivers the intensity you need to challenge your glutes, quads, and hamstrings.
Summary
The Sunny Health & Fitness Squat Assist machine is a multifunction whole body trainer that allows you to perfect your squat form while also working your upper body and churning through the calories. This is one of the best investments you can make when you're after a home butt workout machine that shapes your glutes while also sculpting your upper body.