What are the Top Lean Protein Foods That You Should Eat?
Best Overall
Best Value
Honorable Mention
Pros
Trifecta's mahi-mahi is wild caught, sweet and dense. People compare its rich flavor to swordfish, but it's much leaner. So, it's a perfect alternative if you're trying to lose weight. For example, it only has 1 gram of fat per 4 ounces. Compare this to swordfish's 9 grams of fat per 4 ounces. Both fish have 27 grams of protein, so Trifecta Nutrition's mahi-mahi is an easy choice. It's wild caught, so it's free from antibiotics and higher in nutrients such as vitamin B and iron.
Cons
If you have a preference for lighter tasting fish, mahi-mahi may not be a good choice. It doesn't have a "fishy" taste, but it's very rich—so a lighter fish like the Alaskan Cod described below might be better for you.
Bottom Line
Mahi-mahi is a firm, sweet fish that people often compare to swordfish. If you like lighter fish, then it may not be the choice for you. Otherwise, at 27 grams of protein per 4 ounces, it's a healthy, lean source.
Pros
The wild-caught cod from Trifecta Nutrition has a lighter flavor and texture than the mahi-mahi. It also has slightly less fat and protein—0.7 grams and 20 grams. Pre-baked and seasoned lightly, it tastes great served with grilled vegetables, in pasta, or on top of salad.
Cons
Trifecta ships out fresh-baked cod. This helps them avoid a huge issue: high sodium. Most companies salt cod before they ship it to make sure it retains its moisture. Unfortunately, this means their fillets are very high in sodium. Thankfully, Trifecta cod does not have this issue. So unless you prefer a richer tasting fish, there is nothing bad about the quality or flavor. Keep in mind, cod are bottom feeders. Although bottom feeders are generally lower in mercury than predatory sea creatures, there may be a risk that those caught in the wild have digested various pollutants.
Bottom Line
The wild-caught Alaskan cod has a sweet and neutral taste with a firm texture. It is a low-calorie, lean protein high in Vitamin B. At 20 grams of protein, it has a little less protein than some other white fish, but it is considered a high protein source that's low in fat. It isn't frozen before it's shipped, so it has much less sodium than other cod fillets.
Pros
Like the rest of their protein sources, Trifecta lightly seasons their wild-caught shrimp. This seasoning doesn't overpower the shrimp's buttery, sweet flavor though. They are perfect tossed into any recipe, but I particularly love to serve them in a low calorie fajita recipe. Shrimp only has 1.1 grams of fat and 16 grams of protein per 4 ounces. It's also worth noting that one pound of Trifecta's baked shrimp is equivalent to two pounds of uncooked shrimp. In other words, you're getting about twice as much as you would from other brands. Since it's always shipped fresh and never frozen, it also has about 300 mg less sodium than others!
Cons
All shrimp, even Trifecta's wild-caught shrimp, are bottom feeders. Although bottom feeders are generally lower in mercury than predatory sea creatures, there may be a risk that those caught in the wild have digested various pollutants.
Bottom Line
Trifecta Nutrition shrimp is wild-caught and low in sodium. It has only 1.1 grams of fat and 16 grams of protein per 4 ounces. The one downside to all shrimp is that they are bottom-feeders. This means that they eat parasites and dead animals. If this bothers you, then you should avoid shrimp altogether. If that's you, then try alternative sources of fish and meat.
Pros
If you're down to try something a little bit on the wild side, you should definitely try venison! You may find venison incredibly hard to cook, but the Trifecta team cooks it 'til it's perfectly tender. This venison is 90% lean—1.8 grams of fat per 4 ounces—and high in protein with 25 grams per 4 ounces. It is a red meat, so if you crave steak, then give it a try as a leaner alternative.
Cons
Deer meat has a stronger flavor than beef, which a lot of people do not like. People often describe it as "gamey." So, if you use it as a substitute for beef in a recipe, be prepared to taste a difference! Like all other red meat, venison also contains a substance called L-carnitine, which you may have seen in several weight-loss supplements. Some studies have shown that there may also be a link between L-carnitine consumption and risk for heart disease. Even though it's much leaner than other red meats, it may not be the best choice to eat as an everyday protein source.
Bottom Line
As far as red meats go, venison is a much healthier option than beef. It is much leaner, but you should consume it with caution since it contains L-carnitine. L-carnitine is present in all red meats and may put you at a greater risk for heart disease.
Pros
The elk is organic and comes diced up in tender, baked pieces. It's a much better alternative to beef than venison, because it isn't gamey at all. Its flavor is still a little different, but it tastes so similar to beef that it can be used to replace it. For example, elk tastes amazing in an elk stroganoff or elk parmesan dish. It has 1.6 grams of fat and 26 grams of protein per 4 ounces.
Cons
As a red meat, elk also contains L-carnitine, which may cause heart disease. Since it is rarer to find elk in stores, it is a bit on the pricier side. At $42.39, it is almost twice the price of venison.
Bottom Line
Elk is the best alternative to beef, because it tastes almost the same without the extra fat. Since it is so close in flavor, it's a more optimal choice than venison. Unfortunately, it is rarer to find elk in restaurants or grocery stores, which makes it much more expensive. It also contains L-carnitine, which may contribute to heart disease.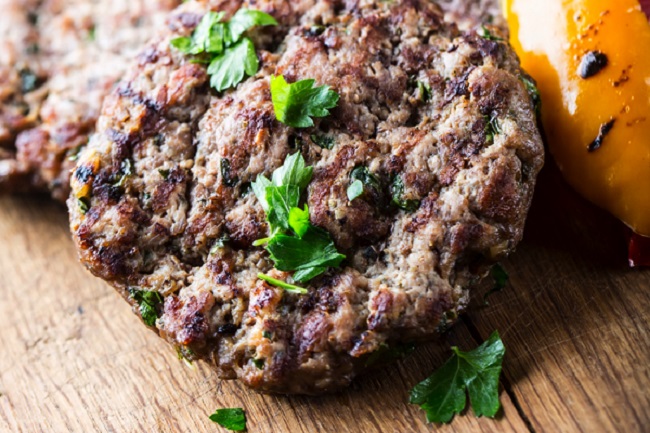 Pros
Trifecta sells their organic turkey in patties. Unlike most turkey burgers, they don't contain egg or breadcrumbs. This means they have less fat and no carbohydrates! Outside of the spices added, they only contain 90% lean, organic turkey (1.5 grams of fat and 21 grams of protein per 4 ounces). Turkey is an excellent source of B vitamins and zinc. Since it's low in saturated fat, it also lowers your bad cholesterol. The patties are perfect when you serve them in a lettuce wrap or bun. You can also turn them into meatballs, or grind them up and use them in pasta dishes.
Cons
Turkey does have a stronger, gamier taste than chicken, but this is very mild.
Bottom Line
Since Trifecta's turkey patties are organic and not processed, they aren't tied to any health risks. They are juicy, have great texture, and since they're low in saturated fat, actually lower your bad cholesterol.
We may earn compensation from the products and offers mentioned in this article. However, any expressed opinions are our own and aren't influenced by compensation. To read our full disclosure, click here.
Protein is one of the most important nutrients. People consider protein to be the building blocks of your body. This is because it supports so many different functions. If you aren't getting enough in your diet, your whole body is going to feel it. Therefore, you need to make sure you're consuming enough lean protein foods.
Protein and Weight Loss
The media usually focuses on protein as something to incorporate into your weight loss strategy. Consequently, high protein diets like keto have been trending for years. Protein is unique because it helps you lose weight while simultaneously preventing weight gain. When you eat it, you'll feel fuller longer and eat less. It also helps build your muscle, which speeds up your metabolism and keeps the weight off!
Protein is also vital for so many other body processes. Your skin, hair, hormones, and digestive enzymes are all made up of proteins. Life literally couldn't exist without it.
How Much Protein Do You Need?
So how do we know if we are getting enough protein? Protein intake depends on three factors: age, sex, and exercise level. Even if you don't workout that often, you should eat about 0.36 grams of protein per pound of body weight. If instead, you are an avid exerciser, then you will need to eat much more! According to the American College of Sports Medicine, weightlifters should increase their protein to about 0.7-0.8 grams per pound of bodyweight and endurance runners to 0.5-0.6 grams.
Unhealthy Proteins
Usually, since we tend to overeat in America, we have no problem getting enough protein each day. The problem is that we are eating too many unhealthy proteins. Not all proteins are created equal! Some proteins come in processed forms like protein bars or lean protein shakes. These aren't bad if you eat them in smaller doses, but food sources are the most natural and healthiest.
Other proteins are also higher in fat content, like steak or pork. If you're trying to lose weight and you're eating these, I hate to break it to you—but you're not going to have it easy.
What is Lean Protein?
Lean protein is lower in fat and lower in saturated fat (the kind that clogs your arteries). According to the United States Department of Agriculture, lean protein has less than 10 grams of fat and 4.5 grams of saturated fat per 100 grams. Next time you're in the grocery store, check your labels. If the nutrition label shows that your protein is high in fat, ditch it! Switching to a leaner protein source is an easy way to cut extra calories and help you reach your weight loss goals. The leaner the protein, the more your body will fight belly fat and heart disease.
Choose Organic, Free-Range, Wild-Caught, and Grass-Fed Proteins
If you want the best health results, your lean protein should also be organic, free-range, wild-caught, and grass-fed. Trifecta Nutrition offers a wide range of lean protein sources that have all of these characteristics and are much more affordable than other companies. Most companies that sell high-quality protein are extremely expensive. Whether you eat meat or are a vegan or vegetarian, Trifecta has several options to meet your needs. In this review, however, I am only covering Trifecta's leanest meat and fish proteins.
Summary
Eating lean proteins is one of the best ways to see weight loss. Keep in mind, you need other nutrients as well. A low carb diet could lead to atrial fibrillation and other complications. Furthermore, you should stay away from fatty proteins if you want to lose weight.
Trifecta meals are among the best options for lean protein sources. This is because the protein sources are organic, free-range, wild-caught, and grass-fed. You might face challenges finding high quality, affordable protein sources. However, Trifecta can deliver them to your doorstep!