How to Make Sure your Labor Day is Labor-Free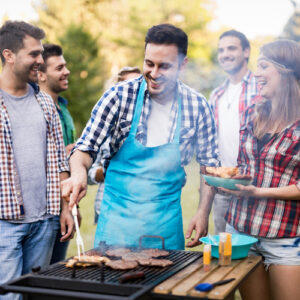 You've made it through the highs and lows of the year, and you're now ready to celebrate Labor Day. For many Americans, this holiday symbolizes the end of the summer and the start of the school year. You are likely no stranger to Labor Day celebrations. Maybe you're planning a Labor Day barbecue, heading to the lake for the weekend, or creating your own neighborhood Labor Day parade. Whatever you decide to do to celebrate, try to make your holiday as relaxed as possible. Keep reading this article for tips to make this Labor Day weekend easy and stress free.
The History of Labor Day
This federal holiday observes the social and economic achievements of the American workforce, and it is typically observed on the first Monday of September. Labor Day was created by the Labor movement in 1894. The US workforce has changed drastically since the creation of Labor Day. However, many Americans still work more hours and take fewer vacation days than most of their Western counterparts. With constant connectivity to your phone and work, everyone deserves a good standard of living and work-life balance.
This year, Labor Day lands on Monday, September 7th, so you're quickly running out of time to plan that party or weekend away. There's never been a better time to celebrate with your nearest and dearest.
6 Tips for a Stress-Free Labor Day
1. Avoid Rush Hour Traffic
The goal is to have a fun and stress-free Labor Day. That means giving yourself plenty of time to reach your destination. Whether you're heading out for a weekend with the family or to the beach with friends, planning is essential. If you're heading out of town for the weekend, try to avoid rush hour traffic. Travel either before rush hour on Friday or hit the road early Saturday morning.
Whatever your plans are, avoid high-traffic periods and give yourself plenty of time to travel. You may come across road closures and diversions, so have an alternative route in mind. Drive safe and be prepared.
2. Don't Overpack
Try not to overpack. Instead, make a list of your essentials. The right list helps you stay organized and only bring what is necessary.
A big bottle of shampoo can weigh you down and take up valuable suitcase space. Look for mini or travel-size versions of your favorite grooming products. That way, you will have more room for everything you need.
3. Arrive Early to All of Your Events
You don't want to spend your whole weekend arriving late for your events. Whatever your plans are, always arrive early. Assume that the majority of the country has plans and will be on the move. Arriving late, getting stuck in traffic, or missing your bus can leave you feeling frustrated. It should be a time of celebration, so planning in extra time for your journey will give you that cushion you need to arrive feeling much calmer.
The best travel strategies maximize your trip and take away the stress of going away. While unforeseen hiccups can arise at any time, you can avoid holiday headaches by giving yourself plenty of time to get to all of your events.
4. Plan and Prepare Meals Ahead of Time
It's a good idea to prepare all your meals before the big day. For Labor Day weekend, you'll probably be more focused on cookouts. Think about all the meals you will need for Labor Day and prep ahead of time. If you're hosting a celebratory BBQ, you can pre-make the majority of dishes so that you're ready to go when guests arrive.
Depending on your plans, you may need to cater for different allergies and requirements. If you're meal prepping for vegans, the Beyond Meat burger is a great plant-based choice. It's definitely one to add to the barbecue.
5. Purchase Tickets in Advance
One of the best ways to make sure your Labor Day is stress free is to plan, plan, plan. If you are going to attend an event or visit an attraction, make sure to purchase tickets in advance. You don't want your concert to sell out or your theme park to fill up because you waited until the last minute to claim your ticket.
If you plan on flying, book your air travel ahead of time. To get the cheapest tickets, be flexible on the days you can travel. Do a little research beforehand so you know the best days to travel. That's not to say you won't be able to get any tickets on the spur of the moment. But to minimize stress and make traveling as smooth as possible, buy tickets in advance. Whether you plan to get the bus, fly, or take the train, get your tickets sorted with plenty of time to spare.
6. Lock Up and Stay Safe
If you're going away for Labor Day, try not to post on social media where you will be before your trip. Empty homes are easy targets for burglars and criminals. Avoid posting that you're going away on vacation, and leave a couple of lights on in your home while you're away. If possible, ask a neighbor or friend to occasionally pop into your home to show it's occupied.
Although you're excited for Labor Day, it's essential to follow safe travel tips. Millions of Americans will be hitting the road. With more cars on the road, there's a higher risk of highway accidents. Drive responsibly, stay up to date with recent coronavirus updates, and map your route.
A Stress-Free, Safe and Fun Labor Day Weekend
Labor Day is one of the busiest travel weekends of the year. Whatever your plans, the key to a stress-free and fun weekend is preparation. Plan ahead, book your tickets in advance, and prep all your meals. Make the most out of your Labor Day and wrap up summer in style.