Garmin Vivoactive 3 Review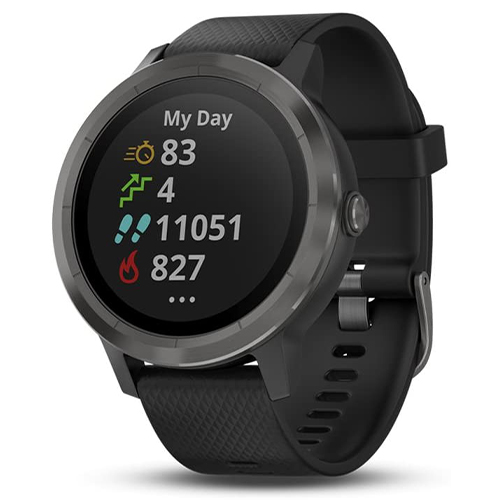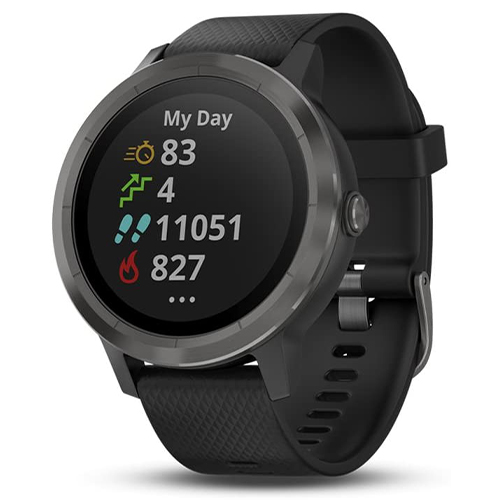 Garmin Vivoactive 3 Exercise Tracker
Pros
The Garmin Vivocative 3 is a stylish, functional fitness tracker that features an easy-to-read and -navigate display. This is the first sports watch by Garmin to include Garmin's contactless payment system. It has an impressive battery life of close to seven days and provides accurate distance tracking and heart rate monitoring.
Cons
The main letdown with this sports watch is that it has no provision for onboard music storage. The Garmin pay app is also not widely used as of yet. For hardcore athletes, the coaching elements are also quite basic.
Bottom Line
Is your dad a big workout buff? Or maybe he's looking for motivation to keep more active and start exercising again? Great! A wearable tech gadget like the Garmin Vivoactive 3, or Fitbit Versa will make the ideal Father's Day Wellness gift. These functional fitness tools track your stats and help you reach your health goals. Some even go as far as monitoring sleep patterns by highlighting periods of movement and restful slumber. The Garmin Vivoactive 3 is a sports watch that offers solid, basic functionality. Its tracking features are very reliable, and it provides everything that the average fitness enthusiast needs. Advanced athletes, however, will need to pay a bit more for the likes of the Garmin Fenic or Forerunner series.
We may earn compensation from the products and offers mentioned in this article. However, any expressed opinions are our own and aren't influenced by compensation. To read our full disclosure, click here.
Features: Garmin Express and Contactless Payment
When it comes to fitness watches, Garmin is one of the biggest names in the world. Garmin has a massive portfolio of trackers and devices, ranging from sport-specific devices to lifestyle options. The Vivoactive line features several versions perfect for fitness fans who want more information and insight into their health and fitness.
Within the Garmin ecosystem, you have access to Garmin Express. Garmin Express is an application to help you manage your device. It's where you update maps, sync your fitness data, and register your device. Like other smartwatches, the Garmin Vivoactive 3 features Garmin Pay for contactless payment. Again, you can see where Garmin combines lifestyle and fitness features into one device.
Garmin watches tend to suit runners and cyclists who want to go off the beaten path. The GPS capabilities make it super attractive for avid fitness fans. If you're in the market for a new smartwatch, you might be thinking Apple Watch 4 vs. Fitbit Versa, but there are plenty of makes to choose from, like Xiaomi, Garmin, and Samsung. Thanks to advances in AI fitness technology, today's wearables and analytics can take it a step further and offer increased functionality and experience.
Stress Trackers: Calm the Mind and Manage Stress Levels
Stress has a huge part to play in your overall health and well-being. As stress can impact your body and mind, it's essential to find ways to cope and manage stress. Stress can cause insomnia, a drop in productivity, and headaches.
Nowadays, fitness trackers like the Garmin Vivoactive 3 Music do more than count your steps. Major fitness technology brands are incorporating stress management into their product lines. Garmin devices have a Stress Level feature on some devices. Your heart rate interval determines your stress level by measuring the time between each beat. Regularly checking in with your stress levels can give you an indication of when you need to take some time for yourself.
Exercise, meditation, or just going for a walk in nature can help you relax and recharge. Some of the best fitness apps can help strengthen your body and calm the mind. For relaxation tips and meditation, try out Calm; Headspace; or Stop, Breathe & Think.
Another brand making waves in the world of stress management is Fitbit. The digital brand has announced its most advanced smartwatch to date: Sense. It's the first watch in the world that uses an electrodermal activity (EDA) sensor for stress management. With advanced heart rate tracking technology and skin temperature checks, Fitbit is looking to give users complete control over their well-being. There's a big focus on stress and well-being right now during a time of uncertainty and anxiety.
Plan Your Workout Schedule With a Smartwatch
Smartwatches like the Garmin Vivoactive 3 allow you to maximize your workouts. They also motivate you to stay active throughout the day. Track and plan your workouts easily to stay in shape. You can set movement reminders so that you don't sit in one position for too long. Having a personal trainer strapped to your wrist will help you create positive daily habits.
The majority of fitness trackers tend to offer exercise plans to help you hit your targets. Garmin devices feature Garmin Coach inside the Garmin Connect app. If you're looking for a good way to ease into running, Garmin Coach has a range of training plans to help you hit your first 5K, 10K, or half marathon. The training plans from Garmin Coach are immersive experiences with videos, articles, and personalized workouts on your device.
Final Thoughts: Garmin Vivoactive 3 Review
When shopping for a fitness tracker or smartwatch, you want to look for the features that will benefit you the most. But things like battery life, sturdiness, and accuracy are equally as important.
The Garmin Vivoactive 3 Music is a GPS smartwatch preloaded with workouts and the option to create a custom workout. The watch is robust and offers the functionality of a smartwatch with the advanced monitoring of a fitness tracker. In terms of compatibility, Android users may prefer it over Apple users, especially when it comes to replying to messages and notifications.
The only real difference with the Vivoactive 3 Music compared to the Vivoactive 3 is the music storage. If you want to listen to music via your watch and not take your phone with you, it's definitely worth the extra investment. Overall, the Vivoactive 3 Music is a versatile device with great functionality and in-depth fitness tracking.
Read our Top Father's Day Wellness Gift Ideas for Dad to Get Ideas on What is In