Onnit Creatine Review: How Does It Stack Up?
Pros
Onnit creatine is a vegan form of this popular workout supplement, which is micronized to make it faster absorbing. It's creatine monohydrate that is sourced from Creapure in Germany, which is universally regarded as the purest form in the world. This is a vegan, dairy-free form of creatine that is well dosed and very cost effective at just $12 for a 30 serving container.
Cons
After using and researching this product extensively, I can objectively state that I have been unable to find any negatives with it.
Bottom Line
Onnit's vegan, dairy-free creatine is a no-frills form of creatine monohydrate that has been micronized for faster delivery. It's an excellent creatine supplement that is cheap and effective.
We may earn compensation from the products and offers mentioned in this article. However, any expressed opinions are our own and aren't influenced by compensation. To read our full disclosure, click here
If you're looking for a creatine supplement to try, we go through the pros and cons of Onnit creatine in this review, and also discuss why creatine is one of the most widely-used workout supplements.
Creatine Benefits
Creatine monohydrate is the most researched and popular gym supplement in the world. It's taken to replenish the ATP energy system, which is the driver of muscular contraction.
ATP stands for "adenosine triphosphate," and it contains three phosphate molecules. After a few seconds of resistance-type training, one of those phosphates drops off to turn ATP into ADP (adenosine diphosphate). When this happens, the muscle's ability to contract is greatly diminished. When you supplement with creatine, you have a reserve supply of phosphate that the muscle cell is able to draw from to turn ADP back into ATP. This allows the muscle to continue contracting at full capacity.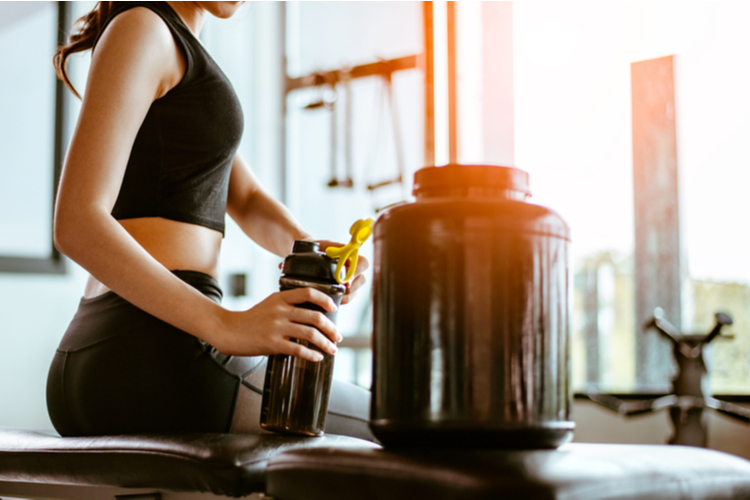 The real-world effect of supplementing with creatine is that you will be able to extend your working set longer. As a result, you may be able to pump out those last reps that could make all the difference when it comes to muscle growth and strength gain.
There is an extensive body of research to show that creatine supplementation can increase muscle, strength, and endurance in a range of sports and exercise applications, especially those involving anaerobic exercise. It also speeds up the recovery process and may even enhance mental performance and concentration.
Types of Creatine
There are seven types of creatine. The base form of the supplement is creatine monohydrate. The six variations of monohydrate are designed to make the supplement more bioavailable and faster to absorb. However, there is no research to conclusively show that any of them are better than the original.
The seven types of creatine are:
creatine monohydrate
ethyl ester creatine
tri-creatine malate
micronized creatine
liquid creatine
conjugated creatine
Onnit Creatine
Onnit is a company that has been around since 2010. Its line of health and fitness performance supplements is sponsored by athletes and medical professionals from all over.
Onnit creatine contains only one ingredient: creatine monohydrate. That creatine is sourced from a German company called Alzchem. The creatine form they produce is called Creapure and is the acknowledged gold standard of creatine worldwide. That is because it has the highest purity and has been micronized to the finest degree. Micronization simply involves breaking the creatine down so that it can be absorbed into the body more quickly.
Onnit creatine is sold in a container that provides thirty 5-gram servings. That dosage is the clinically recommended dose for best effects. Some people advocate for an initial loading phase of 20 grams per day for five days, then tapering down to 5 grams per day after that. However, there is no evidence that loading will produce more benefit than just taking a maintenance dose of 5 grams from day one. In addition, some people will experience bloating and gas following a loading phase.
You can purchase Onnit creatine for just $12. That's an awesome value, breaking down to a per-dose cost of 40 cents.
Onnit creatine is both dairy free and vegan. It's also unflavored, which makes it ideal for adding to your oatmeal, desserts, or protein shake. It can also be added to baked goods such as protein muffins and bars.
To take Onnit creatine, you simply mix the 5 gram dose with 8 ounces of water. It doesn't matter what time of day you take your creatine, but it should be taken every day, including the days when you are not going to the gym.
Is Creatine Safe?
Yes, creatine is safe. Despite it being the most researched gym supplement that exists, no no long-term side effects have been identified. Despite a common belief that creatine supplementation can be harmful to the liver, there is no research to back up this assertion, so long as doses are not excessive.
There is also no research evidence to support the contention that creatine can lead to muscle cramping and dehydration. In fact, studies have actually shown the opposite: Creatine supplementation can reduce both dehydration and muscle cramping when endurance exercise is performed in heated conditions.
Some people may experience short-term symptoms, however, such as bloating, gas, or slight stomach upset. However, this more commonly occurs when a person follows a loading protocol, for which there is no research support.
Competitors
The creatine market is saturated, so you have plenty of choice. When it comes to a low-priced, no-frills creatine monohydrate, the nearest competitor to Onnit is Bulk Supplements. Bulk Supplements is an American company based in Nevada that sells over 400 products online. They have a reputation for providing high-quality but pared-back gym supplements at very competitive prices.
Bulksupplements com creatine monohydrate, like Onnit creatine, has just one supplement: creatine monohydrate. This is another micronized form of the product, making it very comparable to the Onnit product. A big difference between them, however, is that Bulk Supplements are available in a range of sizes, from 110 grams all the way up to 25 kg. Most people purchase it in a 1 kg quantity, the price of which is comparable to Onnit creatine.
Bulk Supplements are only available online. In contrast, Onnit creatine is sold online and in retail outlets.
Summary
Onnit creatine is a basic, unflavored, completely pure form of the best workout supplement that exists. At $12 for a 30 serving container, you will be hard pressed to find better value anywhere.