The Best Kettlebell Workout
There's no one type of workout equipment that's better than all the others, but it's fair to say kettlebells are an extremely versatile member of the free-weight family. Kettlebells are nothing new, but they do produce an effective workout. You can use kettlebells for just about anything, from HIIT workouts to low-rep heavyweight sessions. Kettlebells help to build strength and size. Whether you're a beginner or gym junkie, you can perform a kettlebell workout for all abilities.
If you ever get tired of endless cardio or want to mix up your routine, a kettlebell workout is the perfect happy medium. Weightlifting isn't just good for fat burning and strength; it can also do wonders for your heart. Strength training for less than an hour a week may reduce your risk of heart attack or stroke by a whopping sixty to seventy percent.
For a killer fat-burning routine, try this six-move fat-burning kettlebell workout. The high-calorie workout will push you to your limits in a short amount of time. If you're time-restricted, this is the perfect workout. It doesn't matter where you are, all you need is a kettlebell to get your sweat on.
How to Choose the Right Home Workout Equipment
Home workout equipment is ideal for people who want to take their fitness to the next level but are tight on time. Sometimes it's hard to get to the gym, and work commitments take priority. With the right home workout equipment, there are no excuses.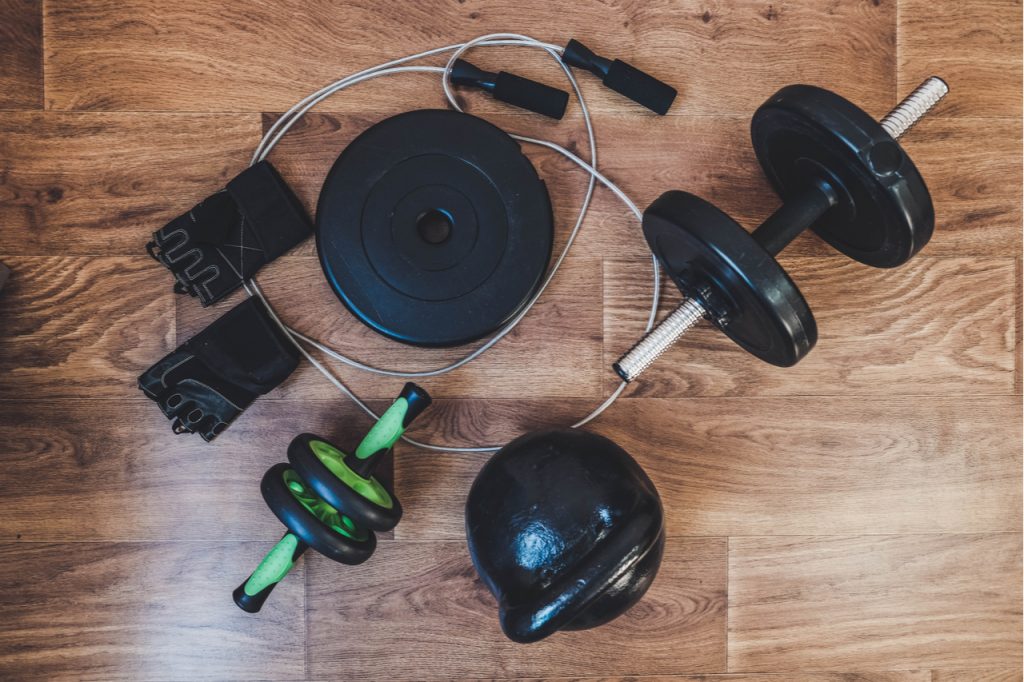 You have a ton of options when it comes to setting up your fitness space at home. Consider a selection of portable equipment like dumbbells, kettlebells, balls, steps, fitness bands, and mats. This forms a good base and doesn't need to be too complicated.
By having the tools ready to perform a killer workout, it doesn't matter if you're home late or traveling on vacation. Some of the best travel workout equipment includes a jump rope, fitness bands, and gliders. Fitness bands are so effective and portable; you can use them wherever you are. By feeling resistance throughout your workout, you're forcing your muscles to stay under pressure and work harder. All you need is an open space, and you don't have to rely on a gym to get in a good workout.
Why You Should Use the PowerBlock Adjustable Kettlebell
Kettlebell workouts combine cardio and strength training exercises for a major fitness boost. You can target multiple muscle groups that work on functional strength and help with everyday tasks. With adjustable kettlebells, you only need one piece of equipment for a full-body workout.
You can perform a wide variety of movements with kettlebells, keeping your workouts fun and exciting. Combine strength, cardio, and flexibility training to enhance mobility, increase tone, and burn calories. The American Council of Exercise found that the average person burns around twenty calories per minute during a typical kettlebell workout. That's about 400 calories in a twenty-minute workout.
The four-in-one PowerBlock adjustable kettlebell is a must-have for your home workout equipment. With four weights stacked in one shell, you can easily switch between weights without taking a break from your workout. Feel your strength increase over time, as well as your fitness, flexibility, and tone. So be sure to add this powerful, versatile piece of equipment to your exercise routine!