Top 7 Workout Programs To Transform Your At-Home Workout
Thanks to the brave new world of on-demand sweat sessions, you no longer have to hit the gym to feel the burn. Even if you don't have the space for a Peloton bike, you can raise your heart rate in the company of world-class fitness instructors across all genres of exercise. There are so many virtual training platforms that it's just a matter of choosing one to fit your needs.
It doesn't matter if you're on the road traveling or living your best #vanlife. All you need is a phone or laptop for a killer workout. The nomadic lifestyle can be very rewarding, but it doesn't come without its disadvantages. It can be tricky to stick to a regular workout routine, especially if there aren't a lot of people around. But now, high-tech offerings allow you to get your best sweat on from anywhere in the world.
Next Level Fitness App Technology and Body-Weight Training
You don't need a gym to get in a great workout. Body-weight exercises are a simple and effective way to increase strength, flexibility, and balance without a gym or any equipment. The biggest inconvenience of exercising while always on the move is that you'll never know if you'll be near a gym, what equipment you'll have access to, and sometimes lack guidance from professionals.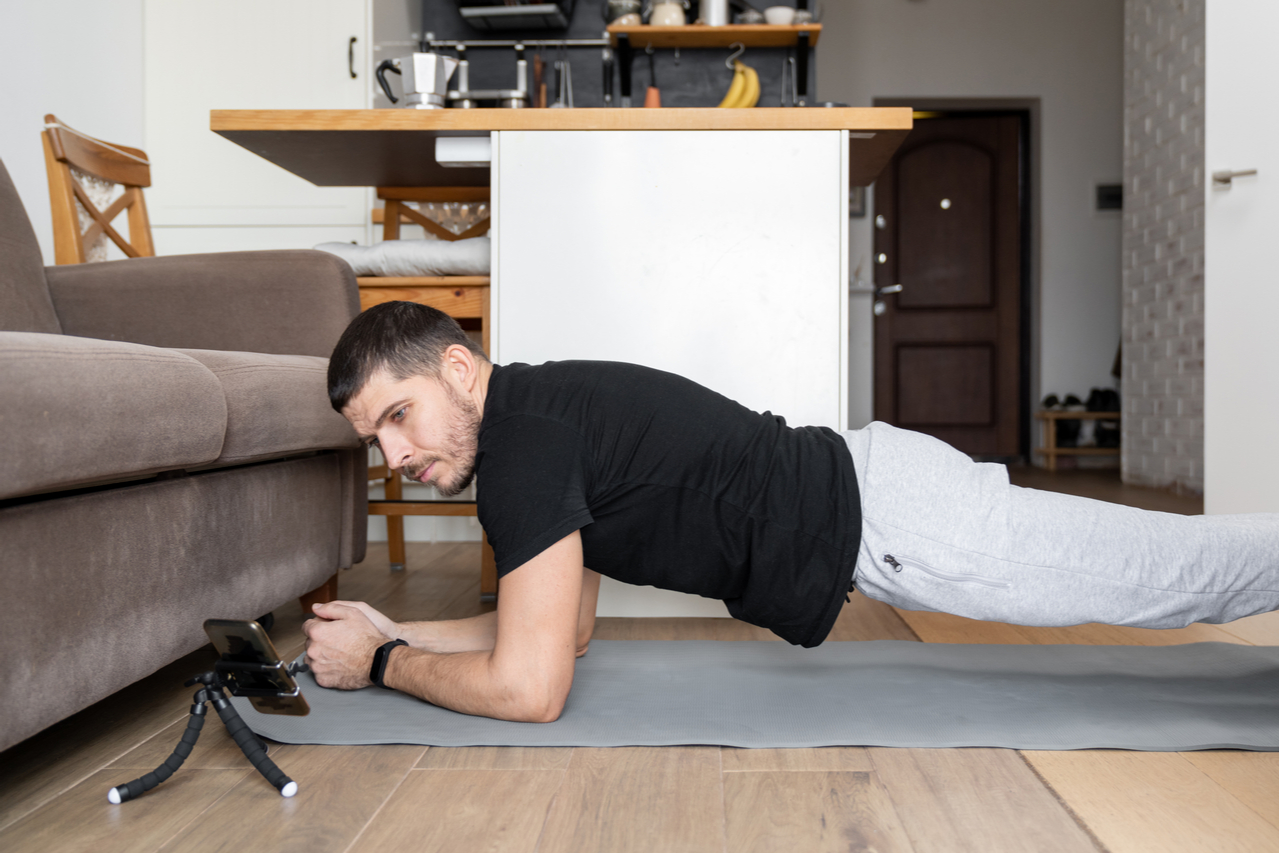 With body-weight exercises, all you need is a bit of space and you're good to go. Apps and technology have made almost all aspects of our lives easier and more convenient, and exercise is no exception. To take your workout to the next level, download Bodyweight: Your Own Gym. The app offers exercise plans from a professional fitness instructor, with programs ranging from two minutes to as long as 36 minutes.
If you're one of those people that never miss a leg-and-butt day, then using fitness bands is ideal. They are lightweight and packable and perfect for keeping your booty looking right. Check out this awesome summer workout routine that you can do with 4Kor fitness bands from wherever you are.
Living a Nomadic Lifestyle and Staying Fit
If you live a nomadic lifestyle, chances are you're moving around a lot from place to place. Anyone who has been traveling, even for a short period of time, knows how it can throw off your fitness when you don't have a regular routine in place.
When you're not near a gym and don't want to haul around heavy equipment, you need to find other ways to stay in shape. This is where technology comes in, with live-streaming classes, on-demand workout plans, and virtual personal trainers. Staying fit while on the road has never been easier. To help you stay on track, check out our top tips to avoid packing on the pounds while traveling.
Whether you're living your dream of traveling the world in your van-life, custom or one-of-a-kind camper, or even working remotely from your laptop, staying in shape will benefit not only your health but also help to relieve stress and bring about a sense of community. By taking part in group exercise, even virtually, it can help to keep you motivated to reach your fitness goals.
Virtual Training Platforms to Make You Sweat From Anywhere in the World
ClassPass Live: Virtual Fitness Classes
The ClassPass membership connects fitness fanatics with over 10,000 studios worldwide. The fitness subscription service has expanded and now offers ClassPass Live, a platform for streaming boutique-style fitness classes. The platform brings you live studio workouts straight from their New York location. If you can't make it to the live classes, the subscription gives you unlimited access for streaming on-demand workouts.
Mission 360: Fusion Fitness Streaming
The fusion fitness streaming service aims to bring the best studio classes and coaching to its members. Besides offering on-demand workout classes, Mission 360 also works to connect you to a community and really change people's lives. You can find different types of yoga, stretching, HIIT and much more. As well as workout plans, you can experience one-on-one coaching sessions in wellness, nutrition, and health.
Tonal: Virtual Strength Training
Although not ideal for everyone on the move, Tonal is perfect for strength training and can be installed into a space of just 7×7. The intelligent strength training system packs an entire gym into just one piece of equipment. The machine is mounted onto a wall and allows you to lift virtually any weight up to 200 lbs. It also tracks reps, sets, power, and will personalize your workout from day one.
Peloton Digital: VirtualCardio Training
Peloton Digital now allows you to sprint, spin or strength train under the guidance of Peloton's instructors without forking out the cha-ching needed to invest in your very own Peloton bike or treadmill. Browse through pre-recorded classes or join in remotely to one of Peloton's live studio classes so there's never an excuse to sweat solo.
Alo Moves: Virtual Yoga Training Classes
Alo Yoga is known for making some incredible yoga gear that you've no doubt seen filling up your Instagram feed. The yoga brand has expanded into the app space and features classes from sought-after instructors including Aubry Marie and Talia Sutra. Alongside its regular asana practices, the app features dance cardio and core-strengthening workouts when you want to mix it up.
FitOn: Workout App
The FitOn app offers workouts that can be done anywhere, anytime, led by world-class trainers and with no equipment. What sets this app apart is its social element. Workouts last for about 20 to 30 minutes, and you can invite and talk with your friends through audio-phone chats.
Body Love: Training Hero App
Anna Victoria's Body Love app is a no-judgment training hero. Each workout is around 30-40 minutes long and combines circuit training with HIIT exercises for a quick sweat session to fit into any busy schedule. The app also features macro-balanced recipes to help you out in the kitchen.
We've officially moved to a time when location can't limit your physical activity. Whether you're looking to join a live streaming class, a one-on-one personal training session, or a group exercise workout, you can now be in a full class surrounded by people at the click of a button, no matter where you are.
Try One of These Virtual Training Platforms Today
As you can see, there are plenty of fitness apps to choose from. So, go ahead and pick one to get started!