FITGIRL Resistance Hip Band Review: Activate Your Glutes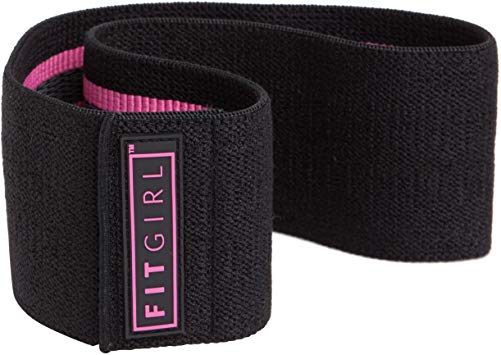 FITGIRL Resistance Hip Band
Pros
This band is thick, but soft—and doesn't pinch or rub your legs the wrong way during your movements. It does not slide, and even after 6 months of consistent use, it has not lost its elasticity or quality. The band comes in 2 different sizes based on your body weight for a perfect, customized addition to your sweat sessions. Not to mention it comes in 3 different super cute colors (because cuteness matters).
Cons
It does not stretch like your typical rubber glute band, therefore your range of motion will be very limited. If you need to perform full-range of motion exercises, we recommend you start with the L/XL size and move down to the S/M as you get stronger.
Bottom Line
The proper glute band is an important addition to any resistance band workout routine, and our experts believe this band, although tight, increases muscle activation, strength, and overall muscle tone with continued use.
We may earn compensation from the products and offers mentioned in this article. However, any expressed opinions are our own and aren't influenced by compensation. To read our full disclosure, click here.
Glute bands have become a staple in almost every kind of exercise routine. This is true, whether you are an avid weightlifter, or the at-home, sweat-it-up diva. Either way, the proper band is important to help you activate your glute muscles. Use them to add resistance to certain movements, and turn your workout up a notch. Before we get into this FITGIRL resistance hip band review, let's see what a resistance band booty workout looks like!
Finally, A Booty Resistance Band That Doesn't Slip!
FITGIRL Resistance Bands: Great For Your Glutes
The biggest struggle we all have when it comes to finding the right booty band is the slip factor. Rubber booty fitness bands often slip and slide all over the place. This is especially true when we're trying to finish that intense booty burner circuit. Luckily, we've found THE band that allows you to jump, step, squat, and donkey kick without the constant adjustment every 2 reps.
If you're in the market for fitness bands, then be sure to check out our 4KOR fitness band review, as well as our review of the Mark Bell Sling Shot.