Top 5 Acetyl L-Carnitine Supplements: Review & Where to Buy
Best Overall
Best Value
Honorable Mention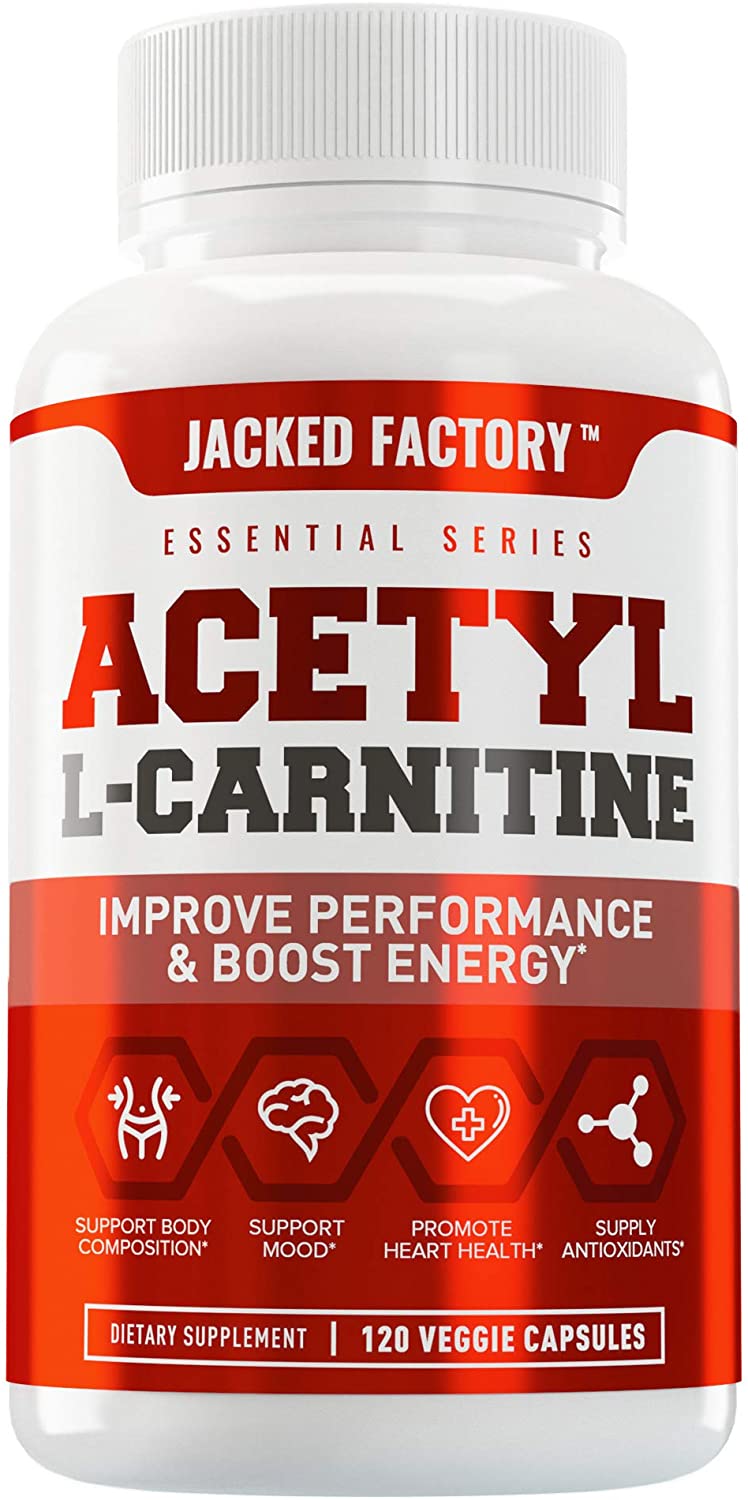 Divine Bounty Acetyl-L-Carnitine
Pros
Acetyl-L-carnitine from Divine Bounty Supplements is a high-quality product at a reasonable price. The capsule form is easier to use than powders or liquids.
Their vegetarian capsules are free from soy, gluten, and GMOs. Divine Bounty products are made in the USA in a facility certified and inspected by the FDA.
Cons
Divine Bounty is a little more expensive than other brands.
Bottom Line
Divine Bounty provides acetyl-L-carnitine from a manufacturer you can trust.
Pros
NOW Foods is a trusted name in natural products and has been around for over fifty years. Their business has a high focus on sustainability and charitable giving. Acetyl-L-carnitine from NOW Foods is vegan friendly, kosher, and halal. GMP has certified their manufacturing facility.
Cons
Higher price than the competition. No mention of FDA registration.
Bottom Line
NOW Foods is a trusted and established brand. Their price is a little higher, but their reputation may justify that.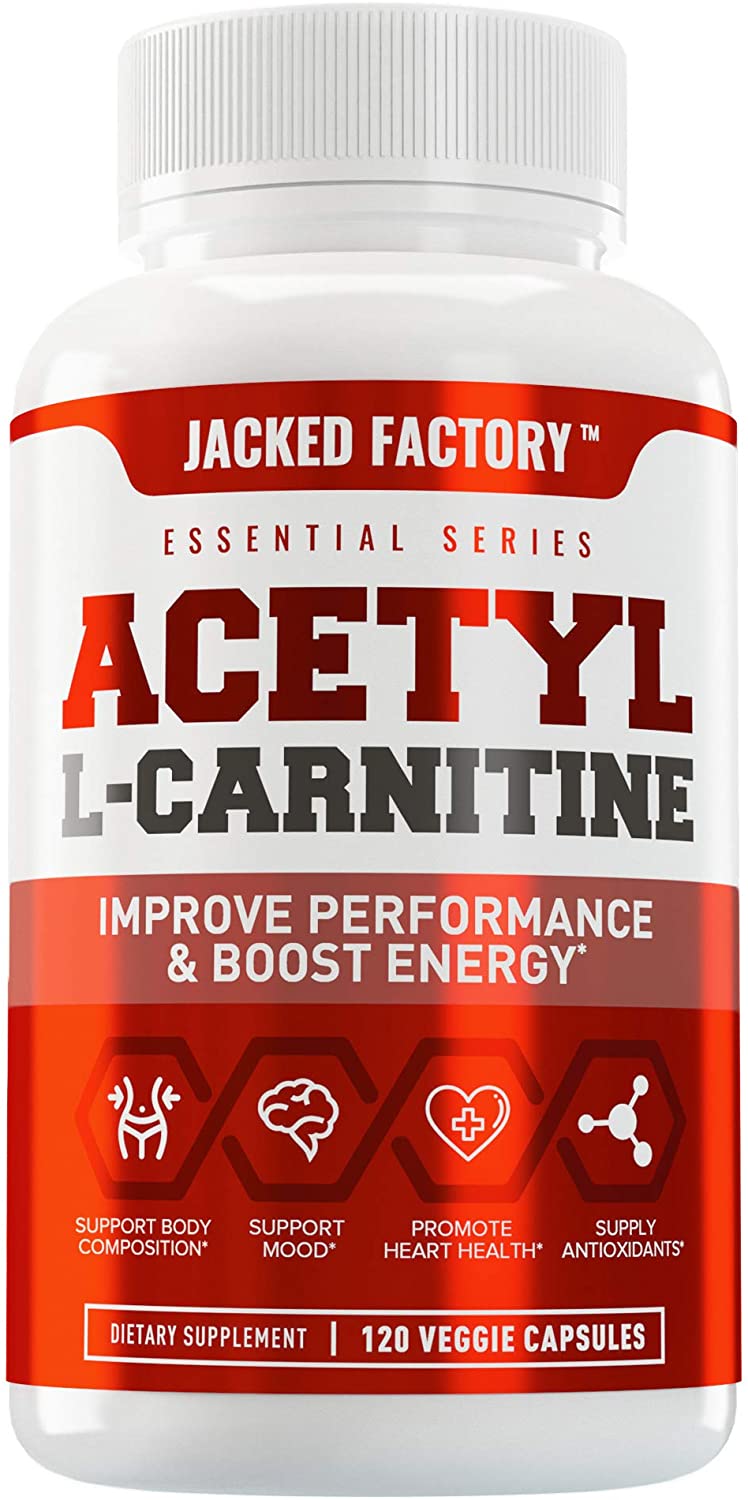 Jacked Factory Acetyl-L-Carnitine
Pros
Jacked Factory provides a higher concentration of acetyl-L-carnitine than other providers. The product does not use fillers or dyes. It is free from gluten and GMOs. Additionally, it is made in a GMP lab. You can easily find coupons and discounts, too.
Cons
It is not clear if the capsules are vegetarian friendly, if their facilities are FDA inspected, or if their products are subject to outside testing.
Bottom Line
Jacked Factory provides acetyl-L-carnitine at a reasonable price. Consumers review it positively.
Nutricost Acetyl-L-Carnitine Powder
Pros
Nutricost acetyl-L-carnitine powder is a high-quality product made in a GMP-certified facility that is registered with the FDA. A third-party lab verifies the quality. Nutricost offers large discounts when you buy multiple products, and the price per serving is among the lowest on the market. Their acetyl-L-carnitine is non-GMO, gluten-free, and made in the USA.
Cons
Because it is a powder, you have to measure and mix it with something before you can take it.
Bottom Line
Nutricost provides high-quality acetyl-L-carnitine at one of the lowest prices on the market. If you are willing to mix it yourself, this may be the right product for you.
NaturaLife Labs Acetyl L-Carnitine, Maximum Strength
Pros
NaturaLife provides acetyl-L-carnitine in higher concentrations than most other brands. Their product does not use fillers or binders. Additionally, it is vegan friendly, gluten-free, and soy-free. It is made from non-GMO ingredients and is manufactured in the USA in an FDA-registered facility that is GMP certified. The company offers a 100% satisfaction guarantee.
Cons
Some customers report that the concentration is too high for them.
Bottom Line
NaturaLife is popular with consumers. It provides a high-quality product from trustworthy sources.
We may earn compensation from the products and offers mentioned in this article. However, any expressed opinions are our own and aren't influenced by compensation. To read our full disclosure, click here.
What is Acetyl-L-Carnitine?
Carnitine is a chemical compound involved in metabolism. Additionally, fitness enthusiasts often use it to enhance athletic performance. There are five kinds of carnitine that consumers typically buy. L-carnitine is the most basic form, and the others are made by attaching additional molecules to the carnitine base. L-carnitine fumarate and L-carnitine tartrate are formulations that speed absorption and provide additional metabolic effects once inside the mitochondria. Acetyl-L-carnitine is the neuroactive form of carnitine. It still has the same basic fat burning function of carnitine but has the ability to cross the blood-brain barrier. Because it has access to the brain and central nervous system, it is able to boost cognitive functions as well as burn fat.
Acetyl-L-carnitine reviews favorably when compared to other products intended to give the brain a boost. I collected these reviews to help you decide which is the best supplement for you.
Here are some frequently asked questions about acetyl-L-carnitine:
What Are Acetyl-L-Carnitine Benefits?
Acetyl-L-carnitine has a variety of benefits. Healthy adults can use it to get a mental boost and help them perform better. Users often combine it with other nootropics (supplements used to boost cognitive health and function). It also promotes fat burning in all the cells of the body.
Older patients can use it to combat declines in memory and testosterone. It can also treat nerve pain in patients with diabetic neuropathy, along with several other conditions like infertility, depression, and Alzheimer's disease.
Acetyl-L-carnitine studies are being conducted to explore the potential of treating numerous other conditions.
What Are Acetyl-L-Carnitine Side Effects?
Side effects for acetyl-L-carnitine are uncommon and generally mild. They include nausea, vomiting, and diarrhea. Some users develop a fishy body odor. In patients suffering from serious medical conditions, muscle weakness, and seizures have been reported. Consult your doctor before taking carnitine if you have a serious medical condition.
Does it Keep You Awake?
Users do not list insomnia and trouble sleeping as reported side effects for acetyl-L-carnitine.
Does it Work for Weight Loss?
The carnitine family of products promotes fat burning, and people who use it report favorable results. People often use Acetyl-L-carnitine in combination with other fat burning supplements. However, people looking for the mental and neurological benefits are the target customer. If your primary goal is weight loss, other formulations like L-carnitine tartrate and L-carnitine fumarate are other alternatives to explore as ideal pre-workout supplements.
Which is the Best Acetyl-L-Carnitine to Boost Your Brain?
Only you can decide what is the best brand of carnitine for you. Once you have found one you like, how you use it is much more important.
Stacking is the practice of taking several supplements that work synergistically together. I like to stack carnitine with Onnit New Mood and Nowfoods Selenium because they both provide proven assistance for your metabolism. I can feel their effects most strongly when using my Meditation with Muse headband.
People using the keto diet can combine acetyl-L-carnitine with Bulletproof Brain Octane Oil, which stack well together because they both provide burning and mental acuity assistance.
If you want to take it to the next level, I would suggest adding Kaleidoscope Boost to your stack of nootropics. It is more expensive, but when you need maximum brain function this is one of the best supplements I have been able to find. Each of these supplements creates a noticeable effect for me, and when I take them together I have had some of my best days.
Are you looking for a good mental boost? Give acetyl-L-carnitine a try and see what benefits you can obtain.